Former Uttar Pradesh IPS officer Amitabh Thakur will be contesting elections against the current chief minister of Uttar Pradesh Yogi Adityanath, in the Uttar Pradesh Elections in 2022. 
His spouse issued a statement from Lucknow stating that the elections will be a fight for principles. She claimed that Yogi Adityanath undertook many improper, undemocratic, suppressive, discriminatory steps while governing the state.
She added that Amitabh Thakur would be contesting elections against the chief minister of Uttar Pradesh. He stated that the fight would be against the wrongdoings of the current chief minister.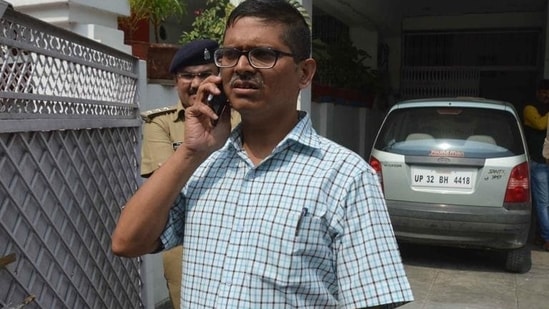 On March 23, the Union Home Ministry had provided a compulsory retirement to Amitabh Thakur, stating public interest reasons. Mr. Thakur would have completed his tenure in 2028.
However, the Union minister said that he was found unfit to continue his remaining term. Hence, he was provided with a premature retirement. 
In 2017, Amitabh Thakur had urged the central government to change its cadre state. On July 13, 2015, Thakur got suspended for accusing Mulayam Singh Yadav of the Samajwadi Party of threatening him.
The audio of a conversation between him and Mulayam Singh Yadav had gone viral in 2015.
He faced various allegations of corruption and mal-practices along with non-disclosure of assets when he joined the service. Amitabh Thakur met five different departmental actions against him. 
An inquiry was initiated against him. He submitted a year-wise account of the assets which he owned. The investigators had alleged various loopholes in these assets.
He had allegedly transferred huge sums of PPFs, movable and immovable properties, into his spouse and children's accounts.
He had also received numerous gifts, which he did not inform the government about. In April 2016, the Lucknow Bench of the Central Administrative Tribunal stayed his suspension and ordered the central government to provide his full salary. 
The elections in Uttar Pradesh will be held in 2022. The Bharatiya Janata Party will be contesting to retain power in the state, while the Samajwadi Party and Bahujan Samaj Party will attempt to regain control in the region. The former IPS cadre is from the 1992 batch. 
Also Read:  Delhi Chief Minister Arvind Kejriwal to implement Desh Bhakti curriculum across Delhi schools