Marking the completion of one year since the three controversial farm laws that were passed today, various farmer groups have called for a "Bharat Bandh" across several states till 4 pm.
The nationwide protest on September 27 is to solidify their resistance against the laws, and the umbrella organisation Samyukt Kisan Morcha notified that the protest is scheduled from 6 am to 4 pm. Many states are into complete shutdown, with Haryana and Punjab public transport completely shut down for the day.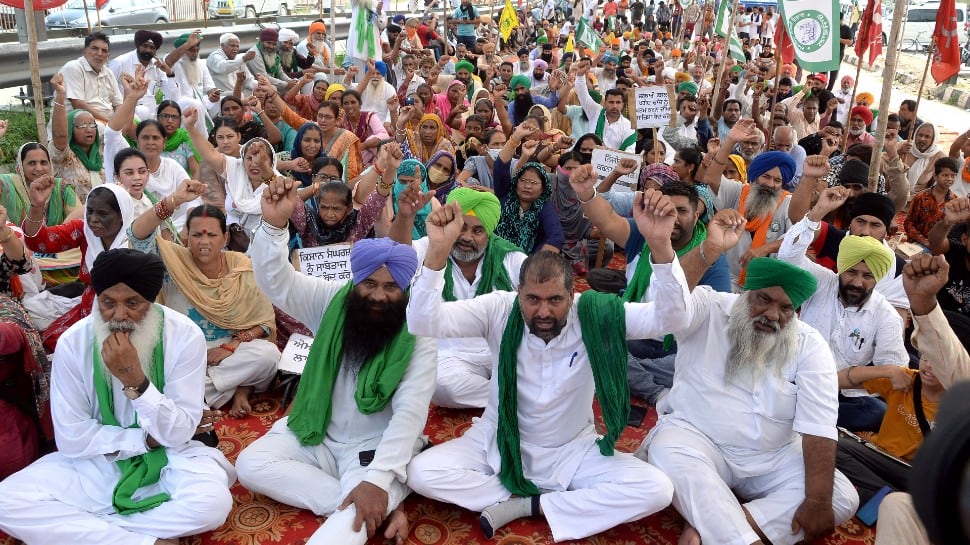 As the farmers took over 350 places in Punjab to protest, the state's Additional Director General of Police (AGDP) ordered the police forces to maintain law and order at the sites and ensure that a peaceful situation is maintained by monitoring the dharna sites. 
Districts like Jind of Haryana are facing heavy blockage too, with state highways and link roads blocked, and the traffic has been stagnant at these places.
"Complete shut-down has been reported from states like Punjab, Haryana, Kerala, Bihar, where all kinds of institutions, markets, and transport have been closed down. The call for Bharat Bandh has received extensive support in Rajasthan, UP, Uttarakhand, West Bengal, Telangana, Andhra Pradesh, Maharashtra, TN, Karnataka and MP. Reports are awaited from other parts of the country," the body said in a statement.
Samyukt Kisan Morcha's call to all political parties to support the farmers while they fight the Centre on the laws has been answered by the likes of the newly appointed Chief Minister of Punjab Charanjit Singh Channi and Delhi CM Arvind Kejriwal, as they extended their support to the bandh. 
"This is a very sad occasion that on the occasion of Bhagat Singh's birthday, farmers had to call for a Bharat Bandh. It has been almost a year since the farmers are trying to convince the government. This is an independent India. If we don't even listen to our farmers in independent India, who will?" Kejriwal was quoted saying.
Meanwhile, the Yogi government in Uttar Pradesh is trying to cater to the farmers in the state ahead of the Assembly elections, which are scheduled to be held next year. On Sunday, Chief Minister Yogi Adityanath decided to hike the state-administered price (SAP) of sugarcane by Rs 25 per quintal.The increase in the price has updated the price of the sugarcane to Rs 350 per quintal, which is still Rs 25 less than the party promised in its manifesto when they said to Rs 370 — Rs 450.
"The purchase price of the early variety of sugarcane will be raised from Rs 325 per quintal to Rs 350 per quintal. The SAP for the general variety has been raised to Rs 340 per quintal from Rs 313 per quintal earlier," Yogi said.
Also Read : Delhi government launched the user-friendly app 'Dekho Meri Delhi'