On April 10th, 2022, the people of our country witnessed the celebrations of Ramnavmi turn violent as there were reports of communal clashes in several parts of the country. It was reported that marches organized to celebrate the birth anniversary of Hindu Lord Ram were met with stones while passing through Muslim localities in several cities throughout India. However, shortly after these reports videos had surfaced on the internet where mobs in saffron could be seen dancing and shouting outside mosques in different cities. Moreover, in a few videos people in saffron were seen climbing on the walls of mosques and hoisting saffron flags while shouting Islamophobic slurs.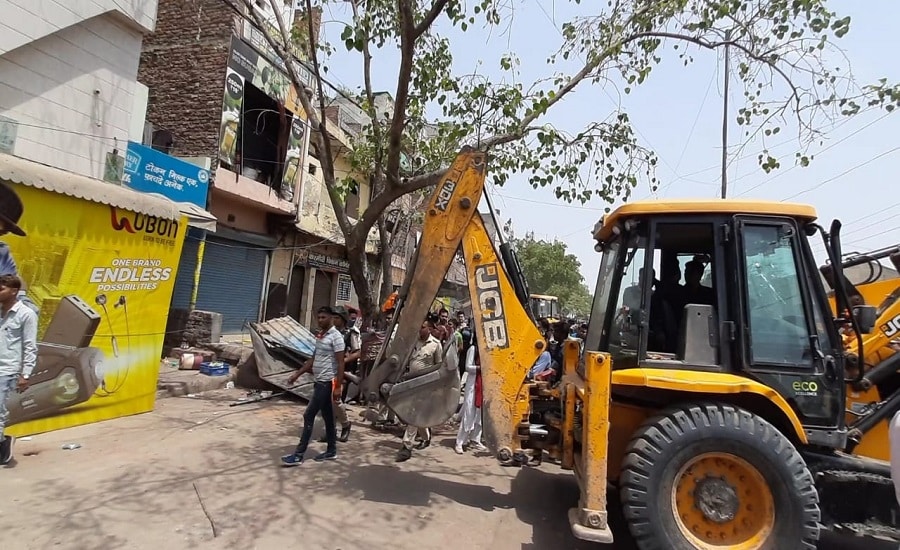 It has been suggested that the aggression in nature of these marches had ignited violent outcomes that we all saw in several districts of the country. 
The city that probably was hit first by a full-scale communal riot was Khargone, Madhyapradesh. Shops, houses, and vehicles belonging mostly to the minority Muslim population of the town were burnt and affected. As we saw on the videos that came on the internet that the live scene of the city resembled somewhat a chaotic image of a war-ridden country. People belonging to both communities were badly affected. A total of 64 FIRs have been registered as of 24th April and 175 arrests have been made in relation to the 10th April Violence. 
Episodes similar to that of Khargone were seen in several other parts of the nation including the Karauli district of the neighboring state Rajasthan and the national capital Delhi. 
Similar incidents of violence occurred throughout different parts of the country including Gujarat, Rajasthan, and Delhi. A notable event of communal violence took place in Delhi's Jahangirpuri area on the occasion of Hanuman Jayanti on 16th April 2022. Processions were organized on the occasion of Hanuman Jayanti, these processions passed peacefully through Muslim areas as well. Problems started when a third procession taken out on 16th April interrupted the ongoing prayers in the mosque. Again it was reported that people part of the processions were shouting communal and provocative slogans. It was during this third procession of that day that things turned violent. 
Episodes of communal violence are not anything new to our country. What is new however is the government's way of dealing with those who are so-called responsible for these but in reality, are just as many victims of communal tensions. 
In a series of encroachment/demolition drives primarily targeting those who have already lost livelihoods, homes, and means of living to the riots that occurred in their cities, the ruling party BJP ordered Encroachment drives in various parts of the country that had earlier this month witnessed episodes of communal violence. These encroachment drives or as the new word is 'bulldozer campaign' are a means of punishing those who are being held behind causing disturbance to the Ramnavmi processions as suggested by the bias in their tone, this bulldozer campaign was merely a means of threatening the Muslims. 
What Happened in Khargone?
In Khargone after a communal riot broke out over the alleged pelting of stones on Hindu processions, the administration took a harsh step in punishing those it held responsible for the disruption of communal harmony. 
On Monday, 11th April it was reported that following the instructions of Madhyapradesh CM Shivraj Singh Chouhan, Bulldozers ran over the houses and shops of those who were accused of "attacking" the Ramnavmi processions in Khargone. Some of the houses and shops that were supposed to be razed had already been burnt badly during the ongoing riots. When asked in an interview if the Government had a biased approach in implementing its encroachment plan to punish those it held responsibly, the Madhyapradesh Home Minister Narottam Mishra justified that the biased approach towards only targeting Muslim houses and Businesses was there as it was then (the Muslims) that made the attacks on the processions. On the question of why the government did not hold Hindu rioters responsible for the disturbance in communal harmony, Mishra very subtly replied that their actions were in self-defense and hence they couldn't be held accountable. A total of 16 homes and 29 shops were demolished.  
Jahangirpuri and the Bulldozer punishment
Similar to MP's Khargone, a situation arose in Delhi's Jahangirpuri area when right after the Hanuman Jayanti violence, the NMCD issued a notice of encroachment of properties that it held to be built illegally. All of these properties located in the Jahangirpuri area of Delhi belonged again to the Muslim population who had lost livelihoods, sustained injuries, and had their homes vandalized on the night of 16th April. 
An interesting angle to this incident is how the Mother Delhi Municipal Corporation (NMCD) took a stealthy way in initiating its anti-encroachment drive. Another thing that keeps catching people's attention is how this demolition drive took place shortly after Delhi BJP president Adesh Gupta had written to the Municipal Corporation demanding the identification and demolition of "illegal encroachment" of those who were being held responsible for the Riots. However, soon Judicial intervention was made putting a stop to the Government's harsh policy of "Bulldozer Justice" for the time being. 
Similar incidents of anti-encroachment drives have been reported throughout the country, primarily as a response to communal violence. Places affected included Gujarat and Assam where the Government has decided to punish those it holds responsible with its "Bulldozer Justice". However, as suggested by many political intellectuals, this policy of the government of punishing the Muslims only and openly holding them responsible for disruption of communal peace poses a major threat to national integrity.
Also, Checkout: Digvijay Singh's 'return' to 10 Janpath after 5 years