Film actor Deep Sidhu who worked in Hindi and Punjabi language films appeared as a shady scoundrel of farmers protest in Delhi, reportedly instigating the crowd, and directing them to Red Fort, where the characters raised flags and clashed with the police.
In a live stream posted on Facebook, Deep Sidhu declared that he and a group of protesting farmers hoisted the Nishan Sahib flag during a tractor rally on Tuesday.. Sidhu was at the frontline of the farmers' movement that began in November 2020 against the three farm regulations imposed by the Centre.
"We have only hoisted the Nishan Sahib flag on the Red Fort while exercising our democratic right to protest," he stated in a Facebook live stream.
Although being shunned by farmers' unions at different stages of the current anti-farm law protests, Deep Sidhu has been trying to play a leading role in the campaign for several months.
He was observed pushing forward an extreme Left-leaning body Bharti Kisan Union parade towards the undesignated route. Leaders of Kisan Sanjha Morcha claim extremist elements like Sindhu tried to hijack the peaceful protest and blamed intelligence agencies for Delhi's violence.
The Centre has been trying from the very beginning to paint this movement in a communal colour. They are master of religious games, but in this struggle led by farmers, they are for the first time at the receiving end. Deep Sidhu has served them well.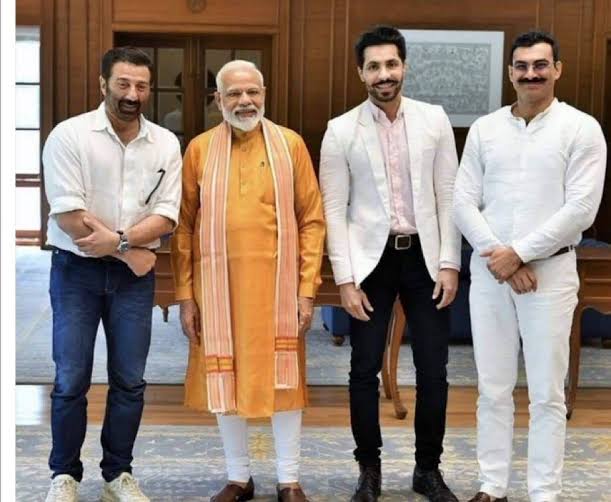 The BJP Link
Deep Sidhu had lobbied for BJP's Sunny Deol in the Lok Sabha elections in 2019.
Sidhu was lobbying to boost the BJP candidate Sunny Doel and even posed with Prime Minister Narendra Modi as the election agent of the Gurdaspur party. He was accused of being an "RSS agent" by the farmer's union.
He was suspected by the Kisan Sanjha Morcha and was banned by the organization from getting involved in the protest. Sidhu was banned along with a former criminal Lakhs Sidhana.
Chief of the Haryana unit of the Bharatiya Kisan Union (BKU), Gurnam Singh Chaduni had accused the Punjabi singer and actor of inciting and misguiding protesters.
According to sources, Sidhu was leading the rally towards the Red Fort, as KSM claims that the deviation was not a part of any plan and the actor was solely responsible for misguiding the youngsters.
An official inquiry has been commenced to identify Sidhu's role in Tuesday's violent turn of events.
Also read :