Thanksgiving season and Black Friday are that magical time of year when most companies are providing their best pricing of the year. If you know you would enjoy owning a quality electric bike, and you searching for a really good deal, then look no further. You're in luck because MAGiCYCLE is presenting unbeatable prices on high-quality e-bikes that will keep you riding happily for many years.
An E-bike for Every Need
What is it that you most look forward to as you imagine yourself on a new MAGiCYCLE? Perhaps it is long, leisurely scenic rides as you explore the countryside. Or maybe it's a fun and very economical commute to work — with no high gas prices! It could be that you live near beautiful beaches and need an e-bike that can handle the soft sand.
But then, you might be more interested in off-road adventures, and you definitely want a ride that can keep you going on the rough trails. Whatever type of riding has captured your attention, MAGiCYCLE has an electric mountain bike for you.
If you are a taller rider, you might prefer a big e-bike that stands tall. And if you are a shorter rider, a smaller e-bike may be what you want. If you're short on storage space or want to transport your ride very easily, then maybe you're looking for a folding e-bike. Again, MAGiCYCLE has an e-bike that's perfect for your needs. And with this Black Friday Sale, MAGiCYCLE is also perfect for your budget!
Gorgeous E-bike Selections from MAGiCYCLE
The great variety of quality e-bikes produced by MAGiCYCLE makes it easy to find the one that's just right for you. Let's take a close look at these beautifully crafted models.
MAGiCYCLE Fat Tire Cruisers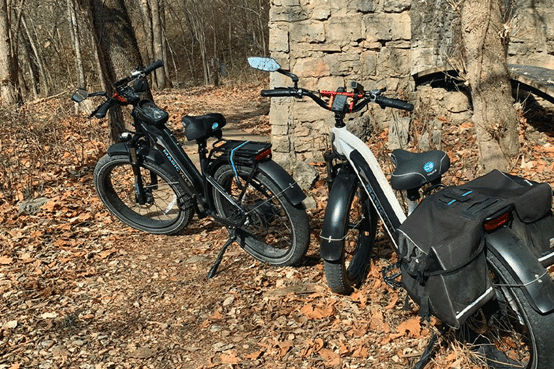 These are the cruiser electric bikes for adults that created such a huge stir in the e-bike market. None of us had ever seen such sleek, beautifully designed e-bikes with superior power and quality. To make it even better, no other brand in the same price range could compete with the features and components of a MAGiCYCLE. These are eye-catching 26″ Fat Tire Cruisers available in step-over and mid-step styles. You can choose from two colors, Midnight Blue and Pearl White.
These e-bikes are excellent on all terrains, whether you ride gravel roads, sandy beaches, or city streets. They are big, sturdy, and give you a very stable ride. And very importantly, these first e-bikes from MAGiCYCLE set the standard for quality control that has become the hallmark of every e-bike MAGiCYCLE produces. You can't go wrong with one of these cruisers…see them here.
MAGiCYCLE Fat Tire Cruiser Pro
Can you take a good thing and make it even better? In this case, yes — MAGiCYCLE managed to do it! These new rides are not just insignificant tweaks of previous models. The Cruiser Pro is a major upgrade, and one of the prized features is the longer range provided by these new fat tire cruisers.
The hub motor for the new e-bikes is improved, and the amp hours of the redesigned battery are an improvement of 25%! This means more power and a range of up to 80 miles. Yes, 80 miles is a top number for lightweight riders pedaling on level terrain with little to no wind. The range of every rider will vary.
A 300-pound rider will never achieve the same range as a 120-pound rider. But regardless of the total weight carried or the terrain, the range is significantly improved with this new battery. That's a major consideration for most e-bike owners. These new MAGiCYCLE Cruiser Pros are worthy of a close look by e-bike shoppers.
Great Combination of Features and Quality
The lasting popularity of the original MAGiCYCLE Fat Tire Cruiser is undisputed, and it still provides a powerful, reliable, high-quality ride. MAGiCYCLE has passed along all the best features of the original and included them in the new models, such as the Magicycle Cruiser Pro.
Its 350 lb payload (total weight capacity) allows heavier riders to feel confident and safe while riding this gorgeous new e-bike. The bright and easy-to-read Color LCD Display remains the same, along with the combination of built-in lighting and an included rear rack/full fender package. These features help make the Cruiser Pro not only a top-quality commuter but also the perfect all-terrain fat tire electric bike for trail riding and scenic cruising.
Power and Durability
Of course, it is equipped with a newly-improved hub motor and a new long-range battery. That's a very impressive combination giving Cruiser Pro riders 96 NM of torque. That torque is truly amazing, about the same as the torque of an 800cc motorcycle. Cruiser Pro owners can look forward to faster starts in heavy traffic, improved hill-climbing capability, and a range of up to 70 miles. Of course, range varies with rider weight, terrain, wind speed, and the rider's pedaling.
The Magicycle Cruiser Pro also offers extended motor life. The life-extending redesign of this motor includes exceptional resistance to heat.
MAGiCYCLE Ocelot Pro
Here we have a MAGiCYCLE design that is right at the top of many e-bike shopping lists. This e-bike is unique in that it is very height-adaptable. The MAGiCYCLE Design Team has taken care to ensure a comfortable fit for riders from 4'10" all the way up to 6'2″ in height. What about weight? No worries…this ride accommodates a payload of up to 350 pounds.
The introduction of the 20" Magicycle Ocelot Pro Cruiser is bringing fresh excitement to e-bike enthusiasts. And its amazing good looks are attracting a lot of attention.
If you've dreamed of a smaller, stylish, quality cruiser that retains both power and comfort, this is it. The Ocelot has a laid-back beach cruiser styling…nimble, beautiful, and comfortable. For riders uncomfortable with the big 26" cruisers, the Ocelot opens up a whole new world of cruising comfort. Get yours here in a very nice variety of colors. You can choose from the classic Pearl White, Army Green, or Space Gray.
MAGiCYCLE Ocelot
For budget-minded MAGiCYCLE fans, this cruiser is a true bargain-hunters dream. You can save some serious dollars if you don't need all the perks that come with the Ocelot Pro.
Fortunately, you still get the same great design that accommodates riders whether short or tall. And you still get 600 watts of power in the hub motor, plus the long life of a 52 volt 15 amp hour battery. With the seven levels of fully customizable pedal assist settings, you'll be riding in style. The 20″ fat tires are very comfortable, and you'll also be getting a lot of quality exercise as you improve your health.
MAGiCYCLE Jaguarundi Folding E-bike
MAGiCYCLE engineering makes this e-bike a breeze to transport or store, and MAGiCYCLE quality of design and components makes it a very comfortable ride. Two big factors in riding comfort are tires and suspension.
The Jaguarundi is equipped with 20″ X 4″ fat tires. It also comes standard with front fork suspension. This is not always the case with folding bikes, and this factor is a "biggie." If you've ever been on an e-bike without front suspension, you know exactly what I mean! E-bikes that have both — fat tires and front suspension forks — are much more enjoyable to ride. T
The combination of wide, stable fat tires plus front fork suspension does a great job of absorbing the bumps. Not only is it more comfortable, but it also eases stress on the arms, shoulders, and back. This one feature alone makes the Jaguarundi worthy of a position at the top of your list!'
The Power You Need
Everybody wants a comfortable e-bike that fits their height, but they also want plenty of power. After all, it doesn't help much if a bike accommodates a rider's size, but doesn't have enough power to get the extra weight up a steep hill.
MAGiCYCLE has always insisted on providing a motor that excels in both power and reliability. The Jaguarundi is no exception, giving riders a strong 750-watt (peak) motor, powered by an unusually good battery, offering 52 volts. The Jaguarundi motor has the power to handle a 350-pound payload. CLICK HERE to find a Jaguarundi perfect for you!
MAGiCYCLE Lightweight Commuter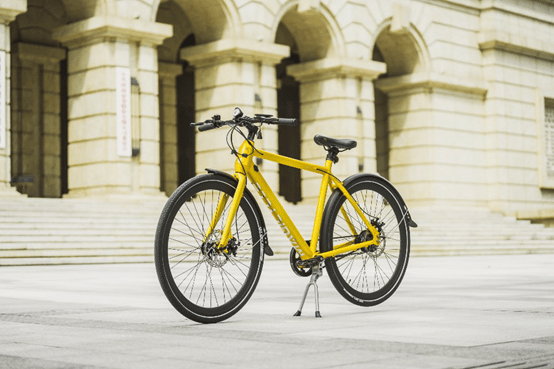 This MAGiCYCLE is designed with commuters in mind, as well as other riders who rarely leave the pavement. It is a welcome addition to the MAGiCYCLE stable of quality e-bikes. Not only is it extremely good-looking, but this beautiful e-bike also offers many advantages for commuters and other pavement riders.
Lightweight
This racy beauty weighs in at a mere 56 pounds. In an e-bike world populated with 70+ pound e-bikes, 56 pounds will be greeted with cheers. Many e-bikers look forward to easier mounting on bike racks for transportation, as well as much less effort in lugging it up a flight of steps. But don't be fooled by the lightweight — it's still a very sturdy ride and brings a payload of 265 pounds.
Powerful
The Gold Commuter features a 350-watt hub motor driven by a 52-volt battery, a combination that delivers outstanding power. It's more than enough for this lightweight commuter and lives up to the MAGiCYCLE reputation for superior power.
Simplicity
Commuters and many other e-bike riders are all about ease of use and maintenance. This Gold Commuter is a no-throttle, no-shifter, super simple ride. That makes the operation of this e-bike very easy and eliminates two potential maintenance items. And the drive chain isn't a chain…it's a belt. Again, that's much easier to maintain, with no lubricant needed. Plus, a belt drive is very, very quiet!
These Commuters are absolutely gorgeous in Dawn Yellow, Onyx Black, and Misty Blue. Choose yours here.
Black Friday Savings…with MAGiCYCLE Quality
Magicycle is not an average e-bike company. Magicycle owns the factory, and that factory has been producing quality e-bikes for more than 16 years. If you take time to check, you'll discover that very few e-bike brands actually own a factory.
Every Magicycle begins with the award-winning Magicycle Design Team. This team originated the amazing frame design that makes their e-bikes both visually appealing and reliably strong.
You will never find any cheap steel in a Magicycle frame. Magicycle has chosen to use 6061 aluminum alloy. This top-quality alloy provides exceptional strength, corrosion resistance, lightweight, durability, and a defect-free highly pleasing appearance. All this is made possible by employing technology borrowed from the aviation industry. The Magicycle factory uses experts in hydroforming and cataphracted weld joints…regarded as the best welding technique in the world. This means that Magicycle customers receive a high-tech frame that is strong, safe, and beautiful for unequaled riding stability and comfort.
Magicycle has exemplary quality control over the entire bike-building process, from design to manufacture to shipping. When a Magicycle is delivered to a new owner, the box contains an e-bike that will last a very long time, giving reliable service and a safe riding experience. Quality matters — don't buy your e-bike from a brand that does not own the factory. If you don't own the factory, quality control is impossible.
Now is the Time
You know you want a great e-bike. You know MAGICYCLE gives you the best bang for the buck. In fact, no brand in the same price range can match MAGiCYCLE quality. Don't wait…take advantage of MAGiCYCLE's annual Black Friday Sale.