Imran Khan said, "If a woman is wearing very few clothes, it will have an impact on the men unless they [men] are robots. It's just common sense."
Such statements are not new for Imran Khan. Only two months ago, in a live talk with the people on television, he advised women to observe purdah, an ideology of covering up women and segregation of sexes, in order to prevent temptation.
He also said, "in any society where vulgarity is prevalent, there are consequences." A series of online backlash ensued against Mr Khan for his offensive words, calling him a "rape apologist". A statement of condemnation was signed by many human rights organizations and individuals demanding that the PM issue a public apology.
Imran Khan quickly backtracked at that time saying that his statements were taken out of their statements. But the latest statements clearly show Khan's victim-blaming sentiments have persisted.
Shortly after the interview went live, Twitter went abuzz with tweets condemning and shaming the Pakistani leader for not only blaming the victims of rape and other sexual crimes but also contributing to the mass hysteria of Pakistani officials where rapists are seen as helpless reactionaries and women as tempters.
Taslima Nasreen, a Bangladeshi author, tweeted an old shirtless photo of Imran Khan, calling him out for his hypocrisy.
The Pakistan Prime Minister's condemnatory remarks are exemplary of the serious issue of victim-blaming prevalent among the officials who are given the charge of law enforcement.
Instead of strengthening the measures to provide protection to women and support and justice to victims, they find easier ways by proclaiming the problem of widespread sexual crime on clothes, Bollywood films, Western media etc.
In a recent horrifying incident of the motorway gang rape case, where a Pakistani-French woman was raped in front of her kids on the side of a highway, the most senior police officer in Lahore Umer Sheikh ended up blaming the woman herself.
He suggested if the woman had not been travelling at night and if she had checked the fuel, the crime would not have occurred.
In a report, Pakistan was found to be among the 10 worst countries when it comes to rapes. According to official statistics, at least 11 rapes happen every day. A vast majority of these rapes are actually cases where the perpetrator was an acquaintance or even a family member.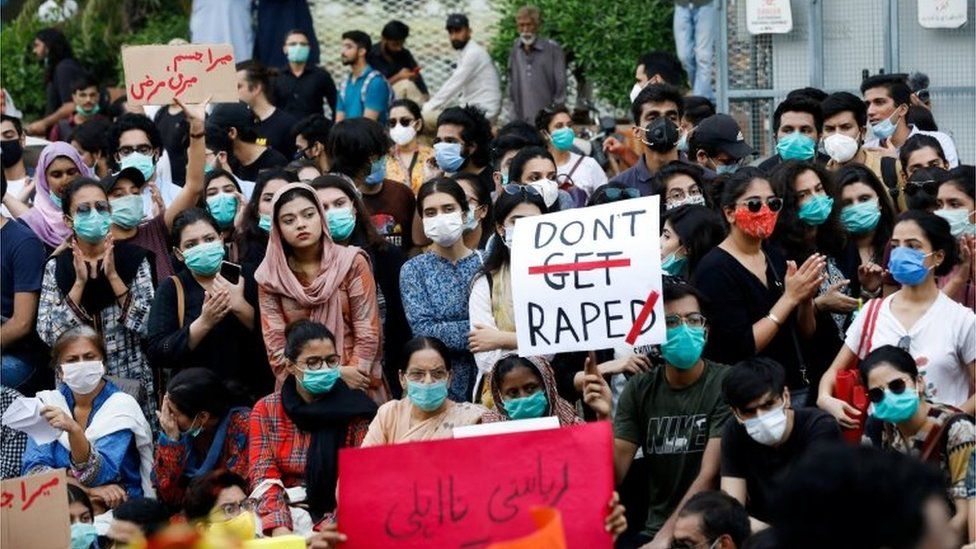 Therefore it is not only extremely insensitive for such high officials to issue such remarks but also misleading. It could mean that perpetrators can commit such crimes with impunity, while it is the victim who has to live with shame, injustice and trauma.
Indian leaders and senior officials are no exception to this harmful foolishness. From the late Finance Minister Arun Jaitley to RSS chief Mohan Bhagwat, politicians and police officers have commented on the banality of rape: why it should not only be dismissed as a common occurrence but even be hidden from public view so that it doesn't affect tourism.
Some of the infuriating examples are:
BJP leader from Madhya Pradesh Kailash Vijayvargiya referred to Sita as an example, suggesting women to be within their limits, "If the limit of morality is crossed by women, such cases will happen".
Congress leader Satyadev Katare addressed a rally, "A man only starts harassing a woman after she gives him suggestive looks".
Haryana chief minister Manohar Lal Khattar's statement is eerily similar to Imran Khan's, "If a girl is dressed decently, a boy will not look at her in the wrong way. If you want freedom, why don't they just roam around naked? Freedom has to be limited. These short clothes are western influences. Our country's tradition asks girls to dress decently."
The core ideology of misogyny mixed with negligence of service propel ministers and officials to harbour sentiments that are not reflective of cultural reality but protective of the narrow set of beliefs that rapes just 'happen' because it happens to a certain portion of the population who have always been violated, victimized and then blamed.
Also Read: An Ecological Irony That Is India's Development Plan