Nearly seven decades ago, on 26th January, our Constitution came into implementation. Even before that, this date had acquired special importance. Having resolved to attain 'Purna Swaraj', demanding complete independence from British rule in December 1929, our people had been celebrating 'Purna Swaraj Day', taking pledge this day every year to carry on the freedom struggle till we attained it, from 1930 to 1947.
That is why, in 1950 we embarked our journey as a Republic on the 26th January, affirming to the principles laid down in our Constitution, our nation's charter of modernity. It is a lodestar for the socio-economic transformation of  Indian civilization which has celebrated pluralism, advocated tolerance and promoted goodwill between diverse communities of the country.
Its essence lay in four principles: democracy; freedom of faith; gender equality; and an economic upsurge for those trapped under the curse of dire poverty. The faith and commitment of Indians gave life to our Constitution and our founding fathers, men and women of great foresight, wisely and carefully, steered the new nation past its troubles of being a poor economy with huge regional instabilities and a vast citizenry devoid of even basic civic amenities.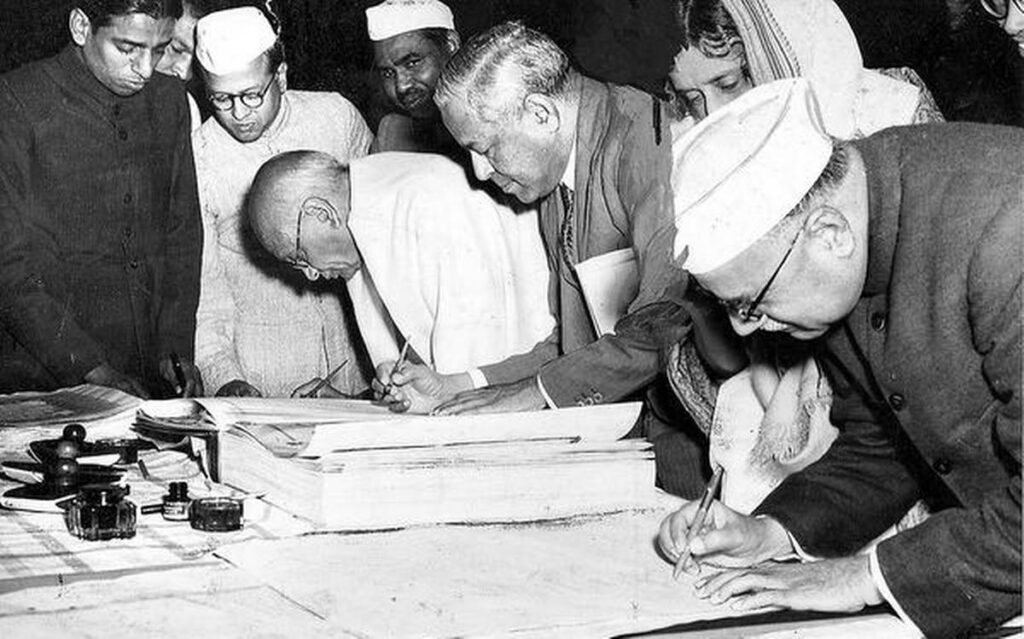 With becoming a republic, India has seen the culmination of the heroic struggle of a generation of extraordinary leaders who overcame colonialism to establish the world's largest democracy. On that day, we became the largest democracy in the world. The enduring democratic institutions they built pulled together India's amazing diversity to establish national unity, which has brought us so far and has given us the gift of continuity on the path of progress.
It goes to the credit of the strong rule of democracy built by our founding fathers that for almost the past six and a half decades, Indian democracy has been an oasis of stability in the region troubled by unrest. From a population of just 360 million in 1951, we are now a 1.3 billion powerful nation. Even then, our per capita income has shown a ten-fold increase, poverty ratio has declined by two-thirds, average life expectancy has more than doubled, and the literacy rate has shown a four-fold increase.
We are the second-largest reservoir of scientific and technical manpower, the third largest army, the sixth member of the nuclear club, the sixth member in the race for space, and the tenth-largest industrial power. From a net food grains importing country, India is now a leading exporter of food commodities. India today is a rising power, a nation fast emerging as a global leader in science, technology, innovation and start-ups, and whose rapidly surging economic success is the envy of the world. The journey so far has been eventful, sometimes painful, but most of the times, exhilarating.
The freedom inherent in a democracy sometimes generates an unhappy by-product when political discourse becomes a competition in the hysteria that is against our traditional ethos. "The violence of the tongue cuts and wounds people's hearts, Religion", said Gandhiji, "is a force for unity; we cannot make it a cause of conflict." No doubt we do have a noisy democracy. Yet, we do need more and not less of democracy.
The strength of our democracy is evident by the fact that over 66% of the total electorate of 834 million voted in the 2014 General Assembly Elections. The depth and breadth of our democracy glimmers in the regular elections being held in our Panchayati raj institutions. And yet, our legislatures lose sessions to disruptions ranging from accusations to name-calling and yelling when they should be debating and legislating on issues of importance.
Much is said about our republic's soft power. But the most powerful example of India's exercise of soft power, in an international environment where so many countries are sinking into the morass of theocratic violence, underlies in our definition of the bond between faith and polity. Our idealistic democracy has always reposed our trust in faith-equality where every faith is equal before the law and every culture blends into another to create a positive dynamic. Wisdom of India preaches: unity is strength, dominance is weakness.
It's with firm conviction to be sure that India's pluralism, and diversity on grounds of social, cultural, linguistic and religious identities are our greatest strength. Our democracy has always celebrated the 'argumentative' Indian; not the 'intolerant' Indian. Multiple views, thoughts and philosophies have clashed and competed with each other peacefully for centuries in our country. More than the unison of ideas, a healthy democracy calls for conformity to the values of tolerance, patience and respect for others.
Democracy has conferred rights to each Indian but also given responsibilities which have to be discharged. "The highest form of freedom carries with it the greatest measure of discipline and humility. Freedom that comes from discipline and humility cannot be denied; the unbridled license is a sign of vulgarity injurious alike to self and others" said Gandhiji. Each one of us is a pillar and ultimate stakeholder of our republic.
We must make all efforts to wipe tears from every eye. Equality is the watchword for the great way ahead of our Republic. Social equality warrants dignity for each one of us, economic equality entails handholding for the downtrodden. In our collective path ahead, Fraternity is our moral compass. What has brought us this far will take us further ahead. But we will have to learn to adjust our sails, quickly and deftly, to the winds of change.
The core values must reside in the hearts and minds of every Indian; inculcating in them a temperament of understanding and responsibility. No oppressive rule or violence can withstand commitment and collectivistic efforts. The promise of a developed India beckons us. This is the new stage of our nation-building project on which we have embarked. This is the Republic that our young people need to take forward and enhance – in keeping with their vision, their ambition and their ideals.
Also Read: