Former Union minister Arun Shourie filed a petition through advocate Prashant Bhushan challenging the validity of section 124A (sedition) of the Indian Penal Code, 1860 as violative of Articles 14 and 19(1)(a) of the Indian Constitution.
Recently a renowned, Padma Shri awarded TV journalist was impugned with an FIR under this law but the Supreme Court quashed it citing a journalist's right to address "issues of great concern so that adequate attention could be bestowed to the prevailing problems".
The United Kingdom, the empire which left an indelible mark on our Constitution in the form of Section 124A abolished the law from their own Constitution more than ten years ago. The Parliamentary Undersecretary of State at the Ministry of Justice of UK, Claire Ward reflected the sentiment that many people of our country feel, "Sedition and seditious and defamatory libel are arcane offences – from a bygone era when freedom of expression wasn't seen as the right it is today."
Another issue is the serious case of the pandemic which has treated people equally. But the government's seeming intent on punishing people without proving their guilt under sedition laws has decidedly continued to keep them in prisons when the entire world is saving itself.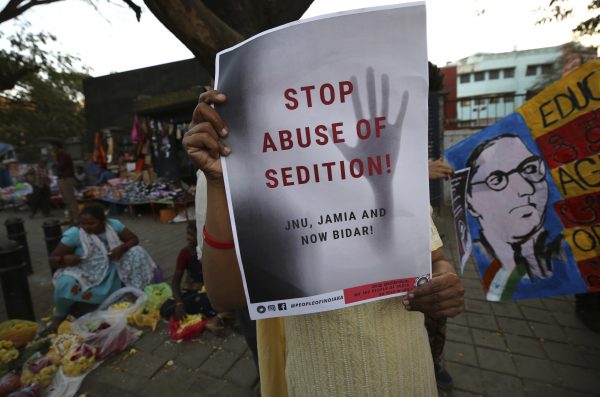 Under the UAPA there is absolutely no chance of the person getting bail in the interim period. If the UAPA is invoked, the sentence could extend to life. So, these people do not even have the benefit of ordinary administrative orders which have been passed, which say that anybody likely to face a sentence of fewer than seven years can be released during the pandemic.
In the country, the law defines the offence, but the state defines the offender. The law may say that a particular offence will come under the UAPA or a terrorist offence or a seditious offence. But it is not merely what the law says; it is what the state determines through the arm of the police when the state defines the offence. There is a selective interpretation of who an offender is.
The reality is not taken into consideration by the courts who know very well the poor conviction rate in UAPA cases (less than 3 per cent because these offences were cooked up).
When you have such a low conviction rate, what is the justification for keeping people inside for long periods?
Other than the Bhima Koregaon case, there are numerous cases in other states which are never heard about but are facing the same crisis.
We do not have a system in this nation; we have a process. And the process is the punishment.