Haryana Police alleging that the traffic might be disrupted due to the scheduled Mahapanchayat of farmers, between Delhi and Ambala on the national highway (NH 44), turned Karnal into a cantonment with police force surging into the city along with heavy barricading.
The farmers called to circle the Karnal Mini Secretariat on Tuesday, after which the state police suspended internet connection in the city and imposed Section 144 of the CrPC.
The officials stated that forty companies of security personnel have been stationed in the entire district. 10 companies out of the forty deployed are of central paramilitary forces.
State Additional Director General of Police (Law and Order) Navdeep Singh Virk remarked that the goal of deploying the forces is to see that the peace and order due to the Mahapanchayat, is not disrupted in the district.
"The general public using NH44 are advised to avoid journeys through Karnal town and use alternate routes to go to their destinations on September 7. All citizens are being informed about these arrangements in advance so that they are able to plan and modify their journey to avoid any inconvenience," he stated.
ADG Virk added that this will prevent violence, safeguard public property across the state in general, facilitate traffic and public transport in Karnal.
The traffic will be diverted for those traveling from Ambala to Delhi from Pipli in Kurukshetra, while the Pepsi Bridge in Panipat will divert traffic going from Delhi to Ambala. The internet services have not only been suspended in the Karnal district but the adjoining districts: Kurukshetra, Jind, Kaithal, and Panipat.
SP Ganga Ram Punia informed about the paramilitary deployment in the district, saying that CRPF, BSF, and RAF have been stationed with water cannons, drones, and riot control vehicles."The activity at the farmers' rally will be video graphed," he added.
The state government announced the mobile internet services' suspension on Monday at 12:30 pm and will continue till Tuesday midnight.
The Bharatiya Kisan Union (BKU) Chief of Haryana, Gurnam Singh Chaduni stated that the protest is peaceful, but the farmers will break the barricades if the administration stops them. He added that the administration was given till September 6 to meet the union's demands.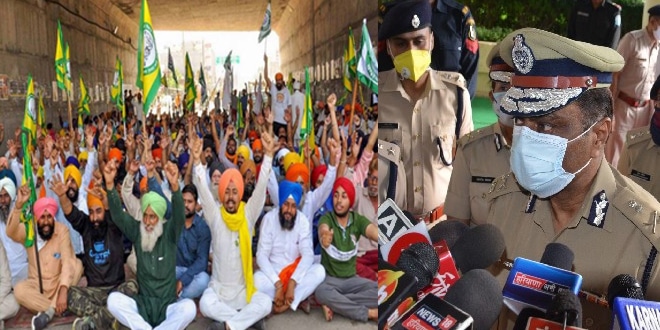 Chaduni said that the farmers do not plan on blocking the national highway. But since they did not get any satisfactory response from the district administration on their demands, the decision to hold a big panchayat was made.
When asked about the allegation over the said demands, the Deputy Commissioner of Karnal Nishant Kumar remarked that "their demands are not justified" even after the talks with the farmer union leaders were held.
"No compensation will be given to those who break the law. We will not allow the farmers to block the national highway and surround the mini secretariat", he pointed.
Also Read : BJP MP Varun Gandhi extends support to protesting farmers, says "re-engagement" needed