Upsetting all factions of the workers federation, in a major reform, the Union Cabinet has approved the corporatisation of the Ordnance Factory Board(OFB).
OFB operates 41 ammunition and defence equipment production facility.  This will be taken over by seven separate companies doing specific manufacturing role.
The existing 41 factories will be absorbed into these seven companies,  which are Public Sector Undertakings (PSUs).
The union cabinet said the motive behind this reform is to make it more accountable, efficient and competitive. 
Calling it a historic decision, Defence Minister Rajnath Singh said, "It is a big decision that complements India's national security requirements.
It will help in achieving our targets for defence production. There will be no change in service conditions of the employees." The OFB has 70 thousand employees working under them.
However, this decision has been opposed by the three major federations which have their affiliation to Left, RSS and Congress. 
The officials have confirmed that employees belonging to all categories (A, B, C) will be transferred to the 7 companies.
They will be deputed without any alterations to their service conditions as central government employees for the initial two years. 
Meanwhile, the three federations including the All India Defence Employees Federation (AIDEF), affiliated to the Left, The Bharatiya Pratiraksha Mazdoor Sangh (BPMS), which has its roots in RSS and the Indian National Defence Workers' Federation of Congress have threatened to launch an agitation together. 
Though the Defence Minister has assured that there will be no change in the service conditions of the employees, the workers are worried that the decision will eventually lead to complete privatisation and job loss. 
The Bharatiya Pratiraksha Mazdoor Sangh general secretary Mukesh Singh condemned the decision.
"We strongly condemn the draconian decision of the government and are determined to fight it. Yesterday, the conciliation mechanism with the Chief Labour Commissioner came to an end abruptly due to the adamant stand taken by the government's representatives.
We are also in consultation with the other two recognised federations of employees," he said.
In April, the three federations had approached the Chief labour Commissioner of India accusing the Department of Defence Production (DDP) of the Defence ministry of "blatantly violating" the conciliation settlement they reached in October last year when the federations had deferred their strike against the corporatisation of the Ordnance Factory Board.
The reform process is announced as a part of Prime Minister Narendra Modi's vision for self-reliance in the defence sector.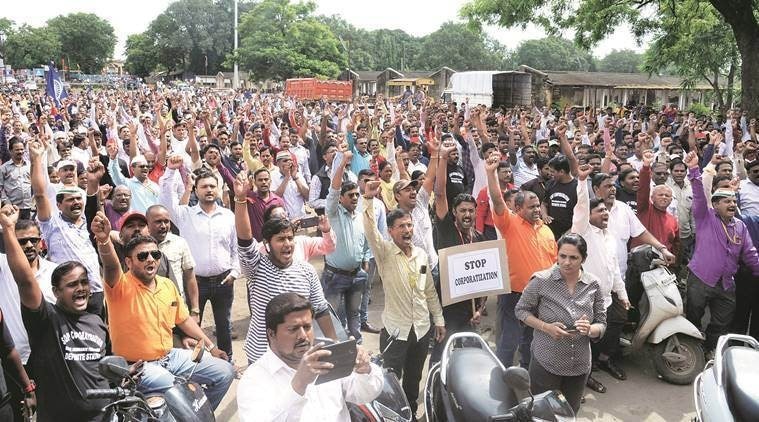 Annually, the government is spending Rs 5000 crore to pay the salary of the OFB employees. An additional amount of Rs 3000 crore is spent on the operational cost. 
The 200-year-old  board had been dealing with performance-related issues.
Three committees were formed between 2000 and 2015 and have recommended corporatisation, which didn't get implemented.
The initiative of corporatisation was in one of the 167 'transformative idea' listed to be implemented in the first 100 days of the Narendra Modi government's second term.
Also Read: