PM Modi on 13th October launched the GatiShakti National Master Plan for national infrastructure development. Under the GatiShakti Scheme, a digital platform has been created that will bring together 16 ministries, including rail and roadways.
This will provide multimodal connectivity between the different ministries involved in infrastructure development, improve transparency so that each ministry can keep track of what the others are doing and proceed accordingly.
The scheme, which was first announced by Mr Modi during his 15 August speech at the Red Fort, takes a holistic approach to infrastructure planning and aims to bring future projects under one umbrella.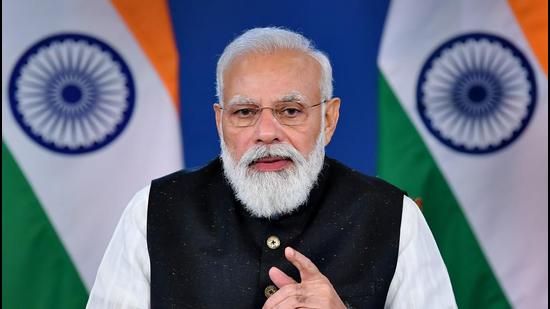 The Indian bureaucracy works in a silo system, where every ministry has a separate hierarchy and information and decisions must travel through this hierarchy. This leads to a lot of lost time in getting information or getting approvals. This problem becomes even more apparent when an infrastructure project requires multiple ministries to work together.
Delays and cost overruns creep in, and sometimes the project may get stuck altogether. And sometimes one department's work might be upended by another because of lack of communication. The GatiShakti platform will remove this cumbersome process and enable ministries to function more efficiently. 
The GatiShakti will not only provide information about the work of different infrastructure projects in a clear and transparent fashion, but it will also make use of the global information system (GIS) and satellite data to increase coordination between various stakeholders. It will also include schemes such as Bharatmala, Sagarmala, UDAN, and the ongoing expansion of roadways and railways. 
The project, which is being spearheaded by the logistics division in the commerce industry, plans to achieve the following by 2024-25:
11 industrial corridors nationwide

2 new defence corridors in Tamil Nadu and Uttar Pradesh

4G connectivity in all villages in India

Expansion of the National Highway Network to 2 lakh kilometres

Creation of 220 new airports, heliports, and water aerodromes

The increasing cargo handling capacity of railways from present 1210 million tonnes to 1600 million tonnes

Increasing the transmission network to 4,54,200 circuit km

Increasing gas pipeline network by 17,000 km

And others
Rapid infrastructure development is needed if India is to realize its ambitious goal of becoming a 5 trillion dollar economy. The GatiShakti Master plan aims to bring about this infrastructure development in order to reduce logistics costs for different industries.
The national infrastructure schemes will connect agri clusters, industrial parks and hubs, production hubs such as textile or pharma hubs, and other commercial clusters with markets and ports. The cost of logistics is a major problem for the Indian industry, as it can add overheads and increase prices even at the primary production level, which reduces India's competitiveness in the international market. In fact, the cost of logistics in India is 13% of the annual GDP, compared to a global average of just 8%.
Lack of proper infrastructure, an over-dependence on roadways, and lack of utilization of rail, inland waterways or airways are instrumental in driving up logistics costs in India. The rapid infrastructure development under the PM Modi GatiShakti National Master Plan will help overcome these challenges and help in making India competent in exporting while also attracting investors.
The Indian industry has taken a hit due to the Covid-19 pandemic and is slowly recovering. The launch of such a plan at this juncture is sure to infuse new blood into the economic recovery of the world's fastest-growing economy. However, executing such an ambitious and complicated plan is a challenge in itself. But once GatiShakti does come into force, the Indian industry is hopeful to profit from it.
Also Read:  "Condemnable"- Says FM Nirmala Sitharaman on Lakhimpur Kheri violence at Harvard Kennedy School