The Haryana Assembly passed a Parivar Pehchan Bill aiming to create a unique number for the identification of each family.
The numbers will form a database, and the government will use the database to provide beneficial services to the families. However, Congress party members have claimed the bill infringes on the right to privacy of the citizens. 
The Bharatiya Janata Party and Jannayak Janta Party passed the Haryana Parivar Pehchan Bill, 2021 to help families with a unique number of pehchan beneficiaries, including eligibility for services, subsidies, schemes implemented by the state government or the local authority.
A Parivar Pehchan Authority will be set up to maintain the information collected into the Family Information Data Repository. However, the opposition MLAs raised concerns over the bill. 
Bhupinder Singh Hooda, the former chief minister of Haryana, demanded the withdrawal of the bill. At the same time, Congress MLA Kiran Choudhary called the bill draconian and said it violates the fundamental right to privacy. She claimed that the data isn't safe because an ordinary hacker can easily access the information. 
Geeta Bhukkal from Congress said that the privacy of the citizens should be honoured. She said that the government should focus on providing welfare schemes for the people. She questioned the necessity of the registration since the citizens already have Aadhar and PAN identity numbers.
Congress MLA Shamsher Gogi compared the passing of the bill to monarchy. He alleged that the government is trying to establish a monarchy.
 Chief Minister Manohar Lal Khattar mentioned that the government has details of citizens of Haryana, including property-related documents for revenue and PDS (public distribution scheme).
He informed that the Parivar Pehchan scheme took three years to formulate, and sixty-four lakh families have already registered under the plan. The facilities are provided to citizens having a document certifying that they are a resident of Haryana. 
The chief minister mentioned that a petition was filed in the High Court to which the bench didn't object to the scheme or the collection of the data for the scheme.
He also mentioned that several schemes have various data that can create confusion. Hence, the Parivar Pehchan Patra (PPP) scheme generates unique data.
Ten conditions were put forth to determine a below poverty line family (BPL), including not having a television, refrigerator, and land alongside families whose annual income is Rs 1.2 lakh.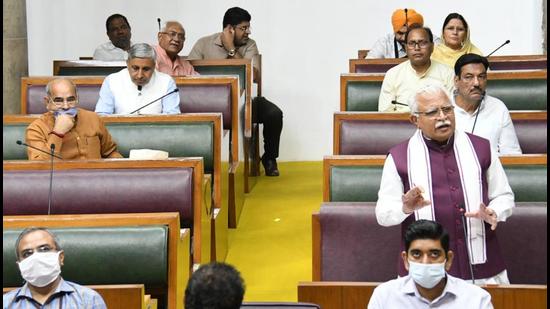 The chief minister also mentioned that birth, death, and marriage registration would also be a part of the scheme alongside property details.
This will help implement the scheme more effectively. He mentioned that out of 3.3 lakh employees working in the government, around 2,98,274 employees have registered under the PPP scheme.
He said that the government has collected data under various schemes, and the data is kept safe with the help of IT security features. A punishment will be levied against those who use the data without the permission of the government. 
Also Read:  Supreme Court Bench says Justice Lokur panel set up by Bengal govt to probe Pegasus snooping row can wait