Union Commerce and Industry Minister Piyush Goyal pitched a services trade agreement with select Indo-Pacific economies, at a special plenary with trade ministers of the Indo-Pacific region. 
The call was to help the sectors like e-commerce and IT liberalize domestic regulations and build capacity. In his keynote speech, Piyush mentioned that the countries should rely on India's track record as the trade has increased from $33 billion to $262 billion with the select Indo-Pacific economies.
"Given the prospects of services trade, an Indo-Pacific wide services trade agreement should also be considered amongst friendly nations. It can help liberalize domestic regulations and build capacity on e-commerce and IT-enabled services and other areas such as Artificial Intelligence," he said.
Inviting the regional businesses to benefit from India's production-linked investment schemes, Goyal further highlighted that the major trade barrier in the region so far has been the non-tariff measures act. The cross-border movement of goods can be done more freely with trade facilitation. 
Speaking on the initiative by Indian trade ministers in September 2020, to build resilient supply chains, he said that it is a firm step towards the goal and other "friendly" countries may be included in it.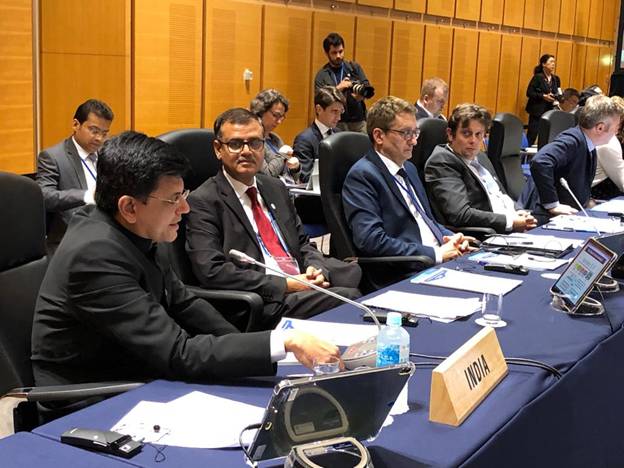 "We hope to be able to invite other countries to join us in this very important initiative. Our economic future in the Indo-Pacific region will largely be defined by our capacity to build on blue economy potential, regional economic integration, and improving connectivity to promote regional trade," he said.
Other than Goyal, Bandula Gunawardana, Minister of Trade, Republic of Sri Lanka, Faiyaz Siddiq Koya, Minister of Commerce, Trade, Tourism & Transport, Republic of Fiji, addressed the session. 
The countries included in the Indo-Pacific region are Sri Lanka, Bangladesh, Bhutan, Fiji, Malaysia, Japan, Australia, New Zealand, and Singapore.
Addressing the pandemic, Goyal said that the global crisis helped the "spirit of brotherhood" among the nations to help each other in the hour of need, giving potential opportunities to build partnerships and collaborate. 
"Our track record should give confidence to our friends that India will be their natural and most reliable ally in years to come", he said. 
The session was hosted by CII on "Developing a Road Map for Shared Prosperity". It was attended by Yoon Sung Roh, Chairman of the Presidential Committee, Republic of Korea; Betty C. Maina, Cabinet Secretary, Ministry of Industrialisation, Trade and Enterprise Development, Republic of Kenya.
The United Arab Emirates was represented by Thani Ahmed Al Zeyoudi, Minister of State for Foreign Trade and Minister in charge of Talent Attraction and Retention. 
Also Read:  Delhi Commission Of Women Issues Notice To The Delhi Police To Take Action Against The Auctioning App, 'Sulli Deals'