He wanted to take control of his arrest so he could not be seen on media while he was taken into custody. The former President surrendered after being defiant till the last minute.
While the arrest was meant to be conducted hastily, Jacob Zuma's supporters, led by his son, Edward, blocked the gates with their cars.
After the arrest was made and Jacob Zuma was transferred 150kms from Nkandla, Police spokesperson Lirandzu Themba confirmed that the former President complies with the Constitutional Court judgment and remains in police custody.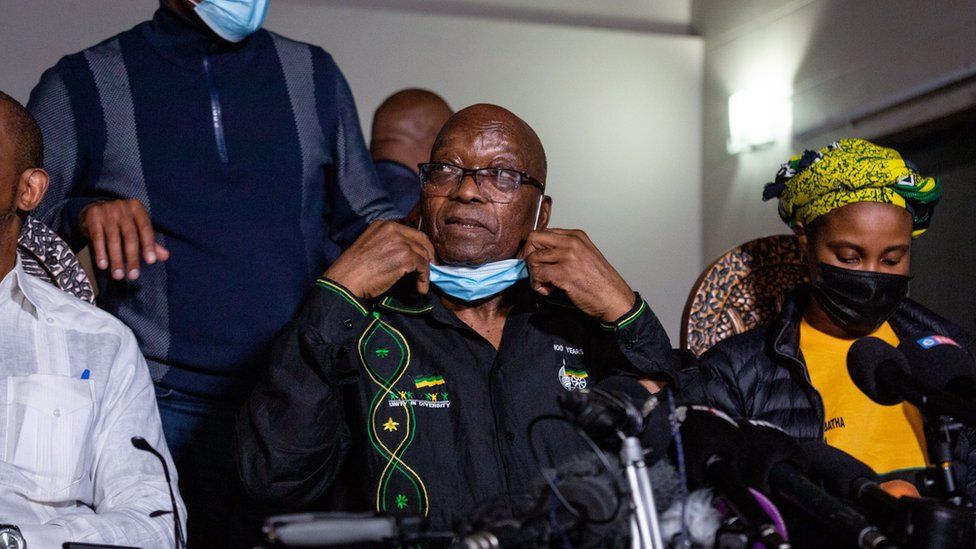 His son, Edward Zuma, had previously promised a "Bloodbath" when the Police initially came to arrest his father, Jacob Zuma.
Indeed, a "Bloodbath" has been witnessed since then. The country's current President, Cyril Ramaphosa, had claimed that the violence witnessed is the worst we've seen since the 1990s before apartheid even ended.
Beginning with protests, the violence expanded into aggravated riots, looting, arson, and murder. Almost all businesses in Durban and Johannesburg and the surrounding areas have been closed down after many of them were destroyed and robbed.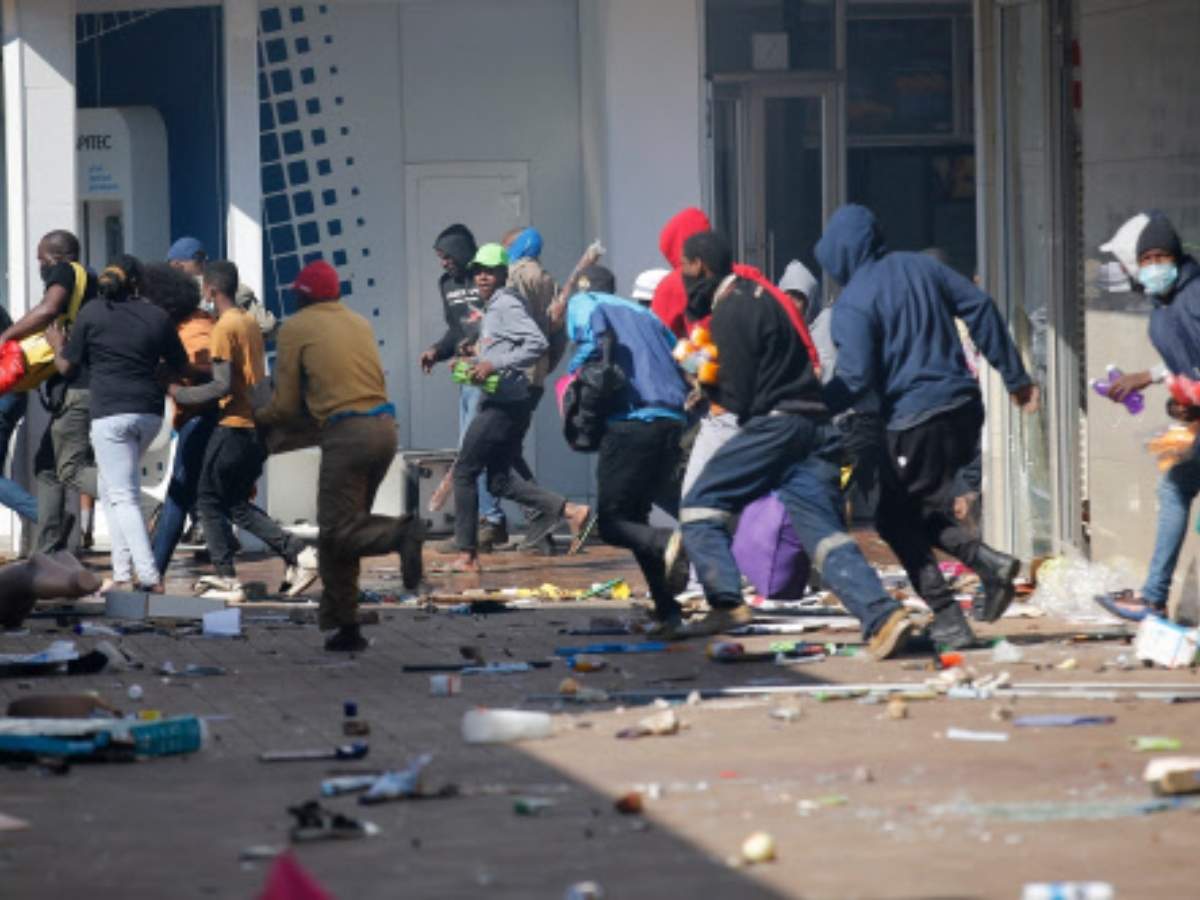 By just Monday afternoon, over 200 shopping malls had been looted. Now, on Wednesday, that number has drastically increased.
A myriad of shopping centers in the township of Soweto – which was once home to Nelson Mandela – has been thoroughly looted and ransacked. ATMs have been destroyed, restaurants ruined, clothing and alcohol shops completely trashed.
As we see Eid ul Adha approaching, livestock was stolen in KwaZulu-Natal, and perpetrators went as far as looting a blood bank in Durban. Furthermore, the economic hub of Gauteng has been affected.
A mother in Durban was forced to throw her baby out of a building that was set on fire. Thankfully residents below were able to catch the infant.
Nonetheless, to think of the trauma the mother experienced as she had to choose between leaving her baby with her in a burning building or throwing the infant off of the building without a guarantee that the child would be caught.
View this post on Instagram
Seventy-two people have been killed during the unrest that the country has been calling #zumaunrest. Furthermore, many people have been injured, left unemployed, and have had to go to sleep with weapons under their pillows.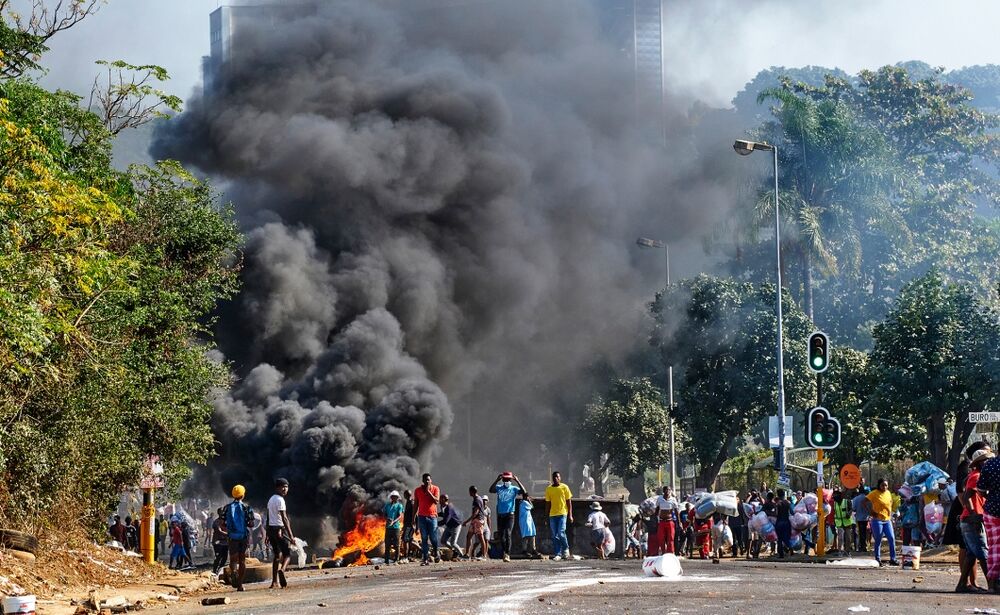 Fathers and brothers are outside patrolling every night, protecting their families and communities, and even aunties are walking around with baseball bats, trying to put on a brave front as we all wait for the worst.
Petrol pumps have been closed, sugar mills locked up, and the fear that we'll have run out of food is crawling down our throats as we try to stack milk and bread – both of which seem to gold at this point.
Amidst it all, Indians are being subject to violent threats for protecting their communities. We have been accused of racism, but how is self-defense being racist? Men on Twitter have gone as far as to say All Indians must fall and that they have raped four Indian women already, so their part is done.
If we speak against the looting, we are accused of speaking from a "place of privilege." How is working hard for your food and home and speaking out against the looting of your self-established business speaking from a place of privilege?
Is this is what we are to expect? People stealing televisions, setting fires, and stampeding over bystanders are blaming it on "Hunger," then accusing us of being racist because we're afraid our life's earning and life itself is in danger.
While the army has been deployed, we are yet to see any calm. Instigators of violence have been found, but the President is yet to find a permanent solution.
#PrayforSouthAfrica
Also Read: MoEFCC launches an Amnesty scheme to punish breakers of environmental norms