Taliban spokesperson Suhail Shaheen said that the Afghanistan terrorist outfit is well within its rights to speak in support of Muslims anywhere, including those in Kashmir. Just when there are speculations about the Taliban's influence on the militancy in the valley, the comment on Thursday is in contrast to what the group's senior leader Anas Haqqani said. Earlier this week, Haqqani said that the Taliban would not interfere in the valley.
While speaking to News18 on September 1, Haqqani commented, "Kashmir is not part of our jurisdiction and interference is against policy. How can we go against our policy? We will not interfere."
BBC Urdu quoted the spokesperson on Thursday, where he said that the Taliban does not take up arms against any country while talking about the February 2020 agreement signed with the then Trump administration.
"We will raise our voice and say that Muslims are your people, your citizens, and they are entitled to equal rights under your law," Shaheen spoke at the Taliban's political office in Doha.
The union minister for Minority Affairs, Mukhtar Abbas Naqvi was quick to respond on Friday and said that the organization should "spare the Muslims of India" as they follow the Indian Constitution that ensures the inclusivity of every sect in development and cooperation.
"I appeal to Taliban with folded hands that spare the Muslim of India. Here, worshippers praying in mosques are not attacked with bullets and bombs. Here girls are not stopped from going to school, their heads and legs are not cut off," stated the minister as per ANI reports.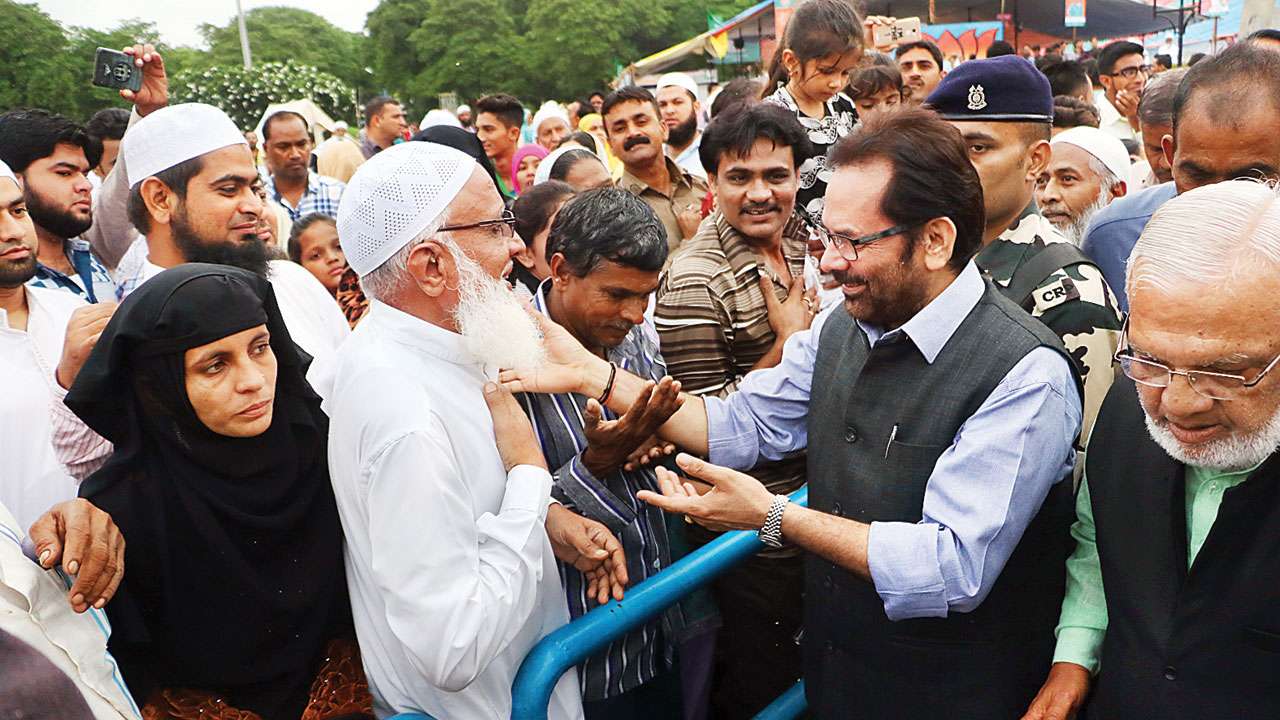 Apart from Haqqani's interview, another meeting the Indian government was counting on was the Indian ambassador Deepak Mittal, who met Sher Mohammad Abbas Stanekzai last month.
Mittal, who is an Indian envoy to Qatar, was hopeful about the meeting with the Taliban's Political Office in Doha.
The Ministry of External Affairs (MEA) spokesperson Arindam Bagchi gave out the statement and said that the focus of India as of now is to make sure that Afghanistan's land is not misused for terrorist training and harbouring terrorists against India. Although still early into the regime, Bagchi said that the meeting was used to put our concerns on the table.
"We used the opportunity to convey our concerns whether it is in getting people out (from Afghanistan) or on the terrorism issue. We received a positive response," Bagchi said of Mittal's meeting with Stanekzai.
Also Read : Police merely pulling wool over the court's eyes: Court in Delhi Riots case