Pinki Virani, a writer, and a human rights activist, in her book "Bitter Chocolate" released in 2013 referred to child abuse as "silent crime". And silent crime it is. Here's a shocking fact: the Childline India Foundation reported a 50% increase in phone calls than usual days in the last two weeks of the lockdown. Out of the total calls received during the period, thirty percent were related to protection from abuse.
A study by UNICEF called "'Parenting Matters: Examining Parenting Approaches and Practices" shows there are 30 different forms of physical and verbal abuse that Indian parents use on children as young as 0 to 6 years as part of disciplining efforts.
The study was conducted in two districts each in Madhya Pradesh, Chhattisgarh, and Odisha, three districts in Rajasthan, and four districts in Maharashtra in 2019 showed that "Punishment, is a widely accepted method to discipline children for both boys and girls in families, schools and at the community level for both girls and boys."
Speaking on the release of the report, Yasmin Ali Haque, UNICEF Representative in India said, "The various forms of violence against children includes physical violence (burning; pinching; slapping; beating with implements like a stick, belts, rods) verbal abuse (blaming; criticizing; shouting; use of foul language); witnessing physical violence (towards one parent; towards siblings; outside the family) and emotional abuse (restricting movement; denying food; discrimination; instilling fear)," she said.
Studies suggest one-third of child abuse survivors become abusers themselves, transmitting the trauma into generations beyond. In a report by the Ministry of Women and Child Development in India, 53% of children are victims of child sexual abuse in India. Globally speaking, India ranks second in terms of the highest rate of child sexual abuse.
Even though statistics help in grappling with the horrifying ubiquity of these crimes, they don't essentially illuminate the nature and psychological long-term impact of it. Any kind of abuse leaves its impact which can manifest in different pathologies and mental health problems.
An honest, sensitive, and more aware approach is urgently needed to tackle the aftermaths as well as preventing the crime itself. Our patriarchal society gives birth to corrosive environments: harbors societal shame and repression, sustains fear of authority, a continuing lack of awareness, and a dire lack of resources. We know all this. It's 2021, this discourse has been done in many forms across different mediums.
Those are valuable and still needed, but there needs to be a resourceful foundation beneath and timely action plans for those who need it urgently. A few general pointers on how to deal with children/persons who are victims of abuse:
Empathetic attention, understanding, and care
Immediate legal recourse if the victim assents
Resourceful healing strategies (whether it's therapy, connecting with an NGO, etc)
Creating an environment that is welcoming, honest, and sensitive.
There are numerous resources available online about child sexual abuse and how to sensitize children, as well as adults about it. There are laws in India under POCSO (Protection of Children from Sexual Offences), that solely focus on the protection of children against child sexual abuse.
The POCSO Act is a comprehensive law to protect the children from offenses of sexual assault, harassment, and pornography, while safeguarding the interests of the child at every stage of the judicial process by incorporating child-friendly mechanisms for reporting, recording of evidence, investigation, and speedy trial of offenses through designated special courts. [iii]
There are multiple NGOs that work with victims of child abuse in creating a holistic understanding of the issue and building a safe environment. The parents and guardians are entities with social power in a child's context. They are supposed to ensure personal safety and awareness, is open a discourse around child sexual abuse in their homes. According to Parent's Protect, an organization working to spread awareness about child sexual abuse, parents can identify symptoms of abuse such as:
Nightmares, sleeping problems
Becoming withdrawn or very clingy
Becoming unusually secretive
Sudden unexplained personality changes, mood swings, and seeming insecure
Regressing to younger behaviors, e.g. bedwetting
Unaccountable fear of particular places or people
Outburst of anger
Changes in eating habits
New adult words for body parts and no obvious source
Talk of a new, older friend and unexplained money or gifts
Self-harm (cutting, burning, or other harmful activities)
Physical signs, such as unexplained soreness or bruises around genitals or mouth, sexually transmitted diseases, pregnancy
Acting out in an inappropriate sexual way with toys or objects
Running away
Not wanting to be alone with a particular child or young person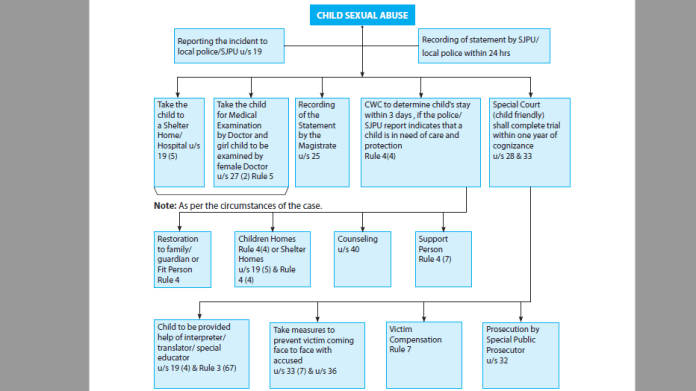 Some NGOs that work with victims of child abuse:
TULIR aims to participate in local, national, and international measures to protect and promote child rights through several interventions such as research, documentation, workshops, etc.
RAHI Foundation focuses on women survivors of Incest and Child Sexual Abuse (CSA). RAHI's work includes support and recovery through the distinctive RAHI Model of Healing; awareness and education about Incest/ CSA; training and intervention; and research and capacity building – all established within the larger issue of social change.
Arpan is currently working in Mumbai and Thane in Maharashtra with a child-centric model of intervention in the area of child sexual abuse (CSA) with a balanced emphasis on prevention and healing components.
Some useful online resources:
For additional resources and child helplines, please see here.
It is important we systematically and methodically deal with child abuse. But more importantly, we need to fix societal values and conditioning that give birth to an environment that perpetuates child abuse. We need collective, organized efforts, implementations of policies, legal reforms, and powerful swathes of courage that can shake and shatter the rotting foundations of our societal ecosystems.
[i] https://journals.sagepub.com/doi/full/10.1177/0253717620951391
[ii] https://www.newindianexpress.com/nation/2020/jun/03/indian-parents-use-30-different-kinds-of-abuse-on-kids-from-0-to-6-years-unicef-study-2151607.html
[iii] https://legislative.gov.in/actsofparliamentfromtheyear/protection-children-sexual-offences-act-2012
Read also: Blaming Victims For Sexual Abuse Needs To STOP: It's 2020!