Trigger Warning: Descriptions of sexual assault and physical violence. Reader caution is advised.
'Respect Chris Brown.'
'Missing Chris Brown.'
'Chris Brown did nothing wrong.'
In a new low for the Right-wing troll army on Twitter, American songwriter Chris Brown's mentions soared on the social media platform on Wednesday, 3 February, after singer-actor Rihanna shared a news story on farmers' protest against the Centre's farm laws. The trolls took to Twitter to 'praise' and show 'respect' to Brown for hitting and abusing Rihanna in 2009.
"Why aren't we talking about this?!" Rihanna had written on Twitter on Tuesday, adding the hashtag #FarmersProtest.
why aren't we talking about this?! #FarmersProtest https://t.co/obmIlXhK9S

— Rihanna (@rihanna) February 2, 2021
'Felt Like a Monster': Chris Brown Charged for Assault in 2009
A night before the Grammy Awards in 2009, Chirs Brown, who was 19 year old then, was arrested for assaulting Rihanna, who was 20 years old at that time. After he left her bruised and bleeding, he was sentenced to five of probation and was sentenced to community service and domestic violence counselling.
Brown pleaded guilty "one count of assault with the intent of doing great bodily injury" and was charged with one count of assault.
In a documentary that was released in 2017, Chris Brown: Welcome to My Life, Brown said he "felt like a monster" as he talked about the incident.
"I remember she tried to kick me, just like her beating s**t, but then I really hit her. With a closed fist, like I punched her and it busted her lip. And when I saw it I was in shock, I was like, f**k why did I hit her like that?"
Rihanna in an interview had said she "fended him off with my feet" as he allegedly threatened to kill her, "to scare me", and that "all I kept thinking was, 'When is it going to stop?'" She called their relationship as "dangerous" and added "The more in love we became, the more dangerous we became for each other, equally as dangerous."
Years later, trolls are now praising Brown for assaulting Rihanna in 2009. Why? Because she extended her support to Indian farmers.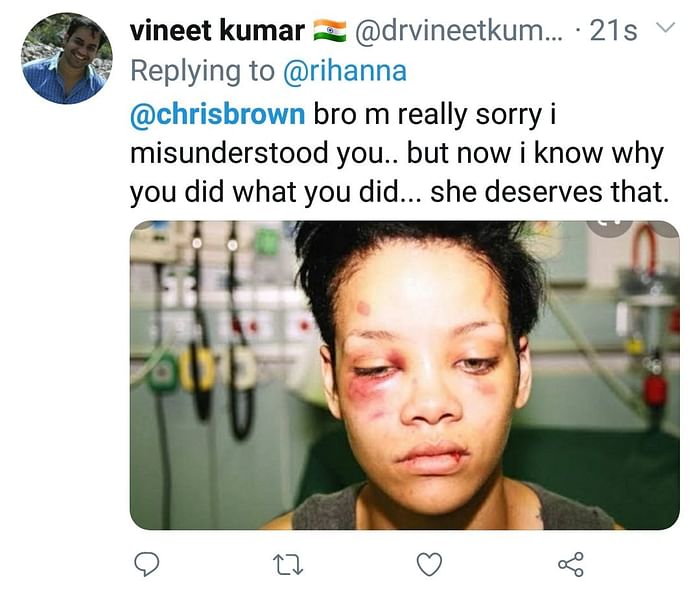 https://twitter.com/rartednigga/status/1356939890965979136?s=20
Are you going to shut up or should I be calling Chris brown

— Pranshu (@Pranshu81214055) February 3, 2021
@chrisbrown did a really great job.

— ଆଶୁତୋଷ ରାଉତ 💙 (@TonyAshu003) February 3, 2021
@rihanna That's Why @chrisbrown Left You. And Drake Also Because You Don't No About Topic And You Commented Without Knowing Real Truth #I_Support_Farmer_Bill

— राज केसरी (@Raj42065184) February 3, 2021
https://twitter.com/Biswaru73683217/status/1356923583629385735
She must be given another coating by CHRIS BROWN, I think.

Because, these CLUB GIRLS are talking RUBBISH without knowing the FACTS.

— Siva Kumar (@SivaKum88344501) February 3, 2021
Multiple studies show that online trolls tend to be predominantly male and 'enjoy' the chaos they cause through the tweets – which are often large-scale hate campaigns.
While Rihanna's mentions and tags were filled with mentions of Chris Brown, a few social media users also took to the platform to point out that the ecosystem was vile and the act is simply disgusting and indicated the 'lowest of the low.'
Man the ecosystem of bhakts is so vile that they're flooding her mentions and tags with Chris brown memes and are suddenly super fans of his because Rihanna spoke about the farmer protests.

It's disgusting. Lowest of the low.

— Andre Borges (@borges) February 2, 2021
Indian RWers supporting Chris Brown for assaulting Rihanna just proves how they themselves will resort to violence, abuse and rape threats to shut down women with contrarian and independent opinions.

— Aparna H (@FuschiaScribe) February 2, 2021
Trigger warning: abuse

As happy as I am that international voices like Rihanna are raising awareness of the farmers' protest, I didn't know why I expected a patriarchal shithole like our country to respond kindly. The number of Indians writing "Chris Brown was right" under her++

— (mostly) Main Character Energy (@pappuchaaru) February 2, 2021
In October 2020, a global survey conducted by Plan International revealed that more than 50 percent of girls and women between the age of 15-25 have been cyber-stalked, sent explicit messages and photos, been harassed and abused online.
The study also explained that the abuses experienced by the girls forced them to exit social media and left them "traumatised."-
Also Read | Indian Celebrities And Sport Stars Join The Campaign To Counter Rihanna 'S Tweet
Also Read | Female Journalists And Online Bully: A Problem Spilling Offline
Also Read | The Brave New Era Of Online Learning But Not A Smart One!
Also Read | Social Media Has Become A Society Splicing Tool
For more, like us on Facebook or follow us on Twitter, Instagram  and Telegram