Bali contemplates promoting the jazziness and heterogeneity of its history and customs via its most notable feasts, dances, sculptures, music, and popular ceremonial art activities. If you want to get a glimpse of its actual essence and grace of culture and customs, attend one of Bali's festivals when the entire island comes together to celebrate its true riches! Bali has a rich fusion of cultures and traditions. Here are some of the best festivals in Bali.
Every month, there will be exceptional events in Bali. From cultural parades to festivals and religious holidays, there is always something to celebrate on this island.
Many activities are now available to the public, which is great news for tourists. Each Bali area or (even) village is urged to host a creative/cultural event to promote their own local culture.
Here is the list of Bali festivals to help you pick your favorites from the many:
1. Chinese New Year
Chinese New Year, the most visible and notable Balinese event that begins on the firm Chinese historical ties, creates a dynamic joyful air that also ensnares the presence of the whole country.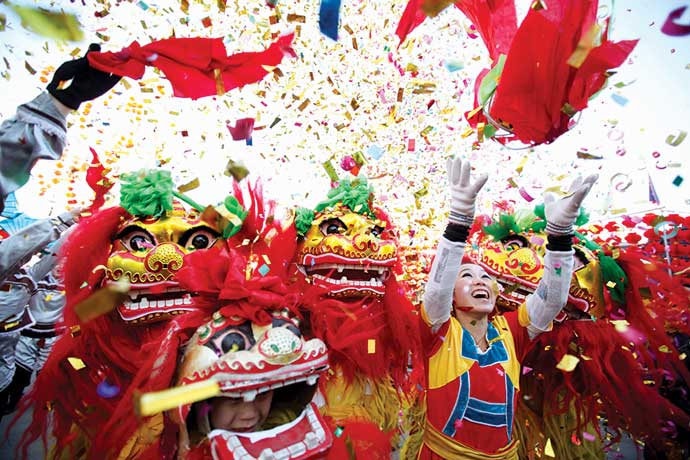 When this festival is held, the most brilliantly adorned Chinese and Buddhist temples intensify the happy vibrations that entice people from all over the world.
During the spectacular New Year celebrations in Bali, take in the captivating performances of Chinese "Barongsai"; the Lion and Dragon dance soldiers, while munching on Chinese foods from the very famous Chinese eateries.
2. Galungan and Kuningan
Galungan and Kuningan is a prominent yearly Bali celebration that celebrates good triumphing over evil. This celebration lasts ten days, with the starting day being Galungan, which celebrates the arrival of the gods on Earth, and the conclusion day being Kuningan, which symbolizes the return of the gods to Heaven.
Houses and temples are decorated with tall bamboo poles known as "Penjor." It is, without a doubt, one of Bali's most alluring and captivating religious events, attracting hundreds of thousands of visitors. This festival provides spiritual reinvigoration to both locals and visitors.
3. Ogoh Ogoh Parade
The Ogoh Ogoh Parade, also known as the Ngerupuk Parade, takes place on Bali Island and is full of joy and frolic. The Balinese Hindus celebrate it with drums and candles, and it is a very magnificent spectacle.
The procession highlights local customs, including a variety of creatively formed monster dolls made of paper, huge wood, and bamboo that depict social evil.
At the conclusion of the ceremonies, the monster dolls are burned, symbolizing the end of negativity and so cleansing the surroundings.
4. Air Festival
The Air Festival emerges, depicting the crisscross of art and ecology in the region, with the rise of underground cultural music amidst the magnificent Balinese surroundings. The main goal of this event is to preserve the Balinese land, which is commemorated each year with big genres of broad music and diverse themes.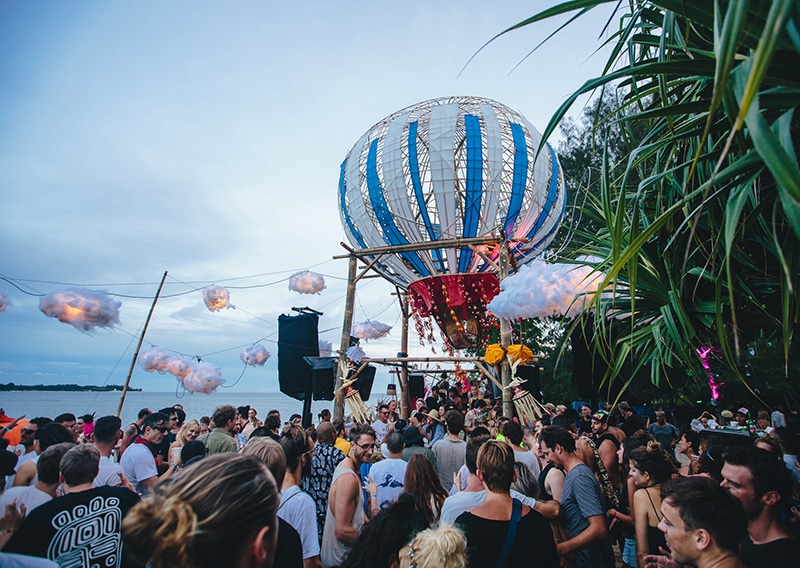 It distinguishes itself by being a one-of-a-kind experience. Perhaps this is the fundamental reason why both residents and visitors are equally enthusiastic about taking part in the festivities.
5. Bali Arts Festival
The Bali Arts Festival, which combines art, culture, music, and dance, offers a diverse range of events, contests, and activities linked to literature, fashion, handicraft, gastronomy, and a variety of other interesting topics to investigate and evaluate.
It is regarded as a true feast for art connoisseurs and all those who are interested in photography. As a result, the Bali Arts Festival shows a completely distinct skill of Balinese clothed in the most enticing outfits. This festival has a charisma that draws the attention of everyone who attends.
6. Bali Blue Festival
The Bali Blue Festival has been honored in a well-planned way by putting in substantial efforts to resuscitate Blues Music with the help of the Indonesian Tourism and Development Department.
The remarkable performances of Balinese natives and national musicians, who transmit the dazzling vibrations of their songs around the peninsular island, are practically witnessed by all music aficionados.
7. Odalan
Odalan is one of the most well-known Temple celebrations held at the 'Pura Besakih' Mother Temple, which is also Bali's biggest Hindu Temple.
Various Balinese ethnicities meet for prayers at Odalan, and they also participate in the processions with tremendous zeal and enthusiasm. This event also attracts followers from all around the world who go in order to achieve spiritual enlightenment as committed worshipers.
8. Soundrenaline
Soundrenaline, a tremendous adrenaline surge to music, is a delight for music fans who are in Bali and looking for something unique and traditional. This festival has been held for centuries and is still a big draw as an annual event.
This lavish music event features some of the country's most well-known as well as up-and-coming rock and roll artists.
Soundrenaline presents every form of music, from jazz to hip-hop to indie, and so on, to keep every music enthusiast enthralled during the great event.
9. Ubud Writers And Readers Festival
The most well-known annual literary festival in Southeast Asia is an indulgence for literature enthusiasts, held with the goal of sharing ideas, words, and cross-cultural philosophies on a single platform.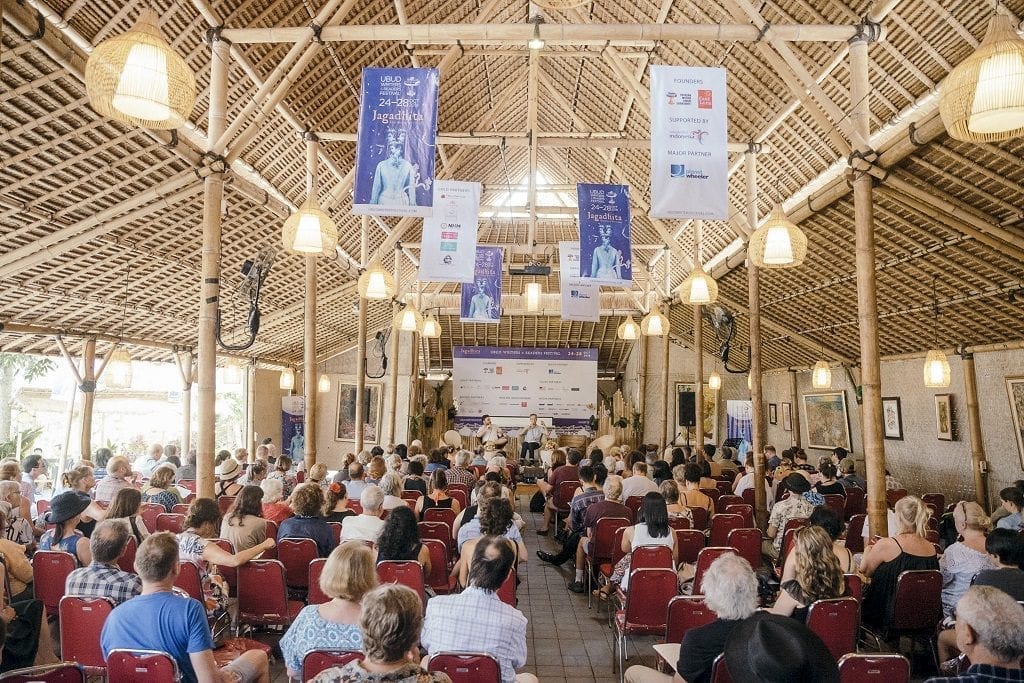 This event is regarded as the most significant in terms of drawing masterminds and literati to explore problems about geographical and cultural barriers, regardless of region-based limits and separations.
Several renowned writers, artists, authors, and activists from across the world will be together on a single platform at this event.
10. Tumpek Landep Day
Tumpek Landep Day, also known as Saniscara Kliwon Tegh, is a Pawukon Calendar-based event that occurs every 210 days. Devotees make ceremonial offerings made of the Metal to all people who come to see it.
The village temple collects unique prayers and offerings from the community, and the image that evokes the most emotional response is worth a look.
Some of the most colorful native festivities and festivals in Bali are included on the Bali festivals and events calendar. The majority of observances are based on the pawukon, a Balinese calendar that rotates every 210 days. The calendar system governs everyday duties and intricate rites of passage that Balinese undergoes throughout their life, as well as big temple anniversaries. Here's the last word on the best festivals in Bali. Please let us know what you think in the comments area below.
Also Read: 10 Most Luxurious Wedding Venues To Get Married In India