Voice recorders that are computer-based are fantastic. However, they may be highly restricted in many respects. You can't, for example, take one outside and keep filming while hiking with the influencer you're highlighting on your website. In this post, we have compiled a list of the best voice recorder apps for Android.
However, portable recorders (such as Android applications) allow for virtually endless speech recordings. In reality, many individuals nowadays use them to boost productivity, complete tasks, and save a significant amount of time.
Voice recording is only one of the numerous features available on an Android phone. While it does not provide you with studio-quality audio — yet still creating excellent recordings — it does provide you with the opportunity to capture sounds at any time and in any location.
Here are the Best voice recorder apps for Android-
1. Rev Audio & Voice Recorder
Rev's recorder app is a straightforward yet comprehensive audio recording, dictation, and transcription software.
Pros
Synchronizes with cloud services

Files are shared via email and social media.

The audio is incredibly clear when recorded.

The ability to transcribe audio

Even while in sleep mode, the recording continues.
Cons
External cloud storage account

Rev's app is designed based on user feedback, so you may expect some truly cool features. In addition, we guarantee that it will always be free. If you want a quick 99 percent correct transcription, you can email us your tape and pay only $1.25 for each audio minute.

It is Free of charge
2. Android Stock Audio Recorder 
Your Android smartphone already contains a recording app that is completely functioning. Launch the app, push the red button, talk, and you're done! You may save your thoughts right now for subsequent retrieval.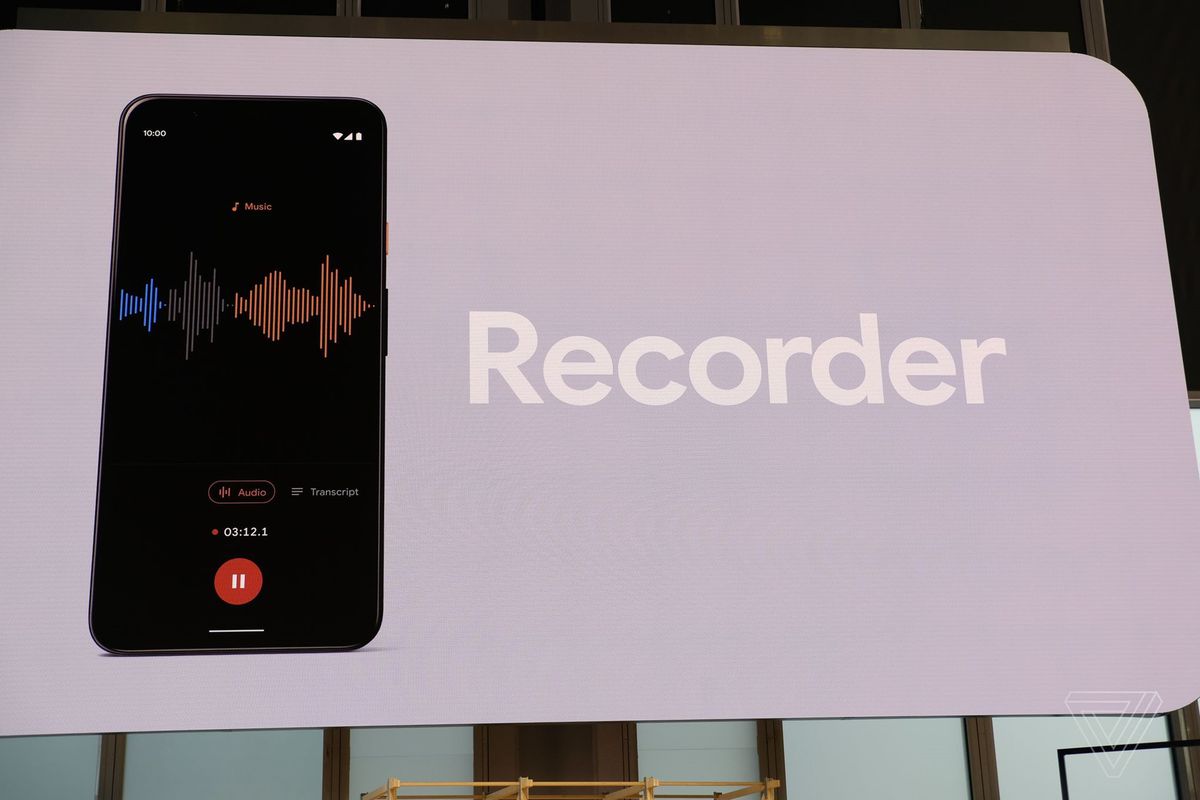 Pros
High-quality MP3 recordings are made.

Various audio formats

Sharing via email and social media with a single click

 Background recording is possible.
Cons
Has only a few customizing options.

This Android-standard app is free. The interface may differ between brands, but they are fundamentally the same.

 It is Free of charge
3. Easy Voice Recorder 
This program, designed for ease of use and one-tap recording, is ideal for recording jams, music, acapella, or more serious material such as meetings, interviews, or lectures.
Pros
Several high-quality audio formats were recorded.

Android wear support may be shared via an app or by email.

Recording begins when the icon is clicked.
Cons
The majority of helpful features are only available in the premium edition.

The program is available in both free and paid editions.
4. Smart Voice Recorder 
Storage space is at a premium, and this app shines in this regard. Smart Voice captures and compresses the output audio to save valuable data storage space on your smartphone.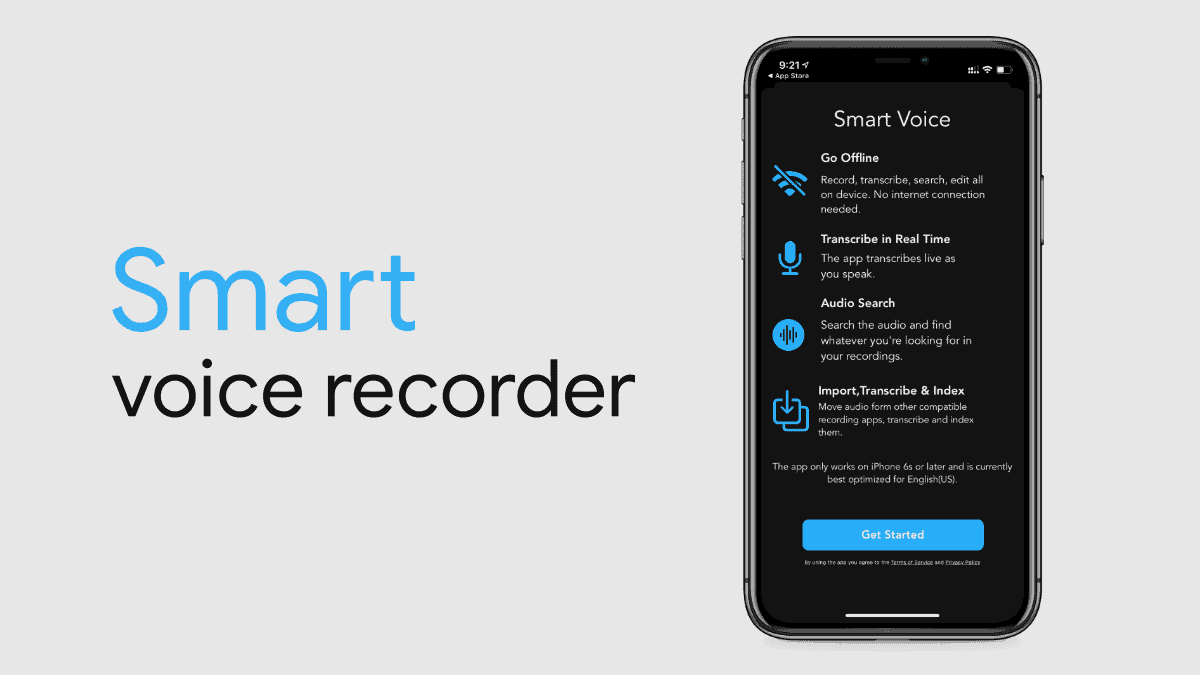 Pros
Lock function that stops the device from shutting off the live audio spectrum analyzer

One-button sharing

Outputs recordings in a variety of high-quality formats.
Cons
Does not record phone calls.

This software, which is available for free on Google Play, captures and compresses audio data.
5. ASR Voice Recorder 
This software does a lot more than standard recorders and records in a number of formats, including lossless.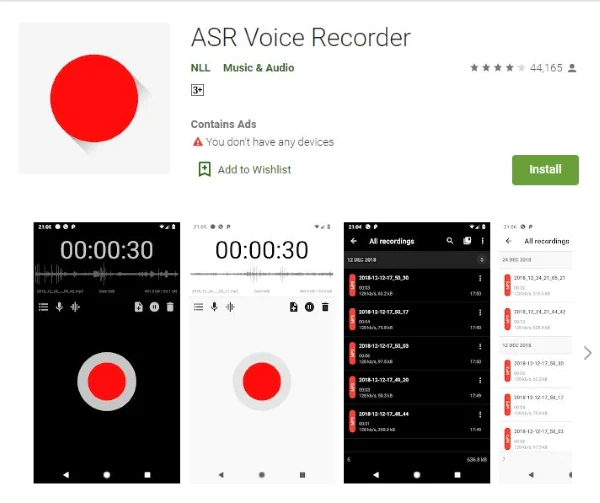 Pros
Has widget support and the ability to record in a lossless and high-fidelity format.

There is a playback speed control.

Easily distribute material via social media or email.
Cons
The free edition is riddled with obnoxious advertisements.

ASR is completely free. However, if you want access to more features, you may pay up for a premium version.
6. RecForge II
Who says recorders are only for dull lectures? RecForge II is an audio editing program that you can use in the palm of your hand.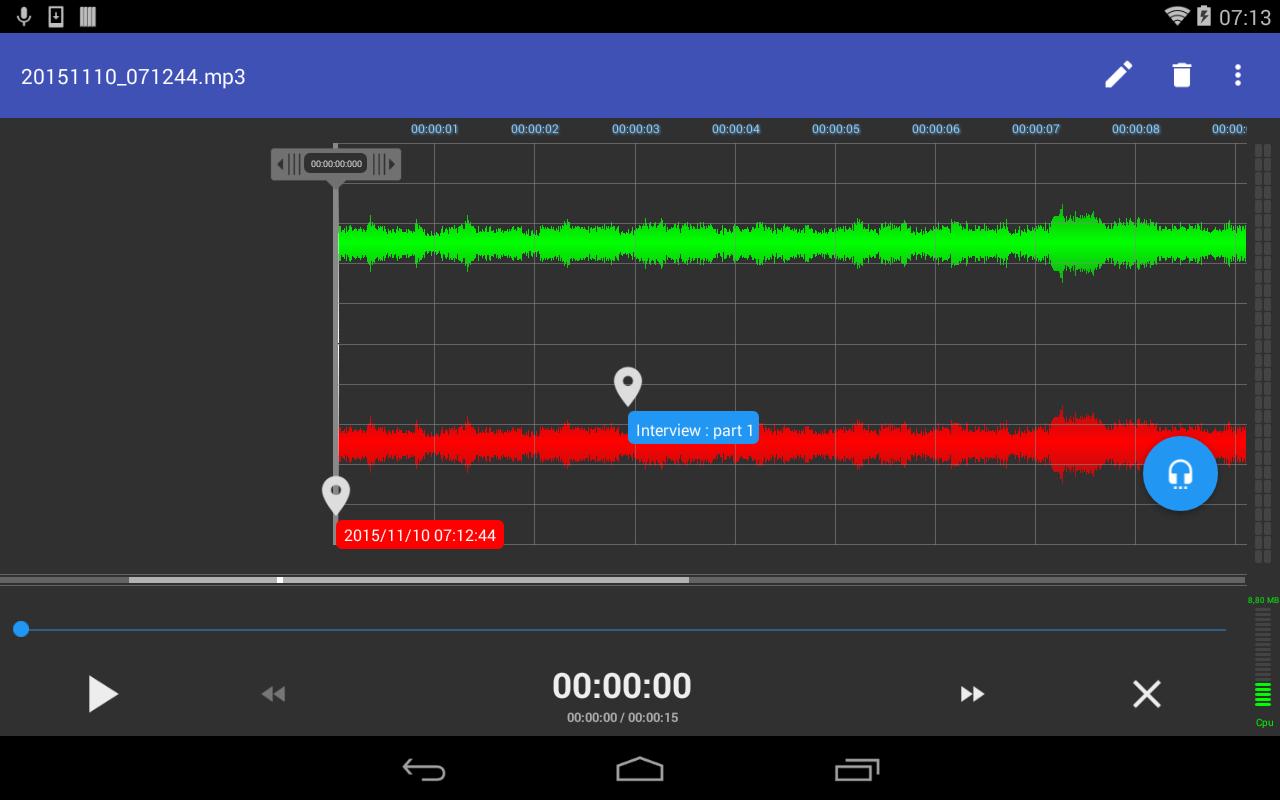 Pros
Perfectly captures band rehearsals

There is a toggle switch for AGC (Automatic Gain Control).

It is compatible with a wide range of audio formats.

It operates in the background.
Cons
It is possible that earlier versions of Android will not operate (below 4.0)

This software is available for free on the Google Play Store.
7. Hi- Q MP3 VOICE RECORDER 
This software is a fully complete recorder that is available for free on the Play Store. It records everything and compresses it into a widely compatible MP3 format. Hi-Q MP3 also has widget support.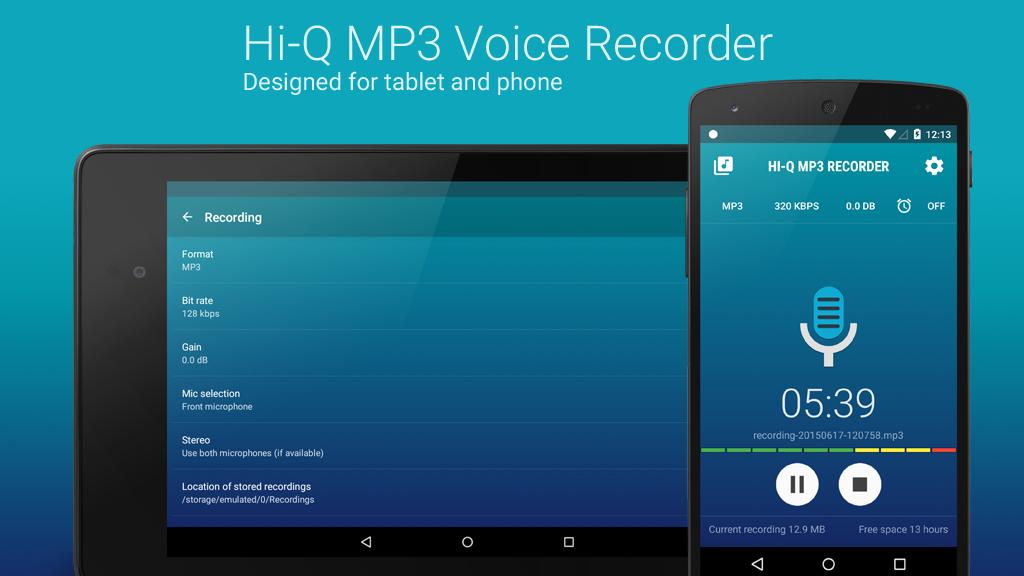 Pros
Functionality for selecting microphones (if you have an external mic)

synchronizes with cloud services

Supports Wi-Fi data transfer

Gain can be adjusted manually.
Cons
Does not allow for the recording of phone calls.

Hi-Q is a free app with in-app purchases and advertisements.

Price: Free or $3.49 per month if paid in advance.
8. VOICE RECORDER- AUDIO EDITOR
There are many positive things to say about this voice recorder. It has excellent audio clarity, allows you to modify your content, and has an easy-to-use user interface.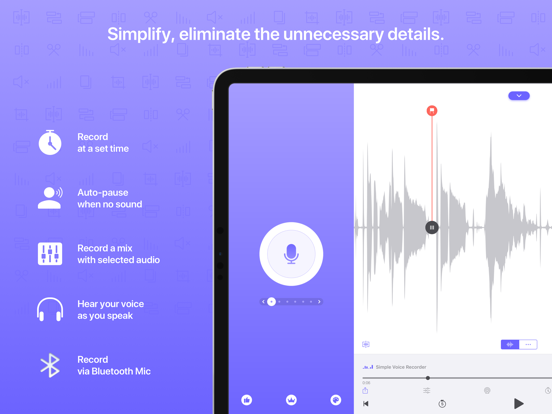 Pros
Excellent sound recording quality.

You can optimize the capacity by adjusting the recording quality.

You may record it in the background.

It's simple to keep track of your recorded files.

You may quickly share your recordings by email, SMS, Dropbox, and other methods.
Cons
It only supports one language. 

It is Free of charge. 
9. COGI- NOTES AND VOICE RECORDER 
When you press the record button, Cogi automatically backs up your recording. Furthermore, it syncs everything to its own cloud server and allows you to record even when on the phone.
Pros
Everything is saved in the cloud, saving up crucial storage space. Recording time is unlimited.

Take notes on both lines of a phone call.

Audio recordings of high quality
Cons
Doesn't function on Android 4.3 (Jelly Bean) or below.

The Play Store offers both free and paid editions.

Price: Free or for a monthly fee beginning at $4.95.
10. Call Recorder 
Call Recorder may be configured to function as an automated phone call recorder, activating when a phone call is detected.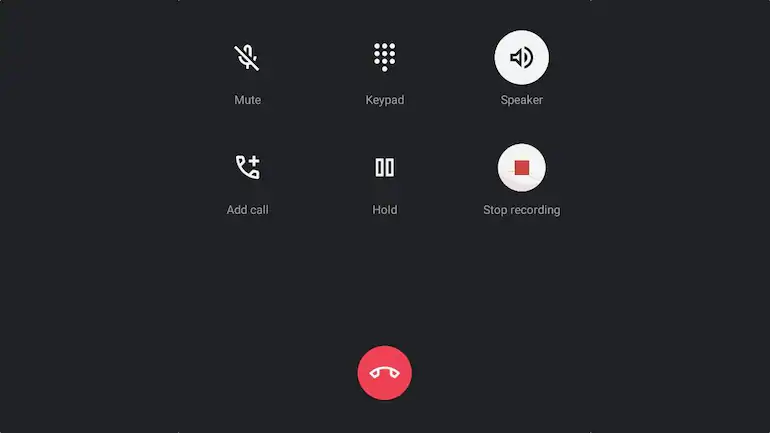 Pros
Has password protection for privacy

Cloud services are used for sharing and syncing.

Email or SMS distributions

Capable of recording both sides in a phone conversation; organizes call records

There are options for whitelisting and blacklisting numbers.
Cons
Does not function with Android 4.0 (Ice Cream Sandwich) and below.

Download the free version from the Play Store to get started.

It is Free of charge
Also Checkout: Painted Front Bumpers: Understanding the Importance of Repairing Them After a Car Accident