The Maldives is known as the Republic of Maldives and is also referred to as Maldives Islands. It includes a chain of 1,200 small coral islands and sandbanks which are major tourist attractions. Maldives is the best place in the world to spend your holidays if you love to experience the beauty of the islands.
This is one of the favorite spots of tourists, mainly couples who are on a honeymoon. Maldives is also famous for its clear water and other water activities. This post is all about the most luxurious water villas in the Maldives.
A list of the Most Luxurious Water Villas in the Maldives is given below:
1. Kudadoo Maldives Private Island
Kudadoo Maldives Private Island is a luxurious resort owned by Crown & Champa Resorts. This is a five-star hotel which has all the modern facilities. This resort also has a getaway mainly for guests.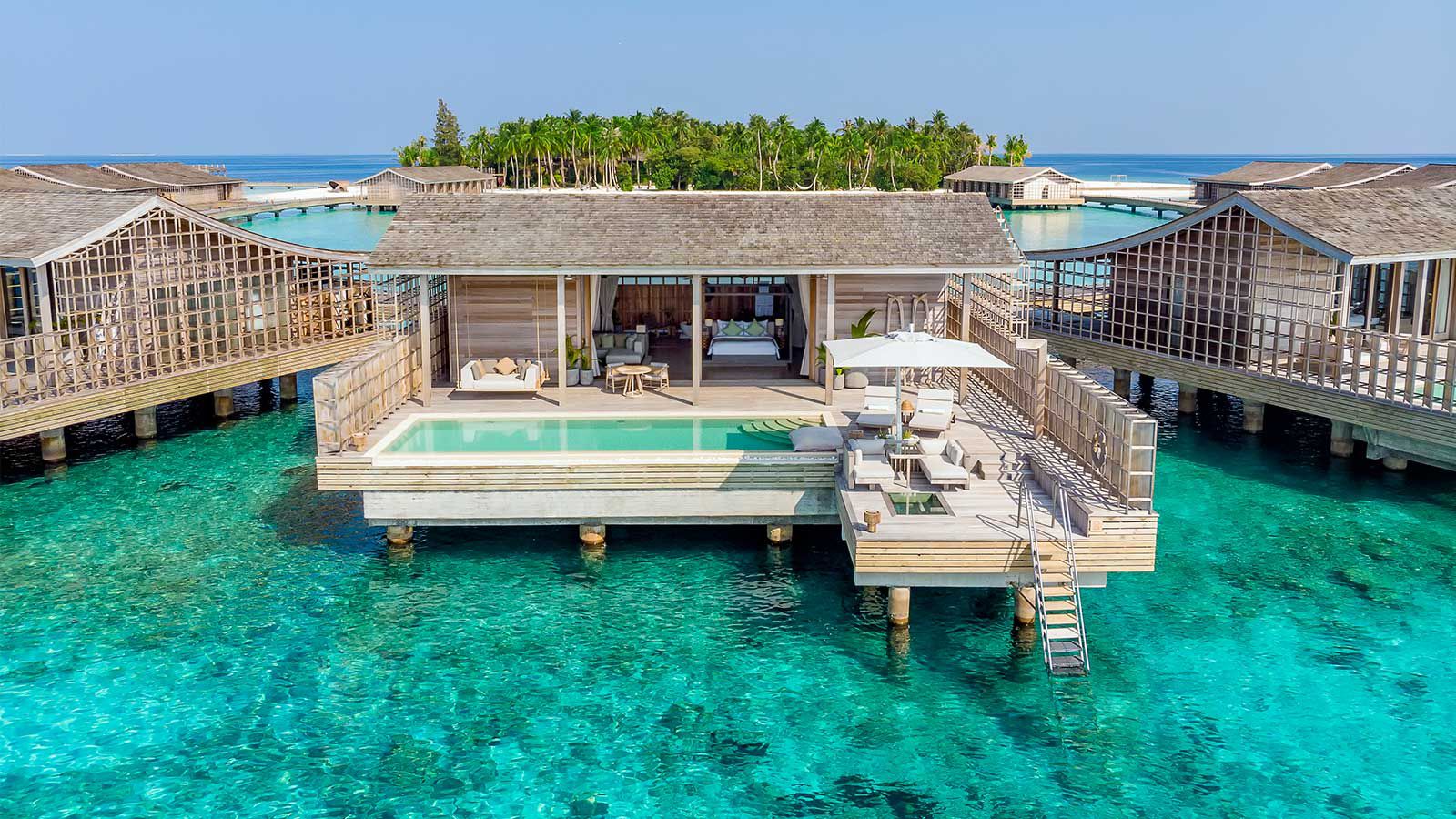 You can reach here within 40 minutes by private seaplane. This luxurious private resort is a famous spot for couples and families. You can also get a chance to experience the clear blue water here.
2. Soneva Jani
Soneva Jani is the most popular luxury hotel in the Maldives. The main attraction of this resort is that it has pristine beaches covered with greenery and a turquoise lagoon which can attract anyone. Now Soneva Jani has over 24 water villas and 1 beach villa.
These 24 water villas are the largest in the Maldives. All the villas here have a large private pool facing the lagoon. Some of the villas also have water slides to slide down directly into the lagoon.
3. The Nautilus Maldives
The Nautilus Maldives is a private resort that is very attractive to see. This resort is located on a private island and is in the center of the Baa Atoll UNESCO Biosphere Reserve. It was opened in 2019 with the aim of becoming one of the best luxurious resorts in the world.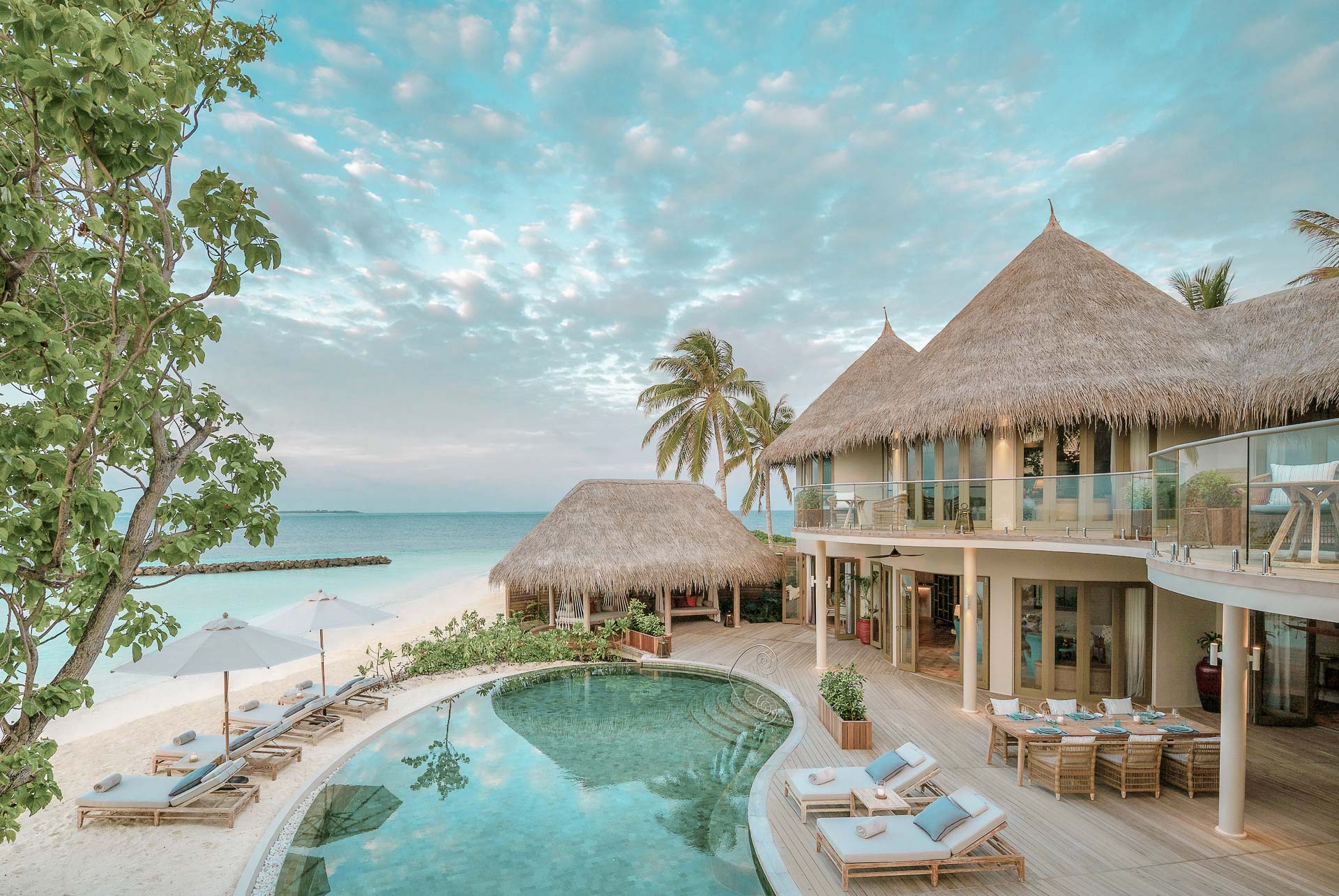 The Nautilus Retreat has villas that provide a two-bedroom. This overwater villa has private pools and you can enjoy the sunset from your room.
4. Anantara Kihavah Maldives
This is a boutique hotel that resembles a paradise. The main highlight of this resort is its turquoise waters, fine dining, white beaches with palm trees, luxurious overwater villas and dedicated butlers.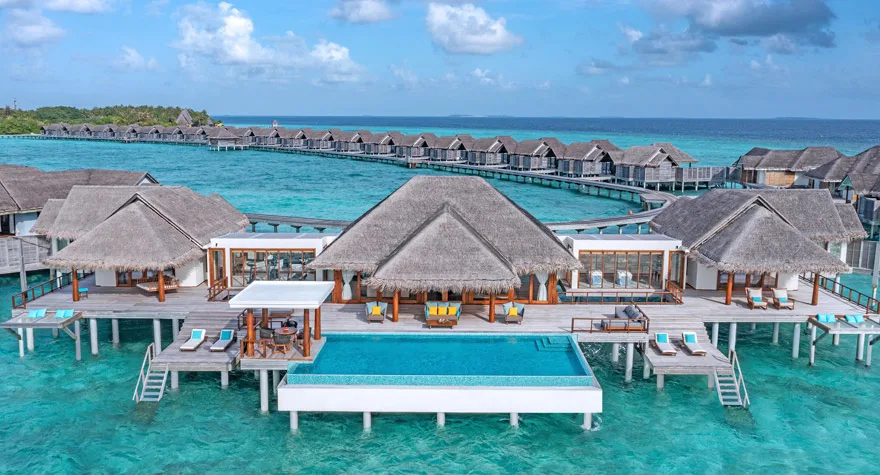 It takes only 35 minutes to reach here by seaplane from the Velana International Airport. This resort has 75 single-bedroom villas, four two-bedroom residences, and a three-bedroom residence which can attract many tourists.
5. Waldorf Astoria Maldives Ithaafushi
The Waldorf Astoria is a famous 5-star resort in the Maldives. It is spread over 3 islands in the South Male Atoll. The resort provides 138 luxurious villas which are exclusively for global tourists.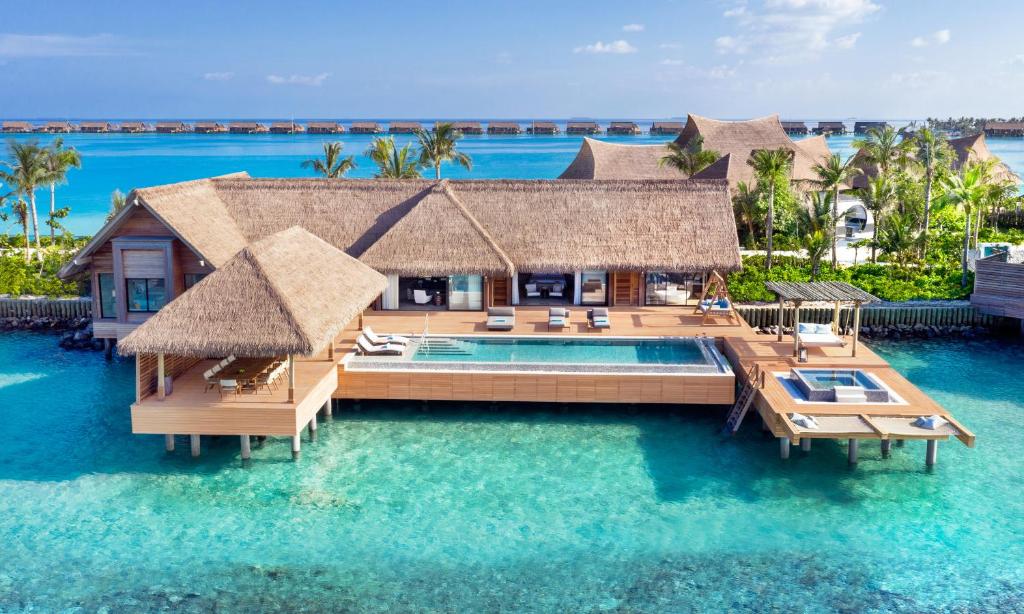 Apart from this, the resort features 10 unique dining experiences for tourists. The main attraction of the dining area here is the treetop restaurant. This resort was opened in 2019 and another highlight of this hotel is its bar.
6. Niyama Private Island Maldives
This resort was set up by Per Aquum and is co-owned by Anantara and Niyama Private Islands Maldives. The Niyama Private Islands Maldives represents the beauty of Maldives. It is the perfect place where you can relax and have a good time.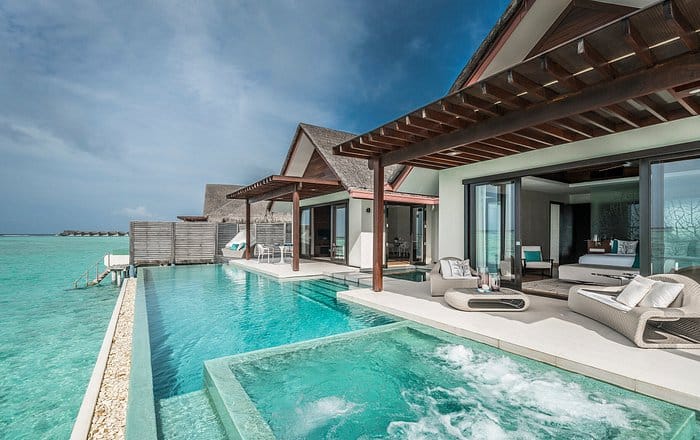 This villa is about 350 square meters with all the modern facilities. Some major attractions of this resort are that it offers an infinity pool, jacuzzi, spacious terraces, gadgets, and many other things.
7. Gili Lankanfushi
This is an eco-friendly resort that has about 46 villas. It takes only 20 minutes by boat from the Velana International Airport. You can see many dolphins if you go for a dive in the sea but make sure you do not harm them. This resort has the largest overwater villa in the world which is a major attraction in the Maldives.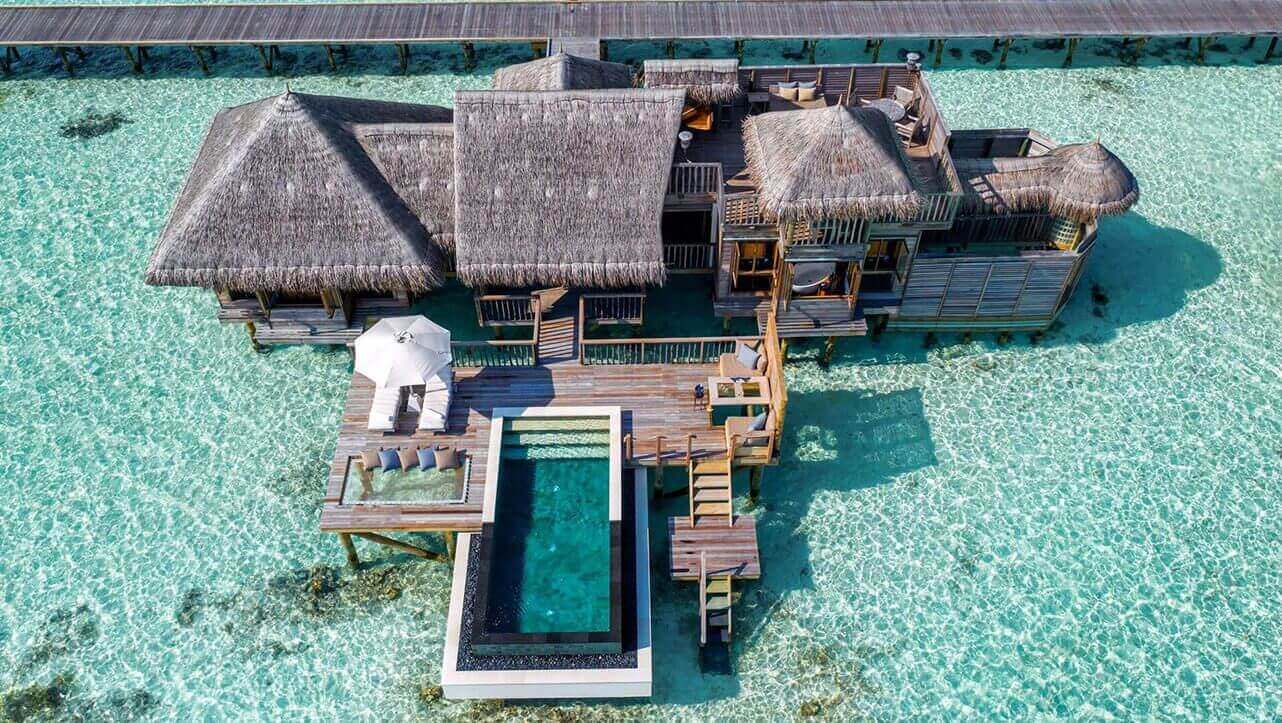 It is also the best spot for friends and families who like to celebrate special occasions far away from all the distractions of the world.
8. Jumeirah Maldives
This luxury resort in the Maldives is surrounded by turquoise waters. The main attraction of this resort is its ocean-inspired interiors and architecture. It is situated in an ideal place and is a famous resort to host romantic dates.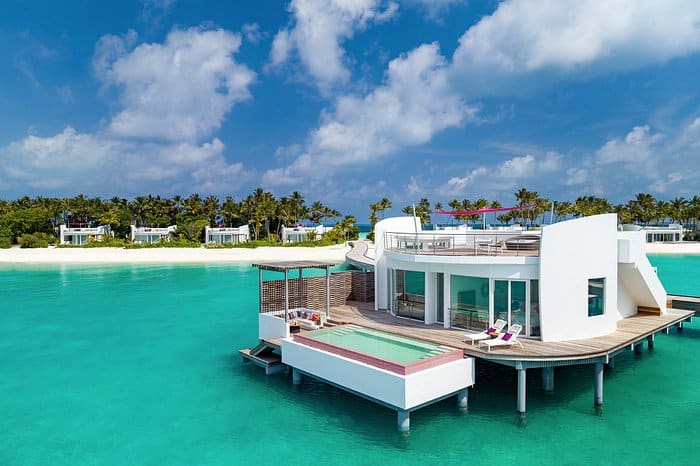 It is also a popular spot for friends and families who wish to spend their vacation. This resort is a visual treat and has 67 two-story residences situated either on the beach or above the water in order to attract travelers.
9. Milaidhoo Island Maldives
This resort is situated in the center of the UNESCO biosphere reserve. It is surrounded by white sands and coral reefs. Milaidhoo Maldives is a wonder that can attract anyone.
There is a loft deck on the top of every villa and it is the best place to relax and have fun. You can also experience the beauty of the sea from here. The luxurious bathrooms in the villas have a tropical rain shower and separate bathtub.
10. OZEN Reserve Bolifushi
This luxurious resort is the best place for couples and families.   It offers spacious rooms, 24-hour butler service, and private pools. This resort is surrounded by turquoise waters and natural reefs.
This private island resort is very famous for its beauty and style. Another main highlight is the 23-metre water slide. It stretches from the balcony straight into the lagoon and is a fun activity for families and couples alike.
These are some of the most luxurious water villas in the Maldives. The villas here offer all comfort one can wish for. Maldives is also a very expensive tourist destination and is the most loved spot by the rich. If you love to have a vacation far away from all pressures then this is the best option.
If you plan to go on a trip to Maldives, never miss a chance to stay in one of these luxurious water villas which is truly a breathtaking experience.
Also Read: 10 Most Beautiful Lakes To Visit In India