Of course, any list of the "best" is subjective, and this list of the best small RV camper vans is no exception! The following is a list of the 8 best mini camper vans under $30,000 in 2022 from around the world. Whether it's driving up to a beautiful beach for an afternoon swim and then staying for dinner and a few wines before snuggling into my comfy bed for the night or traveling across the country to spend time with family.
There's something romantic about the agility and comfort of a well-designed and well-made camper van within your budget.
Fortunately, a new breed of camper companies is emerging that aims to provide the van life experience at a fraction of the cost.
You'll have to give up a few things, such as your dreams of a 4×4 Mercedes Sprinter, but a few companies in the world demonstrate that you can have a sweet camper van for under $70,000 — van and conversion included. This is low-cost van life.
Here is a compiled list of  8 best mini camper vans under $30,000 in 2022:
1. Mitsubishi Delicia – $12,217
This Mitsubishi Delicia Chamonix conversion from UK-based Love Campers is first on our list of small camper vans; an apt name for a company that does some seriously nice conversions in some of the smallest spaces known to van life-kind!
The Islay conversion transforms a small family vehicle into a fully functional day camper with all the amenities needed to live comfortably on the road.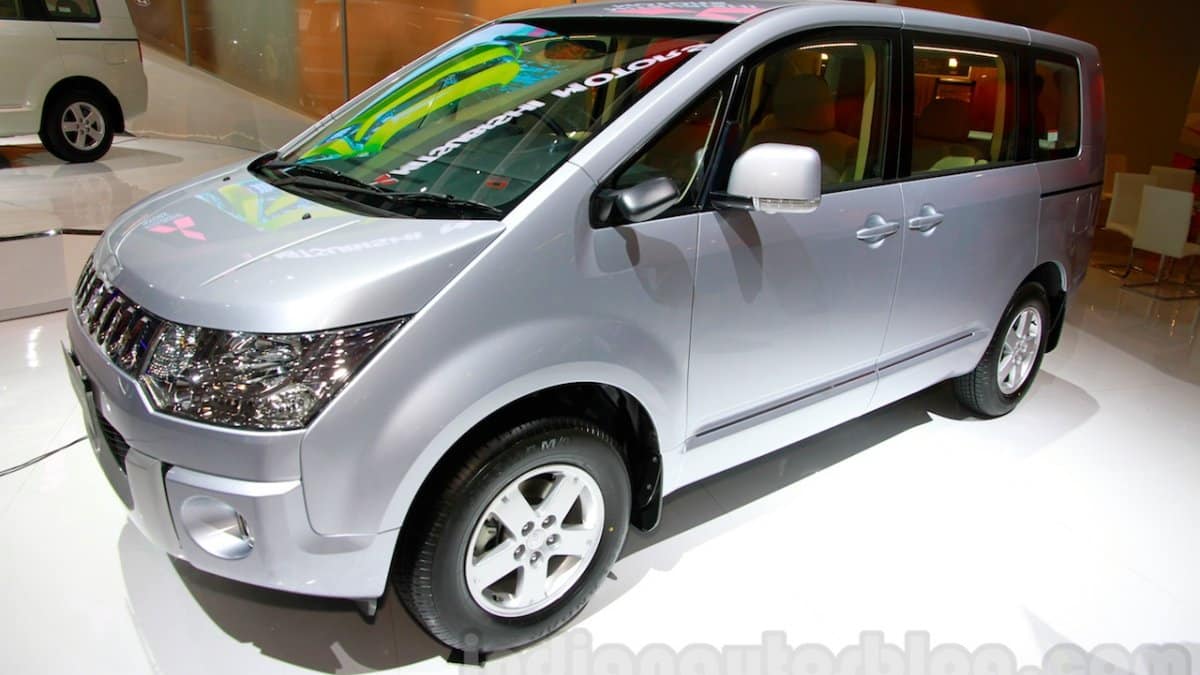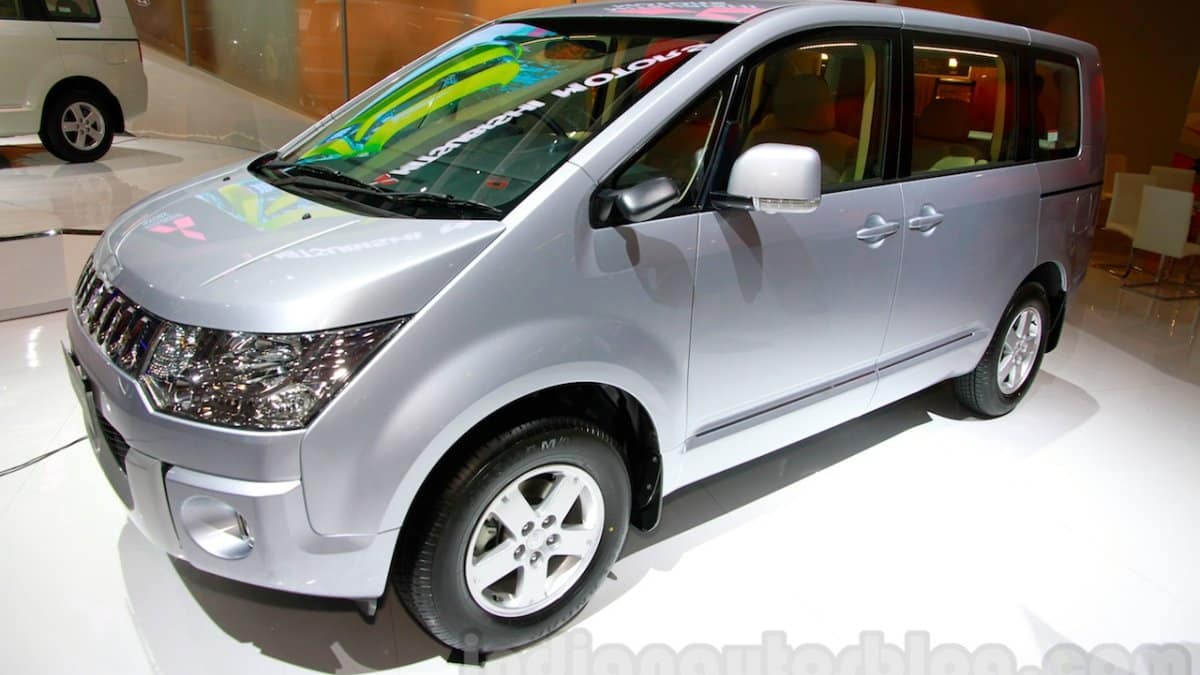 Each Islay mini RV conversion includes fully insulated walls and vinyl flooring, a leisure battery, and power management system, and a 240V hookup integrated into the camper's side for use when parking at campsites.
The spacious hob and sink combo fit neatly into hand-crafted wooden cupboards, and the 4-foot wide rock-and-roll seat converts back into a comfortable bed for you and a partner to slob out on at the end of the day.
2. Oasis Campervans – $8,500
Unlike other small camper van companies that use Nissan or Mercedes vans, Oasis Campervans in Colorado converts all-wheel-drive Toyota Sienna minivans into mobile homes on the go. A main living room with pull-out drawers, a finished floor, and a moveable table for working are all features of Oasis Campervan conversions.
One of the most innovative aspects of the design is a foldable chair that converts into a part of the bed with a useful backrest, and when in the sleeping position, the full-size mattress can comfortably accommodate one or two people.
The van's rear area, similar to a teardrop trailer, provides access to a small kitchen with a sink, running water, drawers and shelves, and a large countertop. Dinner preparation is simplified by a fold-up kitchen table, and in certain van layouts, the kitchen can also accommodate a slide-out drawer for a cooler or refrigerator.
3. Citroen Dispatch – $11,290
The Citroen Dispatch and surf van' style conversion from Convert Your Van is next on our list of the best small camper vans.
These conversions, inspired by the So-Cal VW Bus vibe of yesteryear, include everything you need to be the perfect weekend warrior in a vehicle that's easy to park and drives more like a car than a van. It's an excellent choice if you're nervous about driving a larger vehicle but don't want to forego the Beach Boys' styling.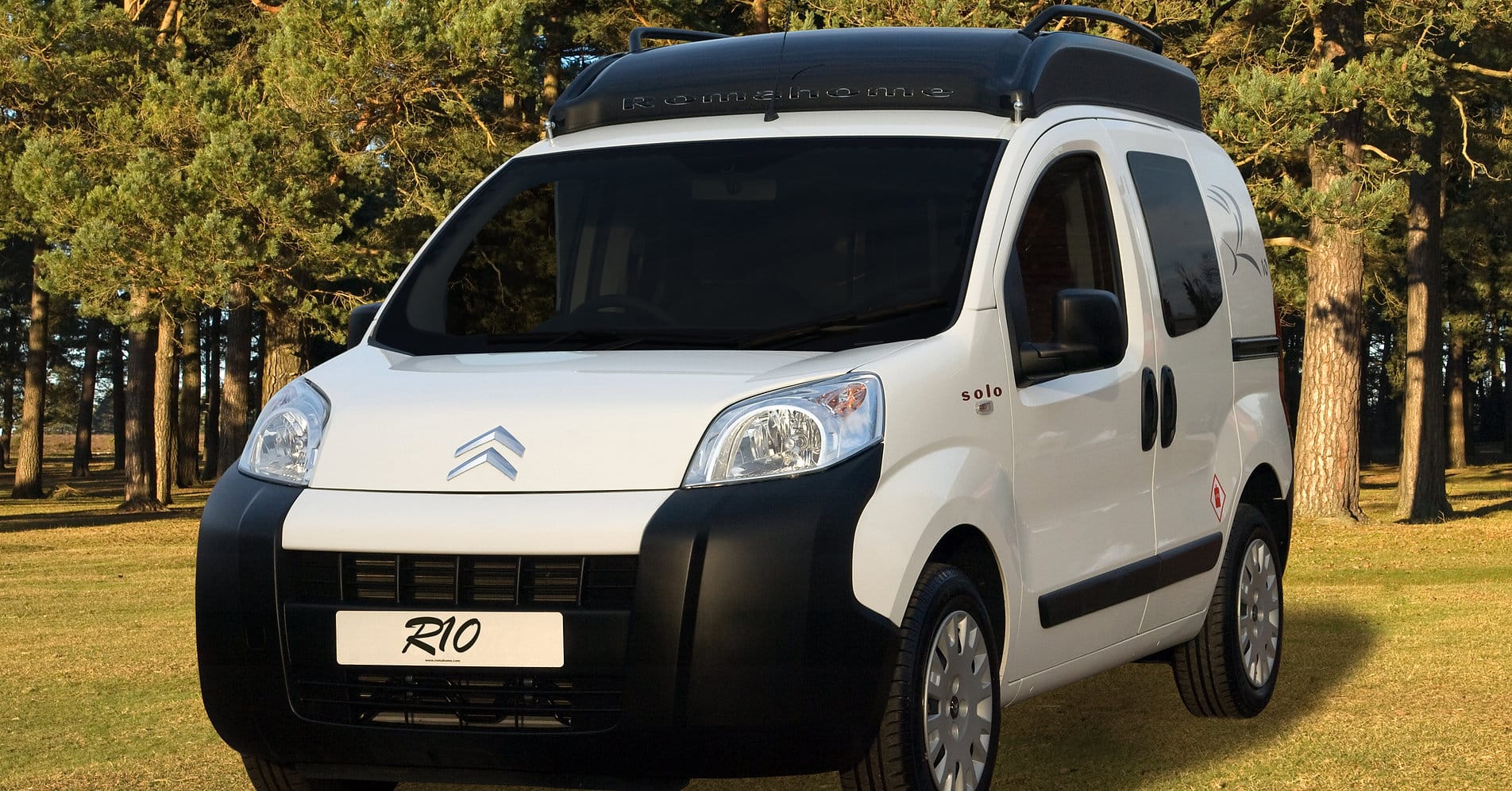 The cost of this sleeper van conversion is part of a Tier 2 package that includes a side kitchen, folding bed installation, and a pop-top roof.
All of your appliances, such as your fridge and water pump, are wired, and there are 12V charging ports for your phones, tablets, and other portable devices, which can be charged using the included leisure battery.

4. Glampervan – $29,000
Glampervan, based in San Francisco, wants to capitalize on this trend by providing clients with a "multi-use vehicle" that can transport you on vacation, serve as a mobile office, and still haul things like a truck. Glampervan maximizes space with a two-person build on a 136-inch wheelbase high-roof Ram Promaster (the medium-sized model in the Ram lineup).
You enter the van through a galley kitchen with plenty of cabinet and storage space. When you're not sleeping, a Murphy bed on the passenger wall provides space to haul gear or supplies. When in the sleeping position, the bed is slightly smaller than a queen size, and overhead cabinets provide additional storage.

5. ROMAHOME R10 – $22,095
Second-hand websites and car dealers are the best places to look for cheap campers that include the van in the price. The ROMAHOME R10 is one of the best small campers on the market, and we recently found one for $22,000 (£17,995) online. That's a bargain for a fully functional weekend camper van with a built-in bed.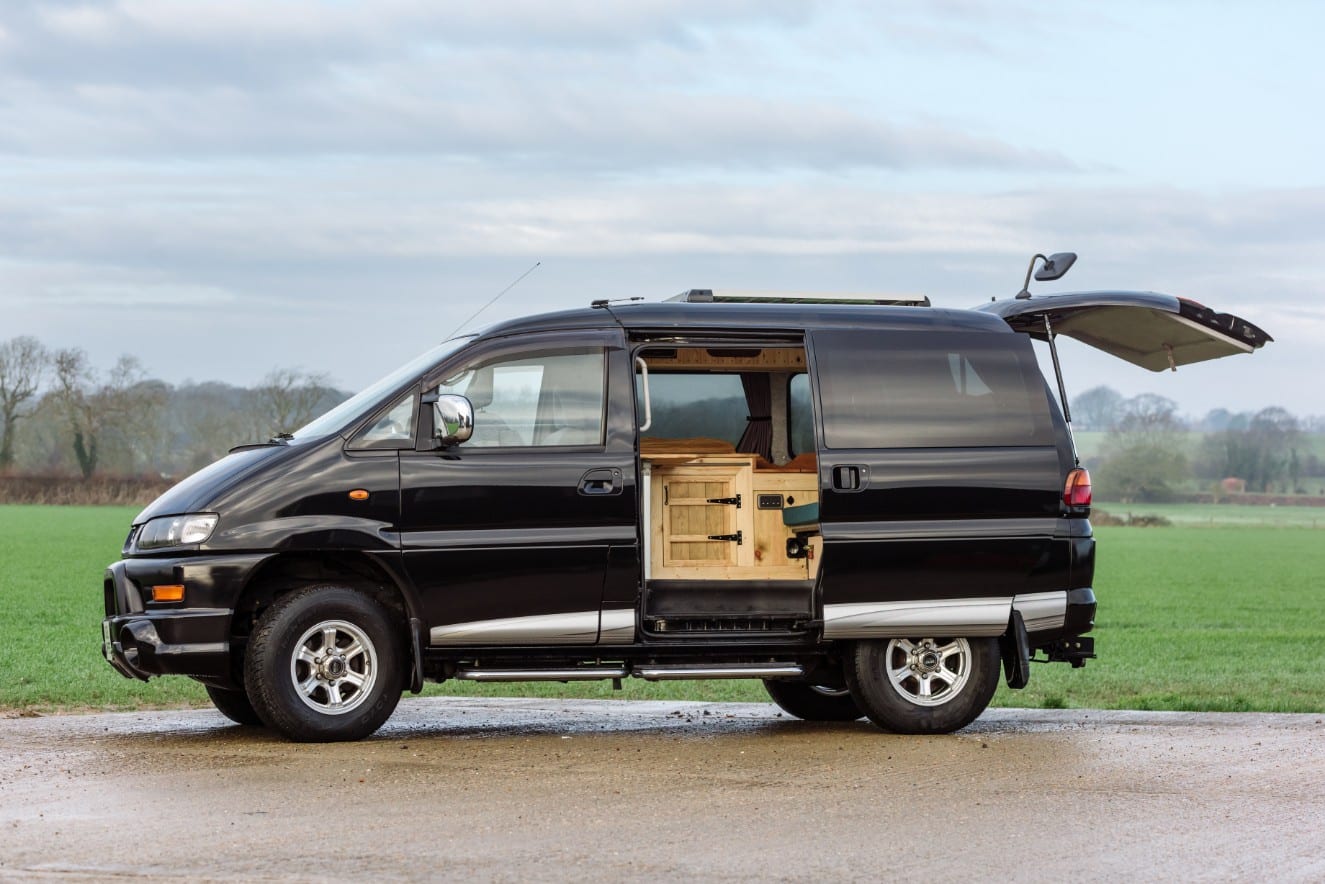 The R10 is ideal for a solo traveler who prefers to live a minimalist lifestyle while on the road. The conversion includes a sink and hob, plenty of storage for your solo-sized top cooking utensils, and a single bed that appears to be made of the largest foam cushions ever!
There appears to be only one seat in the front, so don't even think about giving someone a ride in this thing. You could attach a seatbelt to the included Chemical Toilet, but it might not be the most comfortable ride! The conversion includes a sink and hob, plenty of storage for your solo-sized top cooking utensils, and a single bed that appears to be made of the largest foam cushions ever!
6. VW Caddy – $24,550
The Mandalay RV conversion has a rock-and-roll seat/bed combo similar to the previous Love Campers conversion. The majority of the build is also completed with the same side-kitchen setup.
In addition, a large garage-style door opens out at the back, providing access to a boot section and creating a nice through the draft. There's also plenty of storage space for all of your van's life necessities, including a large space beneath the cushioned seat.
The interior of the next van on our list is one of the nicest of any small camper van I've seen on our Van-i-verse adventures. We're back with our friends at Love Campers for this tasty-looking VW Caddy conversion, and boy is it special.
Before writing this article, I had never considered how much you can do with a mini camper or an uber-compact van. This fully equipped stealth camper van, on the other hand, has everything you could want and more. The price includes the van as well!
7. Ssangyong Turismo 4×4 – $23,329
Do you want a stealth camper that can also serve as a family vehicle? Then this unique Ssangyong Turismo Camper from Wellhouse Leisure could come true!
It has a four-wheel drive to get to those hard-to-reach van life travel destinations. And it's small enough to fit into any of Europe's underground parking garages. (Which my colossal Vauxhall Movano could never hope to fit into.)
This automatic micro-machine has four leather seats for daily use, as well as a full camper conversion for transitioning into the van life. It includes a compressor fridge, a slide-out hob for preparing tasty meals on the go, fresh drinking water, and wastewater storage, and a porta potty for when you 'gotta go'!
The seats can be folded down to create a two-berth sleeping arrangement. It's a good van with bed space for couples, but it quickly becomes crowded with more people. (Of course, for extra guests, you could just set up a tent hammock in the forest!).
8. Citroen Berlingo – $23,943
Following that is Chapel Motorhomes' ever-popular Citroen Berlingo. A double-berth pop-top ideal for an adventurous couple looking for the best small camper van. (As long as they don't mind spending a lot of time in close quarters.)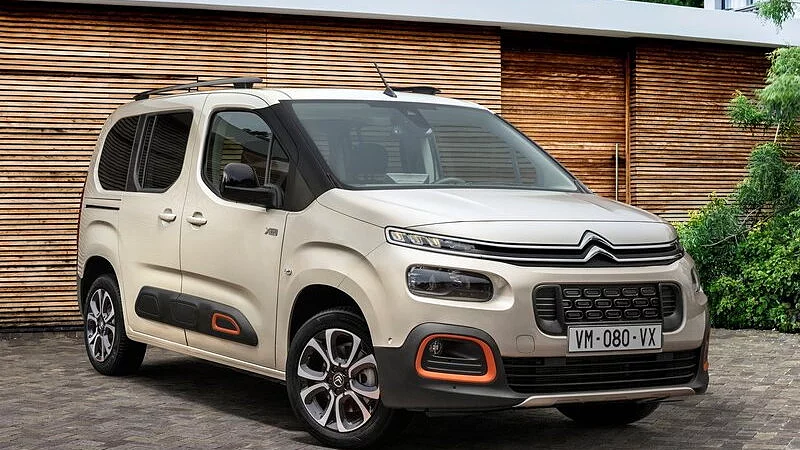 This city-dwelling MPV is an excellent starting point for converting into a micro camper. Especially with the gas-assisted pop-top in the mix! In the grey kitchenette area of this functional two-berth conversion, there is a Dometic double hob and a Dometic sink. Both of which can be covered with glass lids to create an extra-large food prep area.
A 75-ah battery is included for charging your 12V and 240V devices. In addition, there is an electric hook-up point for when you park near a power source. You'll also find a Thetford Porta Potti here, which is one of our Best Campervan Toilets. And a 420l lockable box on the camper's roof for all of your extra belongings.
Conclusion
Getting a cheap camper or a small trailer to satisfy your off-grid adventure craving is always a good feeling, and it can help you keep your van life costs low once you're on the road.
Above is the compiled list of 8 best mini camper vans under $30,000 in 2022. Which camper van would you prefer from the above-mentioned list? Let us know in the comment section.
Also Read: Why you should experience desert safari in Dubai once in your life