Goa stands in stark contrast to India's other bustling urban destinations, with golden sand beaches, tangled palm palms reaching for the sky, and a laid-back vibe. Even a little trip to this tropical paradise feels like a vacation within a holiday.
Goa's natural beauty and peacefulness will revive you, and its busy calendar of events and activities will keep you busy throughout your free time. 
This location likewise boasts an odd mix of traditional and western culture. This city has both hard-core partying and exquisite peace coursing through its veins.
Throughout the year, it is crowded and bustling with activity. Unique Portuguese-influenced food, mediaeval churches and temples, diverse wildlife, and fascinating spice plantations are among the attractions.
Here we are presenting the 5 Best Beaches To Visit in Goa that are among the Top-rated Tourist attractions:

1. Palolem Beach
Palolem Beach is one of Goa's most beautiful beaches, located in Canacona in southern Goa. This mile-long semi-circular beach is known for its beautiful natural beauty and spooky party vibes.
As a result, you won't need much time to see all of the lovely sights the beach has to offer. So, whether you're thinking of going out with a friend or by yourself, Palolem Beach will always be enjoyable in every way.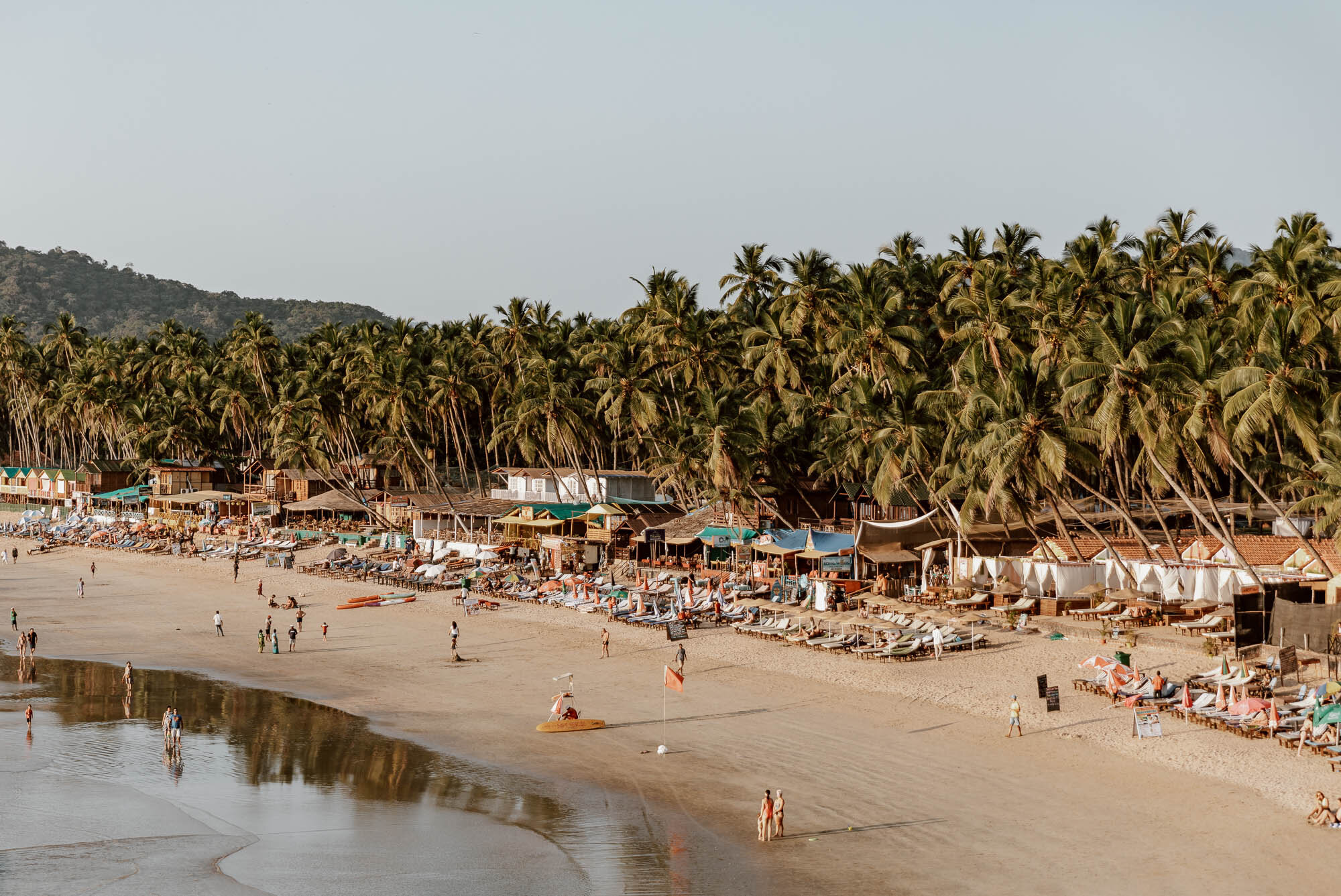 Because the tides are gentler on the northern side of the beach, it is considered to be a little safer. It is therefore recommended that you stay on this side of the beach if you are travelling with a tiny family member. However, if you have an overwhelming desire for adventure, you should pay a visit to the beach's southern section.
The nature of the tides is more unclear and dangerous in this section. As a result, you can participate in a variety of water activities such as kayaking and boating.
However, if you prefer to keep away from events and spend your time relaxing, you can also reserve a hut. The Palolem Beach shacks are fairly nice and may provide a variety of amenities to help you feel at ease.

2. Galgibaga Beach
Galgibaga Beach is also known as Turtle Beach because turtles use the entire northern portion of this magnificent beach to lay their eggs. Galgibaga Beach is one of three beaches in Goa where turtles lay their eggs. And it is for this reason that tourism infrastructure cannot be developed in this area. 
If you visit this beach between December and February, you may be lucky enough to witness turtle nests/eggs. You might be lucky and see the olive ridley turtles crossing the beach at other times.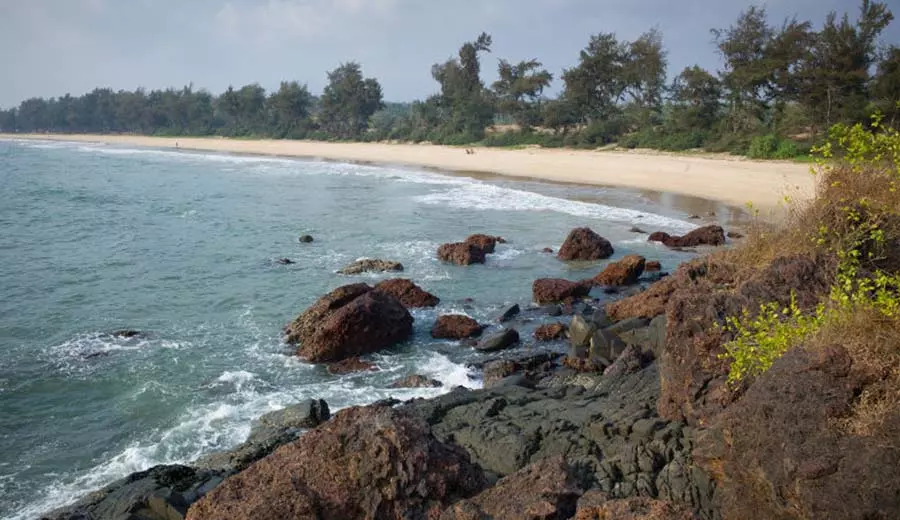 The forest department oversees the entire area, and they work tirelessly to ensure that the turtles reach the sea safely after hatching.
Galgibaga Beach is a modest paradise on Goa's calm, quiet seashore, nestled between the Arabian Sea and small hills. The 1.7-kilometre-long beach strip is lined with lush coconut, palm, and casuarina trees.
This beach features wonderful silky silver sands and is arguably the cleanest on the Indian mainland. This beach has lifeguards on duty to protect your safety.
3. Cola Beach
Cola beach, also known as 'Khola' beach, is one of South Goa's best-kept secrets. The golden sand beach, which is located in the Canacona area, is dotted with volcanic stones.
The beach receives few tourists because it is off the usual road, concealed by thickly overgrown hills, and requires a substantial stretch of rugged terrain to reach this natural gem. Cola Beach is ideal for sunbathers because of this.
Cola Beach is divided into two sections, North Cola and South Cola, by a small hill. It is divided in the centre by a river that is known as the Blue Lagoon or Emerald Lagoon due to its vivid green colour. Swimming is ideal in this area due to the calm sea.
The landscape of Cola Beach reflects the sun rays in a unique way, making for stunning sunsets. At Cola Beach, there are very few shacks, and most of the restaurants are inside the resorts.

4. Agonda Beach
Agonda Beach is a stretch of white beach lined with colourful shacks that exudes true Goan charm. The Arabian Sea laps the shores of this gleaming beach, which is lined with lush green coconut and palm trees.
It's one of Goa's cleanest beaches, and it's also one of the least congested. In the serene tranquilly of the beach, you can spend some quiet time alone. You can find several cosy shacks with a warm, friendly ambience that draws guests in to unwind for a while.
These shacks feature a variety of original local cuisines as well as selected international delights. They give beach beds where you may relax under umbrellas or relax in a hammock while enjoying the sights on the beach.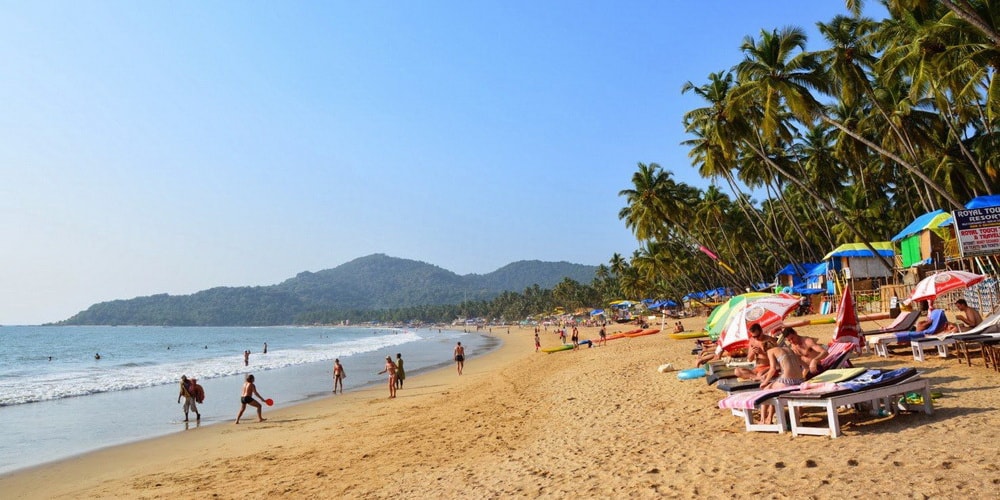 At the beach, there are several locations where you may sign up for water sports and participate in a range of activities.
They will even teach you how to do various water activities like jet skiing and surfing so that you may enjoy them even if you are a complete beginner.
This entire package of pleasure on a single length of the beach is nothing short of a bash. As a result, you must come here and enjoy everything Agonda beach has to offer.

5. Butterfly Beach
Because many newlyweds and couples come here for a private holiday, Butterfly Beach is also known as Honeymoon Beach. A picnic with wine might be a great way to spend the day with your companion.
You can also come here during low tide to see sea urchins, redfish, goldfish, and sea cucumbers strolling around. This is a one-of-a-kind spectacle that you will not find anyplace else in Goa.
Furthermore, on one side, a million butterflies dance and nest over this beach, while on the other, you can see dolphins swimming in the centre of the sea.
Butterfly Beach, located north of Palolem Beach in south Goa, is a great place to spend your holiday. Enjoy your seclusion, away from the rest of the world, while simultaneously taking in the amazing aquatic life that can be found right in front of the beach.
Because this gorgeous and semi-circled beach is not accessible by any other means, you must take a ferry from Palolem or Agonda beaches.
You can also take a ship ride for a more extensive and punctuated experience. If you become too excited, you can go for a hike through the dense forest that surrounds the shore.
Also Read: 5 Most luxurious hotels of India