Currently, laptops are one of the most preferred computing devices in the entire world. Not only do they offer performance that can match traditional desktop computers, they're also light and portable. 
If you're looking to purchase a laptop under Rs. 50,000 for either work, education, or for gaming, the choices that you have are virtually endless. Although having choices is good for you, it can end up confusing you as well. 
Therefore, to make your job easier, we've come up with a list of the best laptops under Rs.50,000 that you can buy right now. That said, if you're worried about the price being too high, you can always choose to purchase laptops on EMI using the Bajaj EMI card. So, let's get on with the list.  
1. Asus VivoBook K15 OLED (KM513)
If you're someone who cares more about the display quality than other aspects of a laptop, then the VivoBook K15 OLED from Asus might just be the one for you. It comes with a Full HD OLED display with exceptional brightness and contrast levels. 
The laptop is powered by an Intel Core i3 processor, which is coupled with 8GB of RAM and a 256 GB SSD, making it one of the perfect choices for light to moderate workloads. In addition to the SSD, the laptop also comes with a 1 TB hard disk for storage purposes and weighs in at around 1.80 kilograms. 
2. MSI Modern 14
Intensive tasks like coding and photo and video editing require a fast and efficient processor. And that's exactly what the MSI Modern 14 is equipped with. The laptop comes with a 10th Generation Intel Core i5 processor, 8 GB of RAM, and a 512 GB SSD. 
MSI has managed to contain all of this computing power in a compact chassis weighing just 1.38 kilograms. As far as the display is concerned, the laptop features a 14-inch Full HD display that's large enough for all your needs, no matter what they may be. 
3. Mi Notebook 14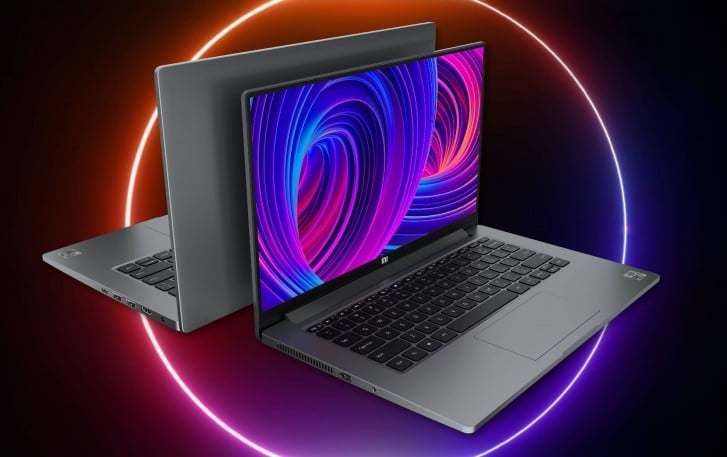 Xiaomi is quite well-known for its exceptional smartphones. However, the brand is also really good at creating stellar laptops as well. The Mi Notebook 14 is one such product that excels when it comes to almost every single aspect. 
The laptop is equipped with a powerful 10th Generation Intel Core i5 processor, 8GB of DDR4 RAM, and a superfast 512 GB of SSD storage. It also features a large 14-inch anti-glare display that's designed to minimise eye discomfort as well. Just like the other laptops in this list, the Mi Notebook 14 is also very light, weighing just 1.5 kilograms. 
Conclusion
Purchasing a good laptop involves shelling out tens of thousands of rupees, which can end up increasing your financial burden. However, you can make your purchase more affordable by opting to buy laptops on EMI using the Bajaj Finance card online. 
That's not all. The EMI card allows you to purchase your preferred laptops on No Cost EMI as well. To apply for the Bajaj Finance card online, visit the Bajaj MARKETS website and complete the application process. It is as simple as that.
Also, Checkout: 10 Social Media Tips for College Students Who Want to Increase Their Chances of Being Accepted