Here are the Best Places to Visit in Barcelona that can boost the experience of your trip.
Barcelona, the lively capital of Catalonia, is a beautiful seaside city recognised for its beauty and sunny lifestyle. This is a very tempting site since it combines a gorgeous environment, stunning architecture, and amazing cultural offerings. Of course, the Mediterranean climate adds to the attractiveness.
A tour of Barcelona's parks, museums, and cathedrals is a must because the city's parks, museums, and churches contain some of the world's most unique and remarkable architecture. After all of the touring, visitors will want to unwind and take in the city's positive energy.
One of the best ways to see Barcelona is to wander freely across the city, stumbling onto quiet side streets with modest cafés or resting to relax in peaceful town squares where street musicians strum songs on Spanish guitars. There are delightful discoveries around every corner.
Let's dive into the List of Best Places to Visit in Barcelona-
1.  Basílica de la Sagrada Família
The UNESCO-listed Basilica of the Sagrada Familia is one of the top locations to visit in Barcelona. It is known as one of Europe's most unusual churches. This church, which is located in the city's northern portion, is flanked by 18 massive spindly towers that give it a gothic beauty.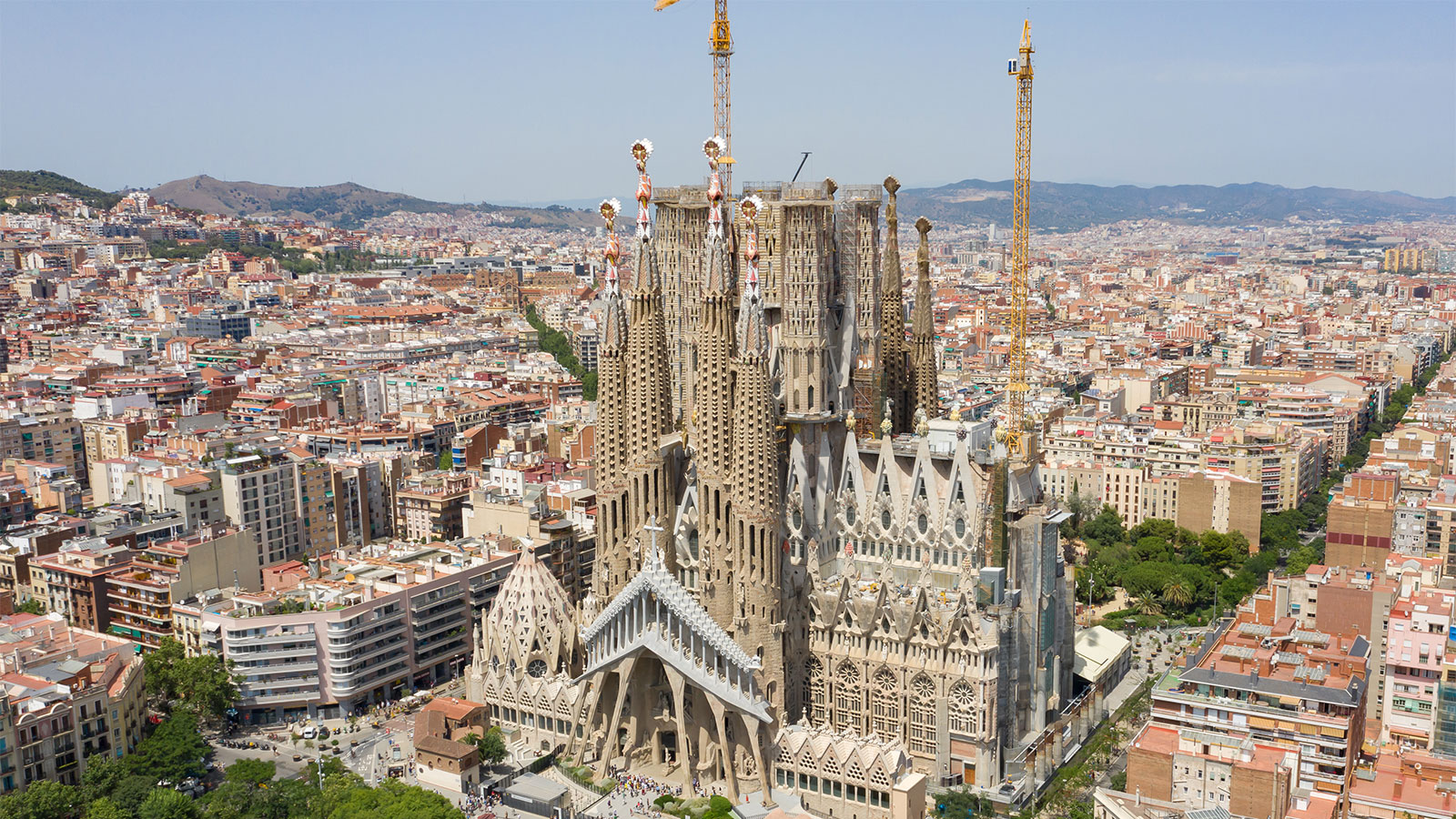 The beautiful facade of the church is the first thing that will take your breath away as a visitor. It represents Jesus' birth, the sorrows he endured during his life, his death, and the tale of his resurrection. The church's interior is also rather gorgeous, thanks to the ornately decorated ceiling and the unique but eye-catching Crucifix.
2.  Barri Gòtic (Gothic Quarter)
The Gothic Quarter has been the spiritual and secular heart of the city for over 2,000 years. Although there are relics of old Roman structures here, the Middle Ages are best represented by the historic monuments crammed into this district. With an ornately sculpted front and a stunning gold altarpiece, this mediaeval cathedral is a masterwork of Gothic architecture.
Tourists will love exploring the neighborhood's maze of narrow cobblestone streets and dark lanes, as well as pausing to see the neighborhood's modest boutiques and restaurants. Visitors who get lost here are enveloped in the wonderful atmosphere of a traffic-free mediaeval world.
3. Casa Mila
Casa Mila, often known as La Pedrera by locals, is another Antoni Gaudi architectural masterpiece. Because of its elegantly curving facades, this opulent structure looks more like a stunning piece of sculpture than a building. It was built between 1906 and 1912. It also has stunning plant-shaped balconies and distinctive spherical windows, which make it look even more elegant.
Casa Mila is home to Fundacio Catalunya, a well-known cultural centre that hosts a variety of events throughout the year. So, if you're seeking some famous sites to visit in Barcelona with your kids, Casa Mila is the place to go.
4. Palau De La Musica Catalana
The architect Llus Domènech I Montaner created the Palau de la Msica Catalana in the Catalan Modernist style. Intricate mosaics, sculptural pieces, and beautiful ironwork adorn the facade. With a magnificent Concert Auditorium that provides an inspirational environment for musical concerts, the interior décor is just as colourful and whimsical as the outside.
Every inch of the walls and ceiling is covered in eye-catching artwork. Stained-glass panels make up the majority of the walls on two sides. A huge stained glass skylight built by Antoni Rigalt hangs from the ceiling, the centrepiece of which is an inverted dome in gold hues surrounded by blue, evoking the sun and the sky.
5. Barri Gotic
The Gothic Quarter, often known as Barri Gotic, is Barcelona's oldest and liveliest neighbourhood. You will be able to enjoy the lavish grandeur of ancient Roman structures and gorgeous plazas if you come here.
Apart from that, the Gothic Quarter is home to a plethora of restaurants and cafes where you may socialise with your friends and family. Overall, this location contains nearly everything that can make visitors happy and content. As a result, most tourists see it as one of the most important things to see in Barcelona.
Also Read: Beautiful alternatives you could explore other than Darjeeling:

Source: TheHospitalityDaily