On our favourite, ShahRukh Khan's 55th birthday today, we decided to write him a letter because letters are a classic and there's no better gift than a sincere love-letter.
Dear ShahRukh,
Where do I begin? It's been 18 long years since I first saw you on my television screen and immediately fell in love with you. How could I not? With that charming face and two super adorable dimples, anyone can fall for you. 
It was the year 2001 and my appi (paternal aunt- yes, that's what I call her) introduced me to you where you were stretching your hand for Simran. Then and there my journey with love for you started. After watching so many of your films on television from Mohabbatien to Devdas to Kuch Kuch Hota Hai, I started waiting to watch you on that big silver screen and my period of wait ended with Kal Ho Na Ho.
I cannot forget the moment of joy when Appi broke the news of Kal Ho Na Ho's release. My ride to the Cinema hall on Abba's Bajaj Chetak was pure joyous but little did I know what I'll be witnessing will make me cry my eyes out for the maximum screen time.
The scene where you were on the hospital bed and Preity came to see you, I couldn't see anything beyond that as my tears blurred my vision. I was sobbing for days. Everyone at home was consoling me that you are alive and only Aman, the character of the film has died, but just the idea of you dying was enough for me to forget all about the film and weep in that deep grief. That was me, a 6 year old, madly in love with you to not see you go.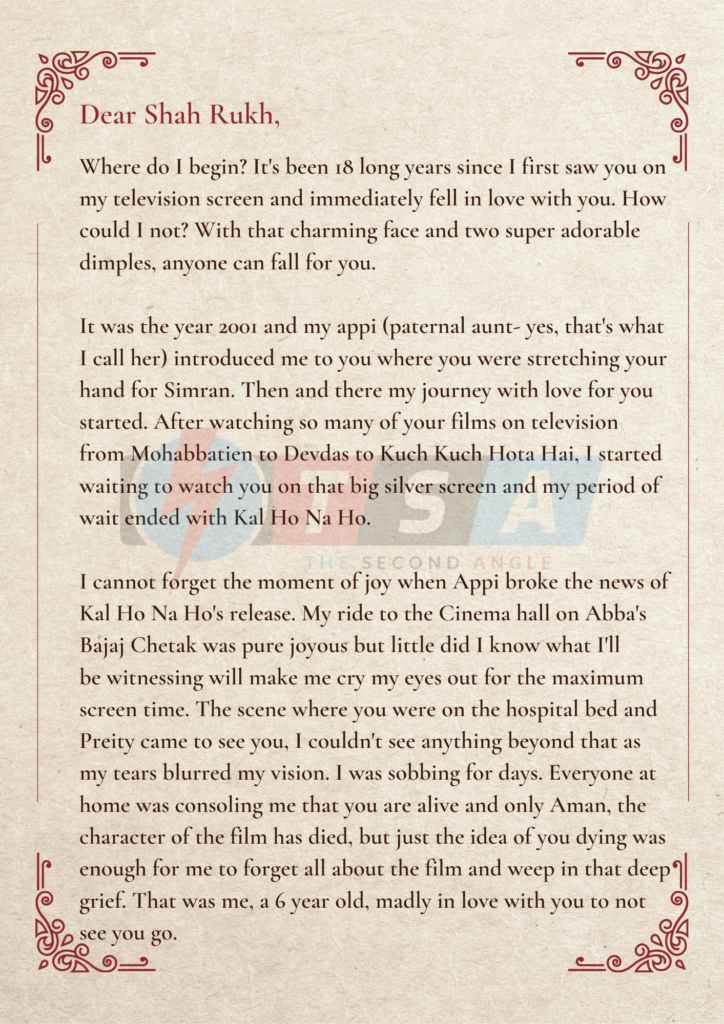 But even now, when I'm a girl of 23 years of age, I still cry while watching you on the death bed in Kal Ho Na Ho. And let me clear it out, I don't have even a tiny bit of embarrassment in me for that. With my increasing age, my love for you has only increased.
Earlier, it was only your appearance and the way you stretched your arms, which made me fell for you but now as I grew up and rewatched my childhood favourites, I fell for your additions to the characters you played. I fell for your wit and humour, for your journey into Bollywood, from theatre to cinema with no KHANdaan as support and your journey to make your love of your life, your wife. It all touched my heart. 
You personify your characters with the shades you add in them. The way you played Rahul and Ajay of Darr and Baazigar, proved that anti-heroes can be loved too, it positively changed the look of the Hindi Cinema. The way you rest Paro's calculations and sadness to rest with "Ek baat hoti thi tab tum bahut yaad aati thi… jab jab main saans leta tha tab tab" or the way you talked about your love for Naina with tears in your eyes "Zindagi mein pehli baar is dil ne kisi ko dil se chaha hai… pehli baar is dil ne kisi ke liye sansien li hain … pehli baar is dil ne kisi se mohabbat ki hai" 
Or the way you opened your arms to let Priya fall in them in Chalte Chalte, the expressions you had in that moment were priceless, or the way you hide the tears in your eyes when Taani expressed her love for Suri, saying "mujhe un mein Rabb dikhta hai"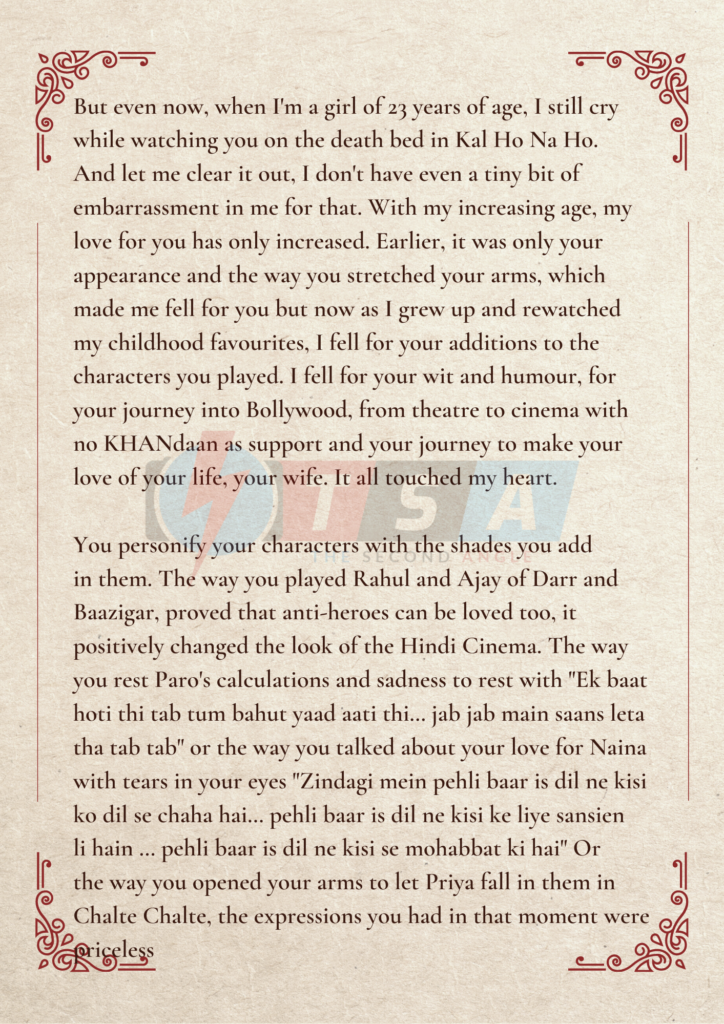 or when you played "Duniya Mein Kitni Hain Nafratein, Phir Bi Dilo Mein Hai Chahtein, Mar Bi Jaye Pyaar Wale, Mit Bi Jaayen Yaar Wale, Zinda Rehti Hain Unki Mohabbatein" with your violin having that firm determination in your eyes to succeed, you not just spread Mohabbatien in Gurukul's air but in everyone's heart, 
or when you realized that Rohan is Rahul's little Rohan or the look you brought to your eyes, when you heard Mandira blaming you for Sam's death, not just the eyes but the whole body language of yours! It spoke out your pain. Ah! I can go on and on about these. The list where you make the scene memorable just with your added nuances is long. No doubt, they call you King Khan. You own it, ShahRukh. 
Even after watching your performances for the umpteenth time, they still arouse the same kind of emotions in me as they did on my first watch. Your performance is eternal.
Amidst those performances, your dimpled smile is what stole my heart. And nothing is the same ever since that. From collecting newspaper cuttings to saving digital pictures and news stories about you on PC to saving a collection on Instagram, my love for you is the same in the changing times.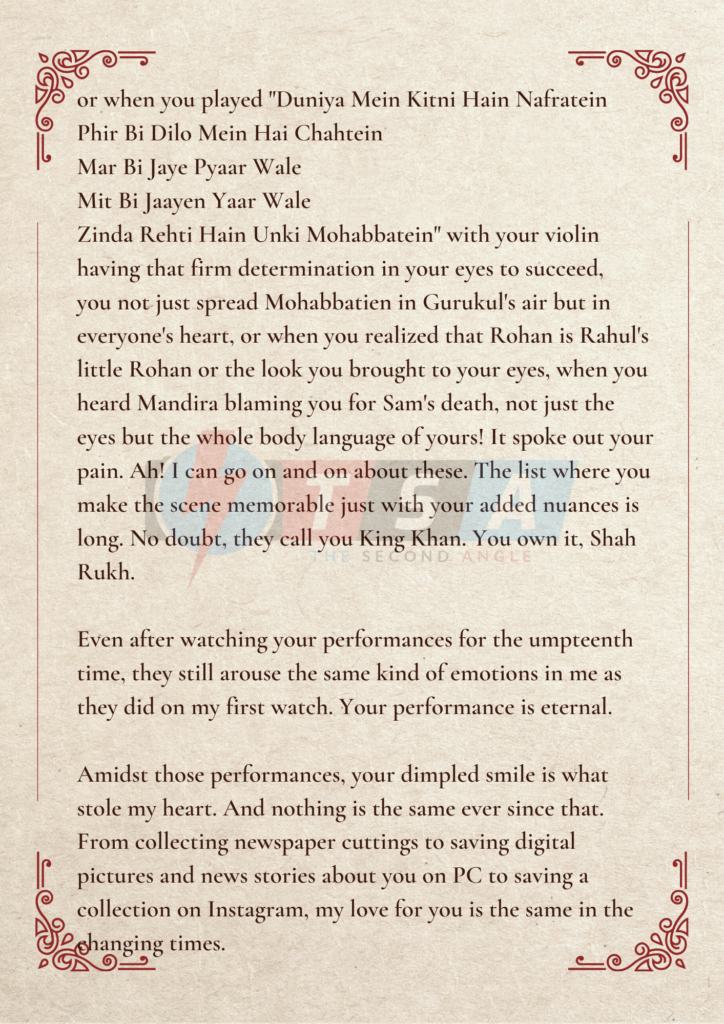 You made me follow my passion, no matter what and you're the one who taught me that "pyaar ek baar hota hai" and no, it's not Rahul's 'ek baar wala pyaar' which happened twice because 'pyaar dosti hai'. Your love is what you have for Gauri and I am following you on that, Khan. I'm following you on that! 
ShahRukh, I have never met you and honestly, I don't know if I ever will. I admit, sometimes I feel jealous of those who have met you. But then I weave scenarios meeting you, in broad daylight and in my dreams and it brings the purest smile on my face. Yes! Just like the one I have right now. ShahRukh, that is your magic on me. A mere mention of your name is enough to make my day. 
I hope we get to meet someday and if not, at least this letter reaches you. Till then, I'm happily brewing my love for you.
Lots of Love,
A diehard fan with no autograph to flaunt.