The Bharatiya Janta Party (BJP) leader Satya Ranjan Borah wants to put an end to cow slaughter and the practice of feeding beef to Tigers and other animals in captivity at the Assam state Zoo. A small group of protesters led by Mr Borah – alleging to be 'anti-beef activists' protested against the zoo's "standard guidelines" of feeding beef to animals.
The protesters tried to block the main entrance gate at Guwahati Zoo to stop the vehicles delivering beef for tigers and other animals. Zoo authorities somehow managed to disperse them with the assistance of the police, as stated by official sources.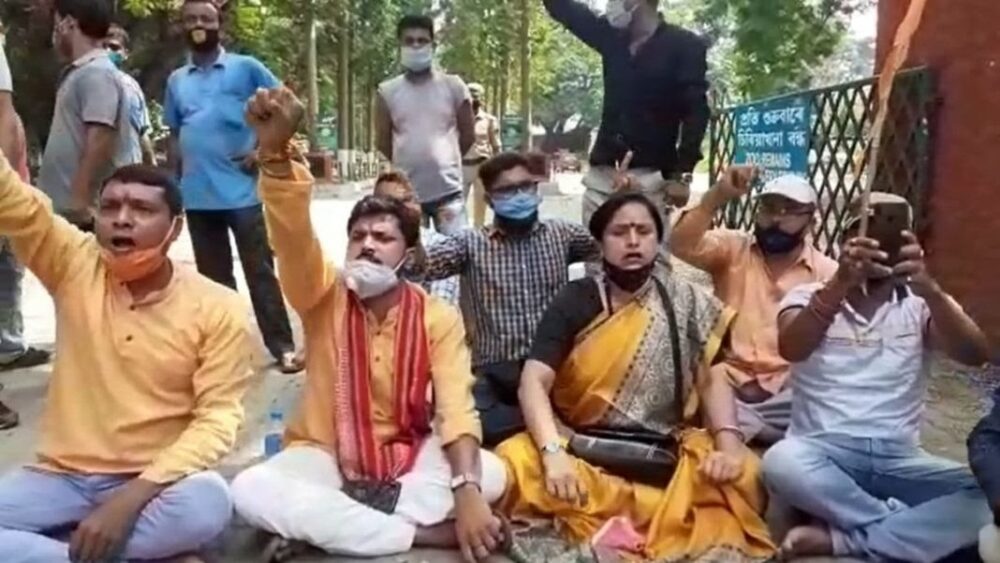 "In Hindu society, we give importance to the protection of cow, but it is the staple food for carnivores in the Zoo and part of government supply. Our objection is – why serve beef? Why not other meat?", Mr Borah questioned the reporters.
The BJP leader, in order to develop natural ecosystem, offered a solution by feeding sambar deer to big cats. "The Zoo's sambar deer population is so much that the males have to be kept separately (to slow down breeding). The Zoo can achieve self-sufficiency if sambar deer meat is used to feed the carnivores," he said.
Beef and Guwahati Zoo ! Demand of Beef ban in Guwahati Zoo is not a stunt. There is a background. But no one is interested. They don't love to know the facts, rather they love to Lough on someone…

— Satya Ranjan Borah (@satyaranjanbora) October 14, 2020
Tejas Mariswamy, the Divisional Forest Officer of the Assam State Zoo, said," The vehicles carrying meat were stopped briefly by, miscreants. We called the police to disperse them, and the Central Zoo Authority recommends the food for carnivores. As per the law, we cannot give the meat of other zoo animals to the carnivores. Also, sambar deer is a wild animal, and we cannot kill wild animals".
According to the record, sambar deer are listed as "vulnerable" by the International Union for Conservation of Nature (IUCN) and are protected under Schedule-III of the Wildlife (Protection) Act, 1972.
Meanwhile, Assam's Forest Minister, Parimal Suklabaidya took note of the matter said that the animals were fed beef as it was "essential" for their nourishment. While some states have chosen to feed carnivores buffalo meat, but Assam does not have enough stock, so beef was provided as per the centre's guideline.
As per the law, cattle slaughter is not prohibited in Assam. Opposite to many other Indian states, the law in Assam also does not differentiate between buffaloes and cows or bulls. The Assam Cattle Preservation Act of 1950 permits the slaughter of cattle over 14 years of age, or those incapable of work or for use inbreeding.
Will someone protest against @mygovassam to stop feeding plastics to "Gau Mata" at Boragaon waste dumping site in Guwahati.? Will someone protest to stop feeding plastics to Gau Mata,Elephant or any other animal in our state/country? Plz stop feeding plastics to voiceless animals

— Rohit Choudhury (@Rohitskaziranga) October 12, 2020
Thanks to Satyaranjan Borah, I learned today that we have 'Hindu' tigers in Guwahati Zoo who must not be fed beef. This news needs international attention. Please make Satyaranjan Borah world famous. He is dying for attention.

— Shaheen Ahmed (@Aakori_Baakori) October 12, 2020
Some Hindutva organisations today protested against feeding beef to zoo inmates. They demand feeding mutton or chicken too them. Later Parimal Suklabaidya clarifies that beef is essential for animals.

— atanu bhuyan (@atanubhuyan) October 12, 2020