Hindi cinema is known for its over the top action, romance and drama, and is often criticized about the same. But what often softens the blows of critiques are the music albums that span across all genres of music. From classical to Indie, hip-hop to soft instrumental, soulful to party jam there is one song for every music lover.
The last decade was packed with some very refreshing movies that brought in a delightful music treat. It won't be wrong if we call the last decade, the decade of the music industry. While hip hop paved its way into the mainstream Hindi cinema through Gully Boy (2019), the classic romantic music still held its ground firmly through I hate Luv Stories (2010) and Hasee Toh Phasee (2014).
There also came in movies like Zindagi Na Milegi Dobaara (2011) and Yeh Jawaani hai Deewani (2013) that brought 'one size fits all' album which has a song for every mood.
Here are 10 best albums of the decade in chronological order of their release.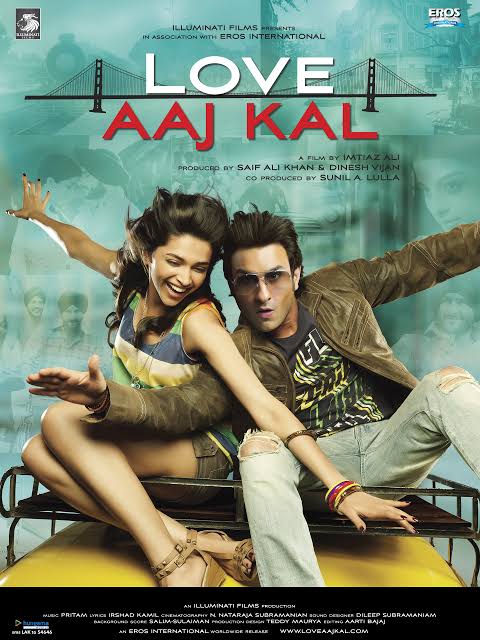 Music by: Pritam (Songs), Salim-Sulaiman (Background Score)
Lyrics: Irshad Kamil
The Imtiaz Ali film that saw two lovers finding their way back to each other and reinstating the love they had abandoned, was packed with songs that pluck at the strings of your heart and make you dance like crazy at the same time.
This Saif Ali Khan and Deepika Padukone starrer movie had songs like Dooriyan (Mohit Chauhan), Ajj Din Chadheya ( Rahat Fateh Ali Khan), Main Kya Hoon (KK) that make you imagine all impossible scenarios. While songs like Aahun Aahun ( Master Saleem, Suzanne D'Mello, Neeraj Shridhar) and Twist (Suzanne D'Mello, Neeraj Shridhar) can still make you tap your feet. All in all, it was a great start for the decade that was ruled by music.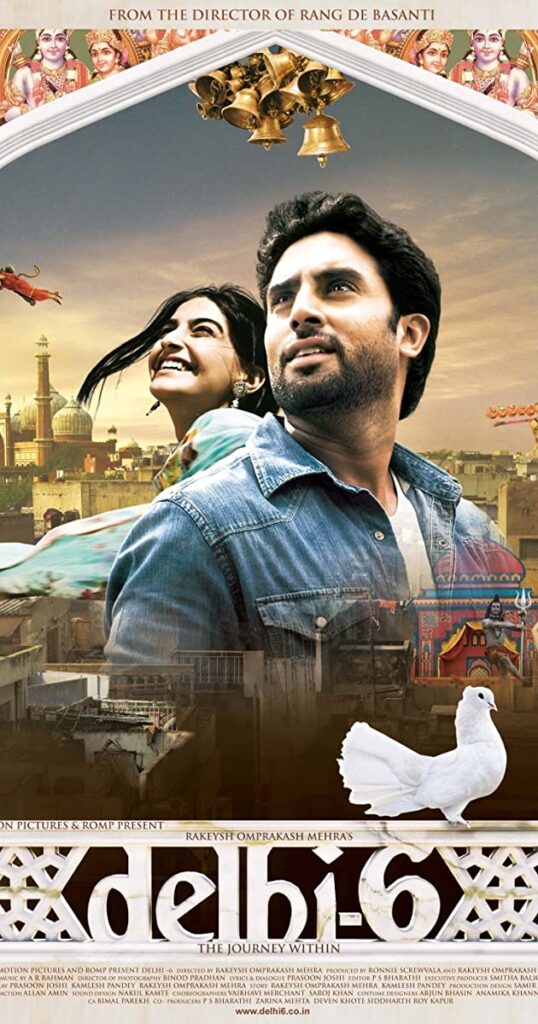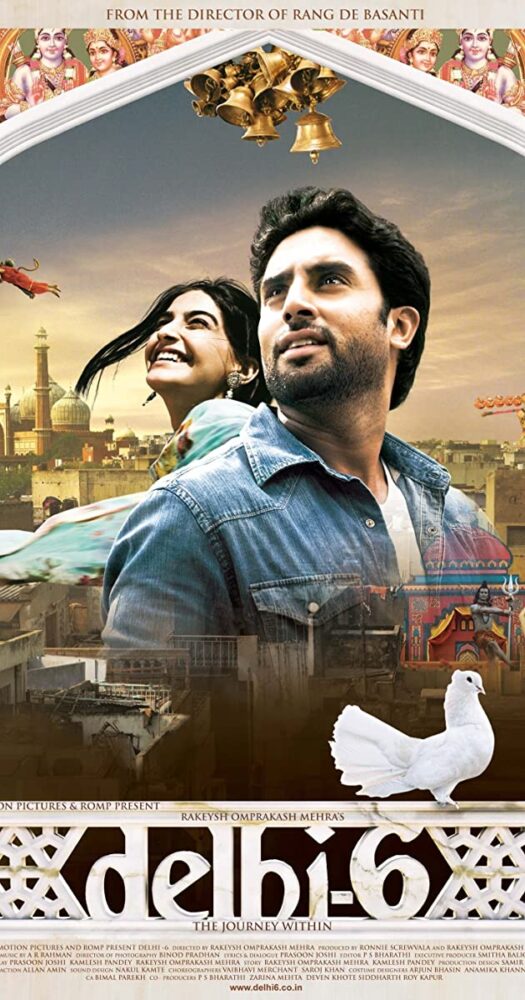 Music by: A. R. Rehman
Lyrics: Prasoon Joshi
Directed by Rakesh Omprakash Mehra, this movie is woven around the life of an NRI who returns with his ailing grandmother to his homeland and gets caught in a bizarre temple-mosque dispute in the heart of Delhi.
The music album is adorned by soulful songs like Arziyaan (Javed Ali) that still tops the playlist of many, and Dil Gira Dafatan (Chinamyi, Ash King) that remained a little less explored. It also had an of folk through the song Genda Phool (Rekha Bhardwaj, Shraddha Pandit, Sujata Majumdar, V.N. Mahathi). And the ever famous song Masakali (Mohit Chauhan) never fails to remind you of the innocence love carries. 
Udaan (2010)

Image Source: imdb.com
Music by: Amit Trivedi
Lyrics: Amitabh Bhattacharya
The movie that captures the struggles of a young boy who aspires to write but is forced to join his strict father at work after being expelled from school. It is directed by Vikramaditya Motwani and has a very soulful album.
The songs might not be chartbusters but they touch upon the spark of the youth. Songs like Kahaani – Aankhon ke pardon pe (Jo Berua, Neuman Pinto), Geet mein dhalte lafzon mein ( Amit Trivedi, Amitabh Bhattacharya), Udaan – Nadi mein talaab hai ( Jo Berua, Neuman Pinto, Amit Trivedi) and Azaadiyan – Pairon ki Bediyan ( Amit Trivedi, Amitabh Bhattacharya) fit very smoothly into the narrative of the movie, helping it unfold.
I Hate Luv Stories (2010)

Image Source: amazon.in
Music by: Vishal – Shekhar (Songs), Salim-Sulaiman (Background Score)
Lyrics: Vishal Dadlani, Kumaar, Anvita Dutt Guptan
This Punit Malhotra movie is a typical opposites-attract a kind of love story. The story unfolds as Simran (Sonam Kapoor) falls in love with Jey (Imran Khan) who hates the idea of love. Together they explore their feelings and overcome the hesitance by voicing them out to each other.
Songs like Jab Mila Tu (Vishal Shekhar), Bin Tere (Shafqat Amanat Ali and Sunidhi Chauhan), Bahaara ( Shreya Ghoshal, Rahat Fateh Ali Khan, Sona Mohapatra) and Sadka (Mahalakshmi Iyer and Suraj Jagan) are a part of this album that makes you fall in love with the very idea of love. 
Rockstar (2011)

Image Source: timesofindia.indiatimes.com
Music by: A. R. Rehman
Lyrics: Irshad Kamil
Directed by Imtiaz Ali, this movie is about the story of a college student Janardhan (Ranbir Kapoor), a simpleton who desperately seeks inspiration for the musician inside him. Although heartbreak helps him reach his goal, it also leads him to self-destruction. This movie came in with an album that has a song for every mood.
From Kun Faya Kun (Javed Ali, Mohit Chauhan) that make you want to sit all by yourself and introspect, to Nadan Prindey (Mohit Chauhan) and Phir Se Ud Chala ( Mohit Chauhan) that talk about lost souls finding their way home. From Jo Bhi Main (Mohit Chauhan) that speaks of self-destruction, to Sadda Haq (Mohit Chauhan) that pushes you to try harder for yourself. Ruled by the vocals of Mohit Chauhan, this album holds a special place in the hearts of music fanatics.
Zindagi Na Milegi Dobaara (2011)

Image Source: amazon.com
Music by: Shankar-Ehsaan-Loy
Lyrics: Javed Akhtar, Shankar-Ehsaan-Loy
This Zoya Akhtar movie explored friendship in the timesheet when Romance ruled the Hindi Cinema. It is a very simple story of three friends trying to overcome their pasts, fighting their fears and confronting their present. With great cinematic shots, lyrical poetry and a full pack album, the movie connected with a large chunk of audience.
Its music was very refreshing with songs like Ik Junoon (Vishal Dadlani) which was very vibrant and lively, Khaabon Ke Parindey (Alyssa Mendonsa and Mohit Chauhan) which always finds a place in every drive playlist, Senorita (Hritik Roshan, Abhay Deol, Farhan Akhtar) which is playfully sung by the actors themselves and Sooraj Ki Bahon Mein (Clinton Cerejo, Dominique Cerejo, and Loy Mendonsa) that brings the entire movie together and ends it on a happy tone where everyone has their fair share of sunshine.
Music by: Pritam
Lyrics: Amitabh Bhattacharya, Kumaar, Pritam Chakraborty
In this Ayan Mukerji film, Naina (Deepika Padukone) a typical nerd takes up a very bold, out of her comfort zone kind of step and goes for a trekking trip to Manali with her school friends the free-spirited traveller Kabir (Ranbir Kapoor), the broke Avinash (Aditya Roy Kapoor) and the carefree Aditi (Kalki Koechlin). 
The story moves forward as Naina and Kabir find more about each other but are unable to express their feelings by the end of the trip. They are reunited at Aditi's wedding and the feelings resurface.
The album had songs like Badtameez Dil (Benny Dayal and Shefali Alvares) and Dilliwaali Girlfriend (Arijit Singh and Sunidhi Chauhan) that can make you dance anytime, Balam Pichkaari (Arijit Singh and Sunidhi Chauhan) that set a very festive mood, Subhanallah (Shilpa Rao and Sreerama Chandra) that talks about discovering love as you fall for the first time and Ilahi (Arijit Singh) and Kabira (Rekha Bhardwaj and Tochi Raina) that refer to the beauty explored by travellers, all the while missing a home that they wish they could come back to.
Music by: Amar Mangrulkar (background score), Vishal-Shekhar (songs)
Lyrics: Amitabh Bhattacharya, Kumaar
Directed by Vinil Mathew, the story unfolds as Nikhil (Siddharth Malhotra) tries to make it big in the business world meanwhile struggling to find who he loves, the beautiful Karishma (Adah Sharma) who loves him back or Karishma's younger sister Meeta (Parineeti Chopra) who is a crazy genius. The story of confusing emotions is captured very well by the album.
The songs like Zehnaseeb (Chinmayi and Shekhar Ravjiani), Manchala (Nupur Pant and Shafqat Amanat Ali) and Ishq Bulaava (Sanam Puri and Shipra Goyal) talk about emotions, feelings and confusion. Also, songs like Shake it like Shammi (Benny Dayal), Punjabi Wedding Song (Sunidhi Chauhan, Benny Dayal) and Drama Queen (Shreya Ghoshal) add a quirk to the confusion that helps set the movie a little lighter.
Music by: Pritam
Lyrics: Amitabh Bhattacharya
This Karan Johar directed movie explores the classic friendship-love conflict. This multi starrer movie had a rather simple plot. The music melted well with the plot and the characters on whom the songs were picturised. This album scored quite a lot of numbers across all platforms and broke some records too.
Bulleya (Pritam Chakraborty), although set in a very aggressive tone was received very well by the audience. Songs like Ae Dil Hai Mushkil and Channa Mereya both sung by Arijit Singh, made him a shoulder to cry on after every breakup. Also, songs like The Breakup Song (Pritam Chakraborty) and Cutiepie (Nakash Aziz) added a little fun and life to the movie which is all in all set in a dark space.
Gully Boy (2019)

Image Source: theswaddle.com
Music compiler: Ankur Tewari
The Zoya Akhtar movie that brought hip hop and rap culture to the mainstream. The story revolves around a boy from the streets of Mumbai who aspires to be a rapper. The struggles of Murad (Ranveer Singh) are told beautifully through the various raps. As Murad steps into the world of rap, adding "rhythm to his poetry" MC Sher (Siddhant Chaturvedi) helps him out, and together they create some musical wonders.
The raps like Asli Hip Hop, Sher Aaya Sher, Apna Time Aayega and Azaadi not only reflect upon Murad's life but also the life of the underdogs in general. The movie catered real rap to an audience that only knew Badshah and Honey Singh. The meaningful lyrics and upbeat music have together made it very clear that the rap culture is here to stay.
Here are some other notable mentions:
Shor in the city (2010)
Music by: Sachin-Jigar, Harpreet
Khamoshiyan (2015)
Music by: Jeet Gannguli, Ankit Tiwari, Bobby Imraan, Navad Zafar (songs); Raju Singh (background score)
Dear Zindagi (2016)
Music by: Amit Trivedi
Lucknow Central (2017)
Music by: Arjunna Harjaie, Rochak Kohli, Tanishk Bagchi (songs); Arjunna Harjaie (background score)
For more such content, keep checking our entertainment section.