For over two weeks, protests are going on in the streets of Nigeria over the brutality of the police. On October 19, 2020, Amnesty International, an organization focusing upon human rights, reports the loss of 15 lives since demonstrations started, including two police officers. The protests were triggered by a video that surfaced on social media depicting the killing of a man in Delta state earlier in the first week of October 2020, by the Special Anti Robbery Squad (SARS) during a search operation.
As per Wikipedia, SARS came into existence in 1992 (there is some uncertainty regarding the exact date) to combat with the rising violence, robbery, theft, and kidnappings but at times SARS itself has been accused of murder, violence, and all the crimes it was constituted to fight against. Amnesty International, by SARS across Nigeria between January 2017 and May 2020.
What is End SARS?
End SARS is a social movement against the brutalities of police in Nigeria. The slogan fundamentally calls for the absolute termination of SARS. The protests started as a Twitter campaign in 2017 with the hashtag #ENDSARS to demand the elimination of the brutal force. Although it's a social campaign for almost 3 years, it got international recognition only in October 2020 and has more than 28 million tweets under the very hashtag.
Protesters demand the immediate release of all arrested protesters, compensation to the families of the deceased and legal action against the SARS officials.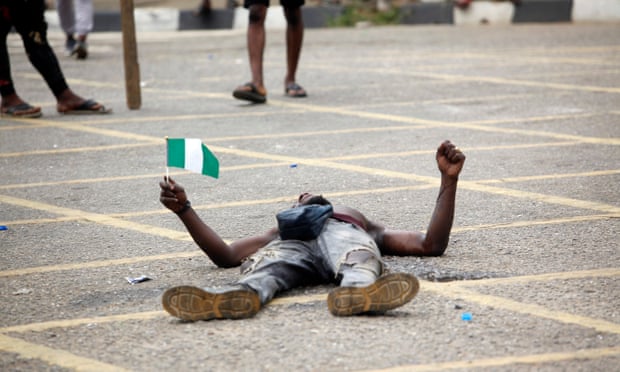 President Muhammadu Buhari has also been very diplomatic in his approach. However, he announced the disbanding of SARS, according to the protesters, it is just an iterated statement without a substance, and they pledged to stay on the streets until they are met with their demands. Further SARS denies the authenticity of the video that sparked the violence on the streets of Lekki, city of Lagos.
How has the world reacted to End SARS?
The #EndSARS protests have taken place at several places across the globe including, London, New York, Berlin, and Toronto.
Several celebrities, including Beyoncé, Lil Nas X, Kanye West, and Rihanna, have voiced their support for the protesters online.
Joe Biden, the presidential candidate of the US, urged President Buhari and the Nigerian army to stop "the violent crackdown on protesters, which already resulted in the loss of several lives in Nigeria." Also, former US Secretary of the States, Hillary Clinton in a tweet called on President Buhari and the Nigerian army "to stop killing" protesters.
I'm calling on @mbuhari and the @hqnigerianarmy to stop killing young #EndSARS protesters. #StopNigeriaGovernment

— Hillary Clinton (@HillaryClinton) October 20, 2020
Read: World Trade Organization To Be Headed By A Woman For The First Time
For more, like us on Facebook or follow us on Twitter, Instagram  and Telegram