Facebook has banned US President Donald Trump from the platform "indefinitely" due to his complicity in inciting violence at the US Capitol on Thursday.
Mark Zuckerberg in a post on Facebook said that the one-day ban on the US President on Facebook and Instagram was extended as a result of Trump's "use of our platform to incite violent insurrection against a democratically elected government."
Earlier on Wednesday, Facebook and Twitter temporarily locked the accounts of Donald Trump in a crackdown on his unsubstantiated claims of US presidential elections amid riots in the capital. Facebook Newsroom tweeted saying Trump will not be able to post on the platform during the 24-hour feature block.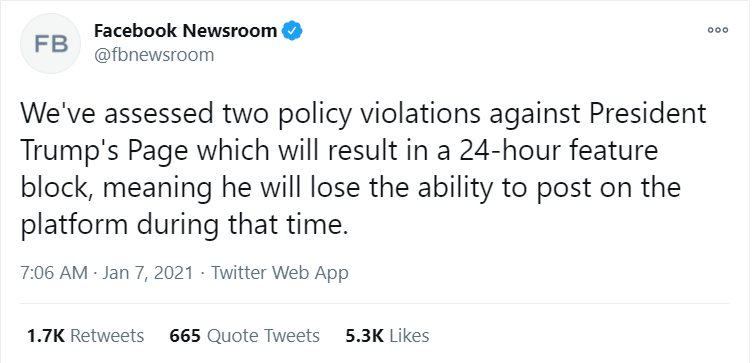 The Facebook CEO added, "The shocking events of the last 24 hours clearly demonstrate that President Donald Trump intends to use his remaining time in office to undermine the peaceful and lawful transition of power to his elected successor, Joe Biden."
Zuckerberg also wrote on his Facebook page that the risks of allowing Trump to use the service will be simply "too great". "Therefore, we are extending the block we have placed on his Facebook and Instagram accounts indefinitely and for at least the next two weeks until the peaceful transition of power is complete," he added.
Twitter has also blocked Trump from using their service for 12 hours after making him remove rule-breaking tweets. According to Twitter, Donald Trump's tweets violated the platform's rules on civic integrity and any future violations "will result in permanent suspension of the account."
Twitter said on Thursday that although the ban was over, it will be "continuing to evaluate the situation in real-time, including examining activity on the ground and statements made off Twitter" to assess if any further actions are required to be taken.
Snapchat later confirmed that he has locked out the President from their services after obtaining his dangerous rhetoric.
However, Donald Trump continued to reiterate his false allegations against the presidential elections and even told the violent mob "we love you" in a video released on social media.
YouTube came in and removed the video in line with its policy barring claims challenging election results.
"Now is the time for Silicon Valley companies to stop enabling this monstrous behavior, and go even further than they have already by permanently banning this man from their platforms," former first lady Michelle Obama said in a statement released on Twitter.
She urged social media platforms to work toward "policies to prevent their technology from being used by the nation's leaders to fuel insurrection."
Critics of these platforms have said that the response was shown too late. US Senator Mark Warner said that Facebook, Twitter, and YouTube have been complicit in delayed action towards addressing Trump's "sustained misuse of their platforms to sow discord and violence."
Also read,