Father names his store 'Gupta and Daughters' lay the inspiration for all
Isn't it strange that even a signboard can make news headlines in India? Let's learn what was so unusual about this signboard that went viral across netizens and garnered over 6000 likes within no time. Was it all because the name board of a quaint pharmacy in Ludhiana, Punjab bore the suffix 'daughters' instead of 'sons' in a country which is so obsessed with birthing sons, just so that they can transfer their 'legacy' to their 'boys' who will carry the family name, reputation, and business forward? Well, certainly, then someone associating the name of their business with the 'daughters' of the family instead 'sons' and 'brothers' is indeed a shift from the common practice and is so out of sight, hence, unusual.
Honestly, if you get a penny for every time you came across a shop, named in the format of some 'XYZ & Sons' while strolling down the markets of India. Unsurprisingly, you'd be as wealthy as Richie Rich.
More than what we might realize is the power of visuals in our everyday world. Visual language has the ability to shape, reinforce and change our perceptions about the world and this sheer lack of representation of women in our everyday visual world sets a dangerous precedent that women don't belong in the professional realm.
Well, the bias towards men in our ever day visual world does not just stop here, we have been witnessing this for a long in Indian Cinema also. Nearly five years back, in the film "Dil Dhadakne Do", we saw Anil Kapoor, an Indian businessman father choosing his disinterested son over his talented daughter to run his business. The assumption in Indian families of course being that the son is the only true heir to the family assets and responsibilities. This not only alienates the daughter but also puts undue pressure on the son – an issue of succession which was successfully highlighted in the film.
Cut to real life.
Despite this, our society has undergone negligible changes in its thinking. India continues to be a country where girls are educated only to raise stakes in "marriage-market". The women have no say in the family business and here comes "the Gupta and family", a ray of hope for all the daughters who have been told since ages that a girl has to get married and move to another house, the sons stay in the family and carry forward the family name. There will arise disputes with the in-laws family, etc. reasons cited to circumvent the issue. So, the next time if any of your relatives tell you something similar, this "Gupta Ji & Daughters" tag needs to be thrown right into their face.
According to the man behind this significant change, a daughter's name can also take family businesses ahead. He says the slogan 'Beti Bachao, Beti Padhao' by Prime Minister Narendra Modi was his inspiration and he has added another aspect to it 'Beti Badhao'.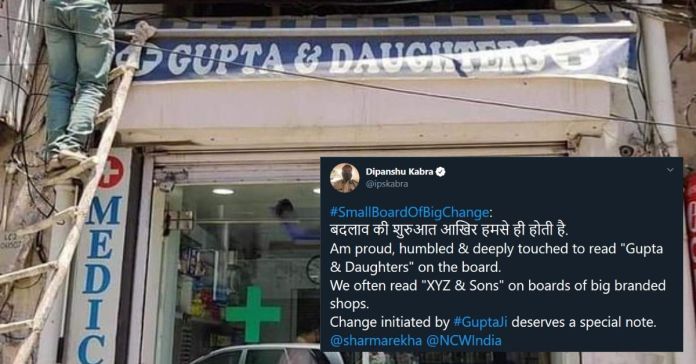 The 54-year-old Manoj Kumar Gupta started his career as a building contractor and also owns a construction company named, 'Gupta and Sons.' In 2017, he started his second venture, a pharmacy, but was struggling to choose an interesting name. While brainstorming for names, he decided to go with this. Some family members felt the name was a little too offbeat but his wife and children loved the idea and finally proprietorship went to his daughter not just in spirit but also in name.
Akanksha Gupta, after whom her father named the firm, says "unlike the traditional culture that sons will handle business and daughters will be married off, my father has never asked me to get married". He wants to see me as a judge for which I'm currently preparing.
Aakanksha's brother Roshan Karan Gupta (29), who helps father in the construction business, says he felt "very proud" of his little sister when their father decided to open their second firm in her name. He says, he had always been taught to treat his sister as an equal.
While Gupta's initiative has certainly set an example for gender equality, but it is not the only one to do so. Many people responded to the "Gupta & Daughters" signboard tweet, with other rare, but evidently gradually rising, business names they had spotted that tribute daughters from 'Talwar and Daughters Tours and Travels" to "Goyal and Daughters Traders".
In 2019, The Better India wrote about a wedding ceremony in Kolkata that was headed by four women priests and the bride's father also refused 'Kanyadan'- (an act of giving away a daughter as a gift to her husband and in-laws). Instead, the father read a speech for her daughter and added that her daughter was not a commodity to give away.
Things have certainly improved for women. She is finally getting her due albeit little and a little too late. Let's hope for such stories to become common tales among Indian masses that they become reality, not headlines.