Introduction
Cryptocurrencies have revolutionized the way we think about money, payments, and investments. Bitcoin, the first and most famous cryptocurrency, paved the way for a new era of digital assets that operate independently of central authorities like banks and governments. Litecoin, a cryptocurrency that launched in 2011, is often considered the "silver to Bitcoin's gold," as it is designed to be faster and cheaper to use. 
Litecoin has undergone significant changes since its inception, including several upgrades and the addition of new features. As we look to the future, what can we expect from Litecoin? In this article, we explore predictions and projections for the next decade, examining the potential growth and challenges facing this cryptocurrency.
The Rise of Litecoin: A Brief History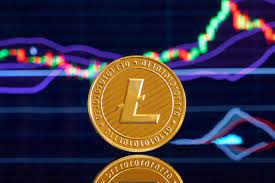 Litecoin was created in 2011 by Charlie Lee, a former Google engineer. Lee designed Litecoin to be a faster and cheaper alternative to Bitcoin, with a faster block time (2.5 minutes compared to Bitcoin's 10 minutes) and a different mining algorithm (Scrypt, compared to Bitcoin's SHA-256).
In the early years, Litecoin struggled to gain traction, with a small community of supporters and relatively low trading volumes. However, Litecoin's fortunes began to change in 2017, as the cryptocurrency market experienced a major boom. Litecoin's price surged from around $4 in January 2017 to an all-time high of $360 in December 2017, a staggering 9,000% increase.
Since then, Litecoin has remained one of the top cryptocurrencies by market capitalization, with a current market cap of around $10 billion. Litecoin has also continued to evolve, with several upgrades and new features added in recent years, such as MimbleWimble integration, allowing for greater privacy and fungibility.
Predictions for Litecoin's Future
As with any cryptocurrency, predicting the future of Litecoin is challenging, as many factors can impact its price and adoption. However, several trends and developments suggest Litecoin has a promising future ahead.
Increasing Adoption
One of the key drivers of cryptocurrency adoption is merchant acceptance, as the ability to use cryptocurrencies to purchase goods and services is essential for their mainstream adoption. Litecoin has already seen some success in this area, with several major retailers accepting Litecoin as a payment method, including Overstock, eGifter, and CheapAir.
In addition, Litecoin's faster transaction times and lower fees make it an attractive option for micropayments and everyday transactions, which could help drive wider adoption. As more merchants and consumers begin to embrace cryptocurrencies, Litecoin could see increased usage and demand.
Integration with New Technologies
Litecoin's development team has been actively working on integrating new technologies into the cryptocurrency, which could help it remain competitive in a rapidly evolving market. For example, Litecoin recently added support for the Lightning Network, a layer-two scaling solution that allows for near-instant transactions and low fees.
Litecoin has also been exploring the potential of privacy-enhancing technologies, such as MimbleWimble, which could help improve Litecoin's privacy and fungibility. By integrating these technologies, Litecoin could differentiate itself from other cryptocurrencies and attract new users.
Partnership and Collaboration
Partnerships and collaborations are becoming increasingly important in the cryptocurrency space, as they can help drive adoption and innovation. Litecoin has already formed partnerships with several major companies, such as the Miami Dolphins and Ternio, and has collaborated with other cryptocurrencies, such as Monero and Zcash, on privacy-focused initiatives.
As Litecoin continues to expand its reach and network, we can expect to see more partnerships and collaborations that could help bolster its adoption and use cases.
Market Trends and Sentiment
Cryptocurrency prices are highly influenced by market trends and sentiment, which can be difficult to predict. However, several factors could potentially impact Litecoin's future price.
For example, the growing interest in cryptocurrencies from institutional investors, such as hedge funds and banks, could lead to increased demand and price appreciation. On the other hand, regulatory crackdowns or negative news could lead to a drop in price.
Overall, the cryptocurrency market is highly volatile, and predicting future price movements is always uncertain. However, by examining market trends and sentiment, we can gain some insights into the potential future of Litecoin.
Challenges Facing Litecoin
While Litecoin has many promising developments and potential for growth, there are also several challenges it must overcome in the coming years.
Competition from Other Cryptocurrencies
Litecoin is not the only cryptocurrency aiming to be a fast and low-cost alternative to Bitcoin. Several other cryptocurrencies, such as Bitcoin Cash and Dash, also offer similar features and have their communities of supporters.
As the cryptocurrency market becomes more crowded, Litecoin will need to find ways to differentiate itself and remain competitive. This could include further innovation and integration of new technologies, as well as expanding its network of partnerships and collaborations.
Regulatory Uncertainty
The regulatory landscape for cryptocurrencies is still evolving, with many countries and jurisdictions implementing their own rules and regulations. This regulatory uncertainty can make it difficult for businesses and consumers to adopt cryptocurrencies, and could potentially limit Litecoin's growth and adoption.
To address this challenge, Litecoin's development team will need to engage with regulators and policymakers to ensure that the cryptocurrency is compliant with relevant laws and regulations, while also advocating for a more supportive regulatory environment for cryptocurrencies.
Security Concerns
Security is a critical issue for any cryptocurrency, as the decentralized nature of cryptocurrencies makes them a target for hackers and cybercriminals. While Litecoin has not experienced any major security breaches to date, it must remain vigilant and proactive in its security measures.
This could include implementing stronger encryption protocols, improving network governance and consensus mechanisms, and partnering with cybersecurity experts to identify and address vulnerabilities.
FAQs
Is Litecoin a good investment for the long term?
As with any investment, there is no guarantee of future returns, and cryptocurrency prices are highly volatile. However, many analysts and experts see the potential for Litecoin to continue to grow and expand in the coming years, driven by increasing adoption, new technologies, and partnerships.
What is the current price of Litecoin?
As of April 15, 2023, the price of Litecoin is $162.16, with a market capitalization of around $10.9 billion.
How is Litecoin different from Bitcoin?
Litecoin was designed to be a faster and cheaper alternative to Bitcoin, with a faster block time and a different mining algorithm. Litecoin also has a larger maximum supply (84 million compared to Bitcoin's 21 million) and has implemented several new features and technologies, such as MimbleWimble and Lightning Network support.
Conclusion
The future of Litecoin is full of promise and potential, as the cryptocurrency continues to evolve and expand its reach. With increasing adoption, new technologies, and partnerships, Litecoin has the potential to become a major player in the cryptocurrency market over the next decade.
However, there are also several challenges facing Litecoin, such as competition from other cryptocurrencies, regulatory uncertainty, and security concerns. To overcome these challenges, Litecoin's development team will need to continue to innovate and engage with stakeholders in the cryptocurrency community.
As with any investment, there is always a degree of risk involved, and cryptocurrency prices are highly volatile. However, for those who believe in Litecoin's potential and are willing to take on the risk, it could be a worthwhile investment for the long term.
In conclusion, the future of Litecoin is bright, with many exciting developments on the horizon. By staying informed and keeping an eye on market trends and sentiment, investors can make informed decisions about whether Litecoin is the right investment for their portfolio.