The novel coronavirus that has now got a pandemic status, affected us both mentally and physically. It wouldn't be unwise to say that the pandemic has managed to creep from China to our nation, easily making its way to our minds reflecting in our behavioural activities by making us practice "social distancing".
Almost every newspaper has news of the pandemic on its front page. Televisions never fail to update us with the latest confirmed cases of coronavirus with the back and forth coverage of the death tolls of different countries. Of course, it does gives us reports of recovered cases as well.
Social media platforms are now filled with everything related to coronavirus be it its emergence to its present state, or ways to curb the spread with frightening statistics and being practical many times. But are we noticing a fact that we are made to behave differently or have adapted a different way of life amid this lockdown?
We have become harsh not just with ourselves but our moral judgement has also been affected, it has gone harsher over time. Our attitude towards socializing has now reached a state of conservatism. Perpetual fear of this disease has affected our minds which have now started showing in our behaviours.
Aristotle said, "Man is a social animal." And hence it needs its surroundings to cope up with stress and proliferate both physically and mentally.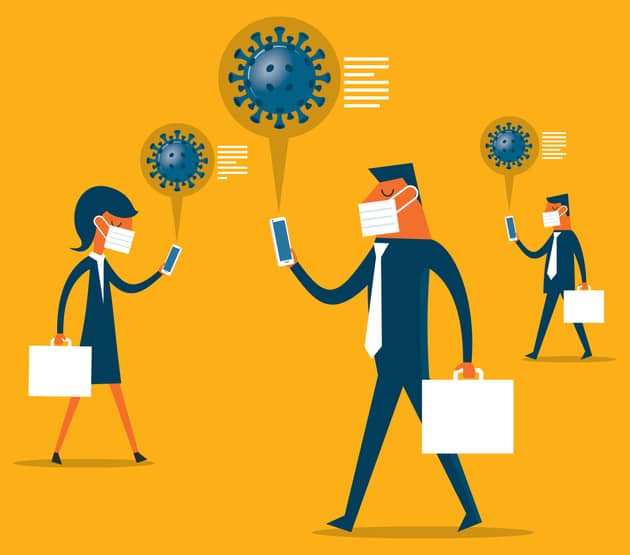 Studies have shown that we become more vigilant in an outbreak because we constantly tend to fear it. From constant reminders to cover our mouths with a mask to sanitizing our hands, one has seen a fairly new adaptation in these one month.
As social distancing has given way to self-imposed quarantine, we cannot blind our eyes towards the scenario of growing depression. COVID-19 has left more people alone and sad than they early were in a long time.
Shraddha Kejriwal, an entrepreneur and a resident of Mumbai said, "I am unable to deal with this idea of an uncertain future and have been waking up with the nightmares". Many businessmen around the world are concerned with the future of their business in which they have Invested all there life. Students at home are not able to take classes but and fear of examination is hanging around their neck. The lockdown is affecting people overtly or covertly and it difficult for people who aren't able to cope up with uncertainty and boredom.
Many of us are coping up with boredom, anxiety, or sadness by keeping themselves busy in household works like cleaning and cooking. While some charting out lists of their favourite Netflix series to watch this quarantine while others face timing with the close ones.
Experts say that the negative feelings and experiences associated with prolonged isolation are bound to come for everyone who is quarantining. Humans are sensitive creatures and this pandemic is harsh and extreme no less than an unprecedented movement.
John Vincent, a clinical psychologist at the University of Houston say, "People start getting lethargic when they don't have positive inputs into their small world". "We can expect depression to kick in and depression and anxiety are cousins." He adds.
Lawrence Palinkas, who researches psychosocial adaptation to extreme environments at the University of Southern California says, "Oftentimes if you have a very well-defined period in which you are isolated, people do pretty well up until the halfway point." "Then they experience a let-down. But when you are in a situation like we are now, and not certain how long you will be asked to maintain social distancing, it will produce anxiety," he adds.
Isolation may not always be helpful to all. "Among older adults, lower-income people and men experience isolation at a different level". Says Thomas Cudjoe, a geriatrician.
This pandemic ramification is no more limited to physical health. Gradually this is showing signs of certain psychological impacts as well.
A Psychiatrist based in Mumbai said, "Mental health epidemic to follow and the recovery will be difficult."
A recent survey done by the Chinese Psychological Society finds out that 40% of 18000 Chinese citizens tested positive for coronavirus had anxiety-related issues. Out of that 14000 evaluated for depression and others showed moderate symptoms of it.
China also took to Weibo, a Chinese social media platform to run a hashtag saying "how to deal with feeling very anxious". It caught a lot of attention and started trending with more than 290 million views.
Likewise, many other countries including India is taking an initiative to help the COVID-19 patients in dealing with the mental related issues.
Any pandemic is both physically and psychologically destructive in nature. The economical loss is repaired but the loss of health and mental trauma is what we lament the most after every calamity, that hit or have hit us in the past.
References can be best traced back to the times when these kinds of disasters happened, people developed toxic symptoms each time.
This coronavirus pandemic has made our brains even more psychologically cautious, which is an advantage but many adaptations are inclined towards being unnecessary.
The very foundation of this lockdown, restriction in movement, and self -isolation are likely to make a large percentage of experiencing a secondary public health crisis. A large-section of experts concern the aftermath of this pandemic which will lead to growing health cases of mental illness in the country.
[zombify_post]
Also Checkout: 30 Amazing Quotes by Al Pacino