The International Cricket Council has announced the interim changes in playing conditions, allowing the COVID-19 substitutes in the Test cricket. The ICC Cricket Executives' Committee, led by Anil Kumble, also banned the use of saliva on the cricket ball to reduce the risk of coronavirus spread.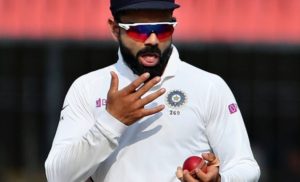 The pandemic halted cricket around the world since mid of March. Several tournaments have been cancelled in the meantime. Though, the game is all set to return behind the closed-doors with England hosting West Indies in a three-match Test series starting from 8 July in Southampton.
The new substitute rule will allow the teams to change members of their playing XI if they have developed symptoms of coronavirus disease during the Test match. Similar to concussion replacement, the ICC match referee will allow a like-for-like replacement from the squad. However, this rule will not be followed in the white-ball games.
Amidst, the Committee has banned the usage of saliva for shining the ball. Though, ICC has offered to be a bit lenient during the initial days as it will take some time for bowlers to adjust this old habit of shining the ball this way. But warnings will be given to the serious offenders up to two times before penalizing five runs to the batting team. Also, umpires are supposed to disinfect the ball, if the saliva has been applied, before the next ball being bowled.
Furthermore, the council has given a green signal to the use of local umpires in the forthcoming games. The rule of neutral umpires has been put to sleep for a while just to reduce travelling risk. An additional DSR will also be given to teams in each innings of a match.
The focus, now, has turned towards the ICC's board meeting, which is due tomorrow. This meeting will decide whether or not the upcoming ICC Men's T20 World Cup 2020 will go as planned. A few other decisions regarding FTP and upcoming tournaments will also be discussed.