Its been 2 years exactly when Tata rolled out around 1500 units of Tata Safari Storme GS800 to Indian armed force. Indian army ordered around 3192 vehicles to be delivered entirely. Meanwhile, Tata is one of the oldest manufacturers to produce the vehicle for the Indian Army but this is the first time from Tata motors to get the opportunity to provide the MPV for Indian Armed forces with all facilities and utilities as per the requirements.
The army version Tata Safari has a new and unique matte green paint job with external fuel container mounted on rear fender with the same matte green alloys. The de-chromed look treatment has been followed to make the car rugged and officially sound. The interior is totally beige which makes the unique combination.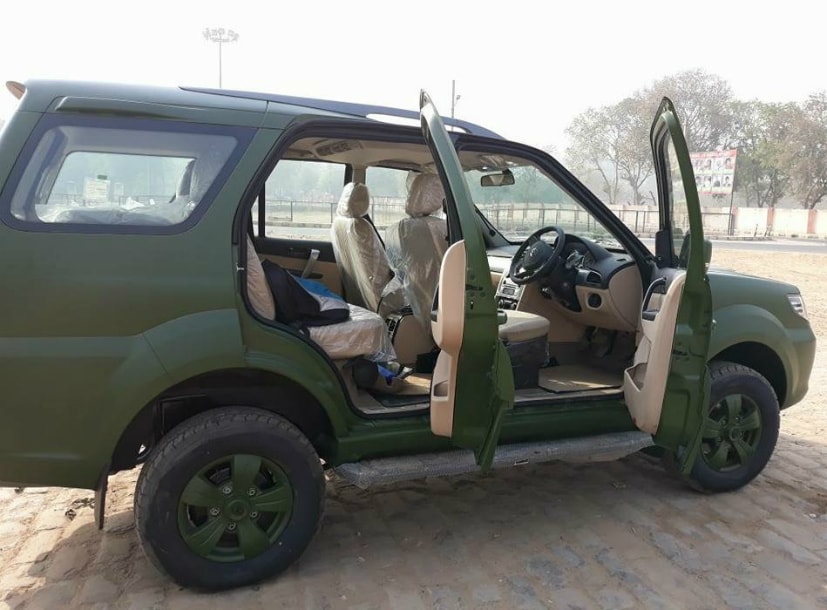 As now, Safari is not in production for the general sales, but the manufacturing for GS800 might be in production currently. Meanwhile, 800 in GS800 represents the minimum payload capacity of this vehicle is 800 kg which turned to be 60 percent more than the standard models. Meanwhile, Tata has not revealed the accurate fig of power and torque of this vehicle but claims that it delivers 70 percent higher power and 200 percent higher torque. It also comes with AC, ABS, mobile charging point, and power windows.
The General unit comes with a 2.2-litre diesel engine produces 156 horses and 400Nm of torque mated with 6-speed manual transmission.
The ageing Suzuki gipsy, which has been serving the Indian army for many years is now lacking with many utilities like air condition which is now very useful to use a defogger, and the close hard top is also the requirement now with the new and enhanced capability. The Indian army chose the Tata Safari to full fill its requirement and no doubt Safari is one of the rugged and safest options for the Indian army.
[zombify_post]