In this post, we will show you the most hidden beaches of Goa that will sort your planning if you are planning a trip to savor the season of beaches but are confused about the beaches and which among them should you visit.
Goa has traditionally been a famous vacation spot, stretching out along the Arabian Sea on the west coast of the Indian peninsula. There's enough to do here, and it could be the home of India's best night out. The best beaches in Goa hit all the right notes, whether you're recovering from a hangover or simply want to unwind.
1. Colva Beach
Location – Salcete,4th Ward,Colva
Colva, one of Goa's most famous beaches, receives a large number of visitors during peak season (mid-November to mid-February), and with good reason.
The 2.4-kilometer-long beach in south Goa offers an unlimited selection of aquatic adventure activities (including jet skiing, banana boat rides, and parasailing), soft and white sand, and a well-developed tourism infrastructure that can cater to your every need. Take a look at the wonderful beach resorts in this area for yourself.
Colva Beach is a popular destination for Indian tourists, so if you're searching for a unique experience, this is the place to go. For an even more authentic experience, consider staying overnight at one of the many homestay lodgings offered by local families.
2. Candolim Beach
Location – Candolim Beach Rd Candolim, Goa
Calangute, the neighboring party beach, is a slightly more moderate option. Candolim is noted for its beauty, with scrubbed sand dunes, clear waters, crisp sea breezes, and vast swaths of soft beaches. 
Parasailing, banana rides, scuba diving, and jet skiing are all options for thrill seekers. After a day at the beach, stop by one of the local shacks for a refreshing cocktail made with feni, a traditional Goan spirit. Allow the calmness to wash over you.
3. Dona Paula Beach
Location – Lovers Paradise, Panaji, Goa
Dona Paula Beach is one of Goa's most popular honeymoon destinations. This coastal location in Panaji's suburbs, dubbed "Lovers' Paradise," even has its own love legend.
This lovely beach is simple to fall in love with for modern vacationers. It has calm waves and bronze sand shaded by palm palms, as well as a soothing ambiance that makes you want to stay till sunset. It also has a variety of lodging options, including boutique hotels and luxury beach resorts, that will make you feel right at home.
4. Patnem
Location – Canacona, South Goa
A fantastic haven for rest and rehabilitation – and for yogis as well. Patnem Beach is a bit of heaven for individuals looking to spend some quality time alone. There are few hotels or entertainment options; instead, embrace the laid-back vibes by relaxing in one of the beach's simple bamboo huts or participating in a yoga retreat.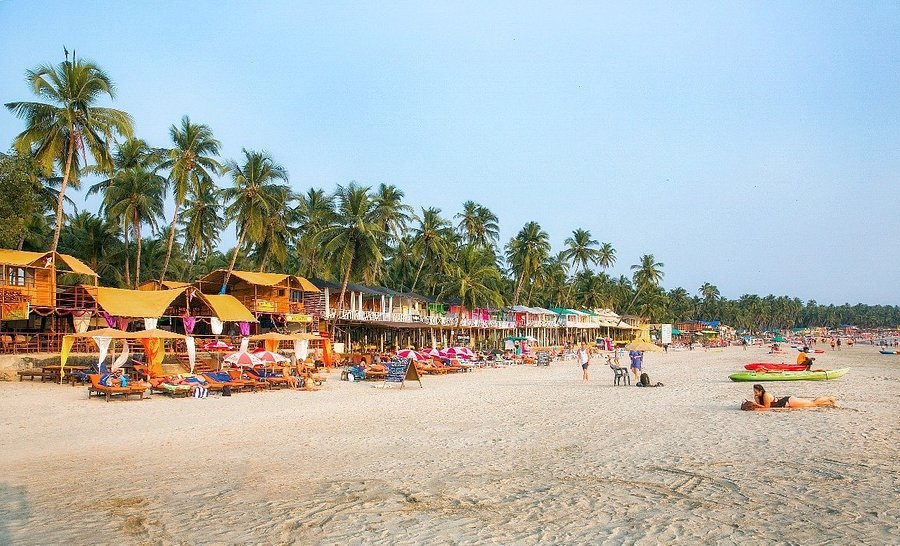 There's beautiful sand to lay on and crystal-clear water to swim in. Try the wonderful roast New Zealand lamb at a nearby bar/restaurant Nada Brahma while you're here.
5. Morjim beach
Location – Morjim Tem, Morjim, Goa
This beach in north Goa has a wilder, more rustic vibe than the rest of the state. It's a peaceful haven with beach bungalows and sun beds where you may unwind for hours.
Because of the enormous influx of Russians who remain here for weeks at a time, Morjim Beach has earned the nickname "Little Russia." Its plethora of Russian eateries might provide a welcome break from the rest of Goa's cuisine.
Checking out the wildlife is one of the most popular activities to do in Morjim Beach. A plethora of feathered species, such as kingfishers, cuckoos, bay-backed shrikes, and sand plovers, combine to create a birdwatcher's paradise.
6. Miramar Beach
Location – Miramar Beach End, Panaji, Goa,
A beautiful beach that appears like it should be the subject of a photograph in one of the world's most prestigious art galleries. We'd say that Miramar is one of Goa's most beautiful beaches, with unrivaled vistas of the Arabian Sea and plenty of fine sands and natural foliage.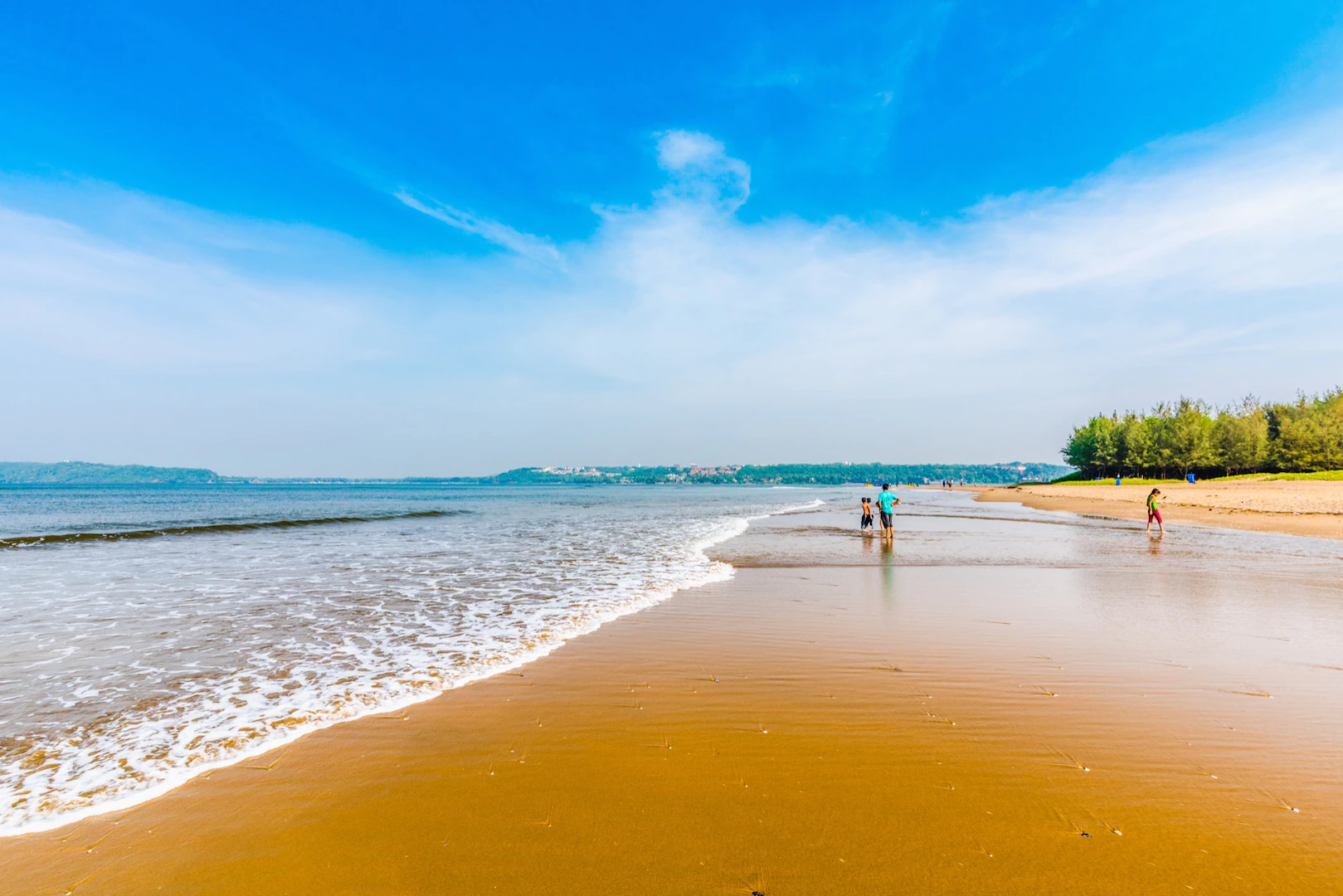 When you've gotten your fill of swimming and sunbathing, head to the beach for some fun souvenir stores and delicious restaurants. Do you want to have a romantic evening? Keep an eye out for the sunset to see Miramar at its most gorgeous (and to capture the perfect honeymoon pic).
7. Vagator beach
Location – Vagator Beach, Bardez Taluka, Goa
Vagator Beach is a bustling neighborhood, although it's a tranquil retreat when compared to the hordes of nearby Anjuna Beach.
Tourists will find a range of attractions here, including renowned restaurants that cater to all dietary needs, shops brimming with tempting gifts, and beach shacks stocked with everything you'll need for a day of sand and surf.
If you walk all the way to the end of Vagator Beach, you'll come upon one of Goa's most beautiful sights: the head of a Hindu deity carved into a boulder on the beach. Devotees frequently drape marigold garlands and apply colored colors on the sculpture.
8. Agonda Beach
Location – South Goa District, Agonda, Goa
A 15-minute drive from Palolem is a super-relaxing length of sand. If you've had your fill of partying and want to unwind, Agonda Beach should be on your itinerary. It's the kind of spot where sunbathing and swimming should be your main concerns for the day.
Its gentle sands also attract olive ridley turtles, which come to lay their eggs here. You are welcome to participate in this activity as long as you maintain a safe distance and refrain from using flash photography.
9. Galgibaga beach
Location – Canacona Taluka, Agonda, India
Galgibaga is one of Goa's cleanest beaches, with almost no commercial development. Bring a picnic lunch and enjoy the crystal-clear seawater, caramel-colored sand, and a forest of exotic coconut palm trees at this relatively unexplored beach.
Bring enough water to last the entire day; there are no beach shacks to replenish your supplies, and the sun can be intense.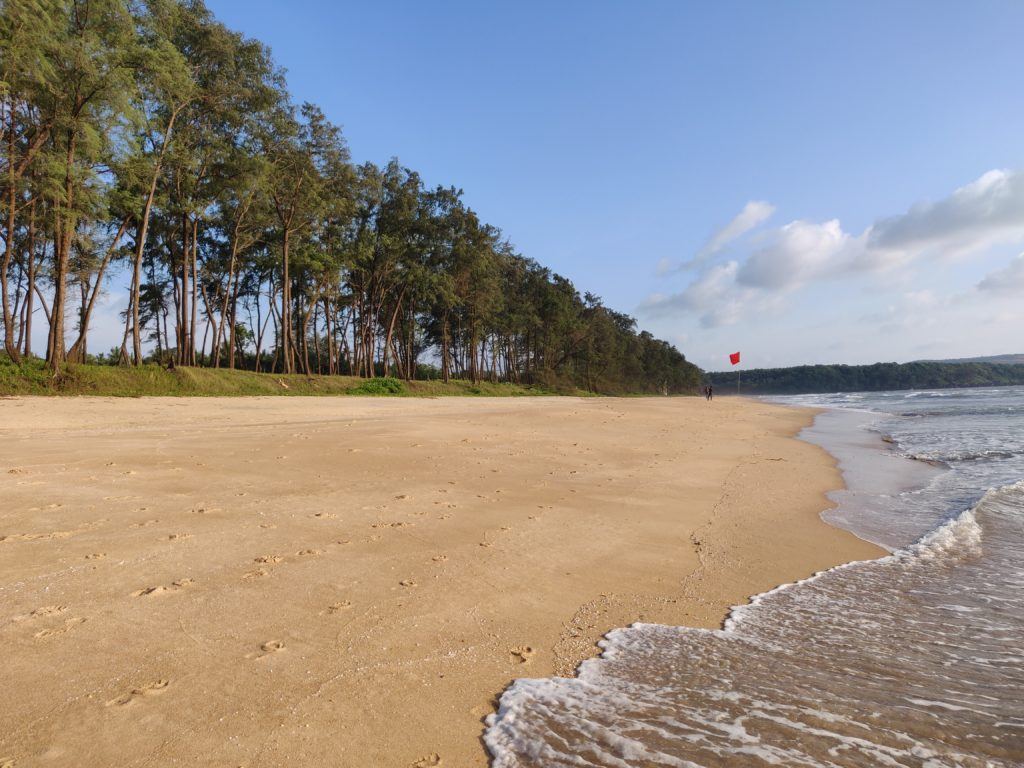 Because of the shelled creatures that nest in this protected location, Galgibaga is sometimes affectionately referred to as "Turtle Beach." Plan your visit between December and February to have the highest opportunity of seeing olive ridley sea turtles, the world's second smallest sea turtle species.
10. Benaulim beach
Location – Vasvaddo Beach Road, Benaulim, Goa
Benaulim Beach is often rated as one of the best beaches of Goa for families. This laid-back location, located just south of Colva Beach, provides a quiet respite for those who aren't interested in the Goan party scene. The fine white sand of Benaulim Beach is a gold mine for kids who want to collect seashells and build sandcastles.
At Benaulim Beach, tour operators offer a variety of water activities. If you get hungry, stop by one of the famed beach shack restaurants. Fresh seafood, crispy chicken, and fruit drinks are served at Little Tiger, a kid-friendly Indian restaurant.
Conclusion 
Goa may be one of India's smallest states, yet it offers more beautiful beaches than any other coastal region of the country as evidenced by the above-mentioned list of some of the most hidden beaches of Goa. Which of these beaches is your favorite if you have visited them already. Let us know in the comment section.
Also Checkout: 10 Must Visit Hill Stations in India to Escape from the Busy World