Flying may be a stressful experience; overcrowded flights, slow flight attendants, bland food, and nearly no legroom can make your flight a miserable experience rather than a convenient one. When flying internationally, one's patience is tested to its limits. You wake up with a backache, dark bags under your eyes, and a parched physique. However, flying does not have to be a nightmare all of the time. There are a few premium airlines that make flying relaxing and enjoyable.
Various airplane cabin classes protect passengers' privacy and give luxuries similar to those found in five-star hotels. These cabin classes are not only luxurious but also pricey. Their gleaming appearance may entice you to travel in them at least once in your life. From sanitation to cleanliness to a stylish appearance, elegant aircraft cabins ensure passengers have a pleasant voyage.
Here are the Most Luxurious Airlines in the World for an Extravagant Experience-
1. Etihad Airways First Class
Etihad First Class redefines luxury and provides exceptional travel experiences on your flights. Etihad Airways First Class cabin is stunning, with a tailored environment that puts guests in a private place. It has Poltrona Frau's superior and supple leather, an extended armchair, an ottoman, and space for a leisurely stroll.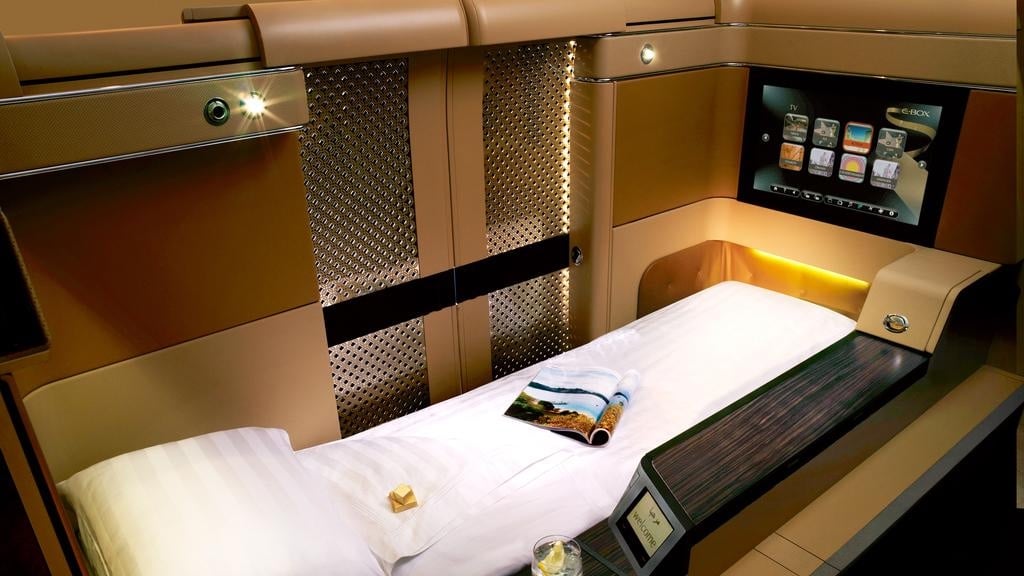 When you open the couch, it transforms into an 81-inch comfortable bed. There is a 24-inch TV screen that can be adjusted, as well as a beverage cabinet and a closet. The airline's menu offers a wide variety of food options, and the chef visits the passengers to take notes on their preferences. Your trip with Etihad First Class will be a lovely experience amidst pinnacle comforts.
2. Qatar Airways First Class
Qatar Airways is a well-known airline that offers fantastic short and long-haul flights, whether for business to Qatar's neighbors or for lavish stays in Australia and other far-flung destinations. Qatar Airways' huge cabin provides complete privacy and exceptional comfort. Your seat transforms into a luxuriously comfy, totally flatbed that will make you forget you're thousands of miles in the air.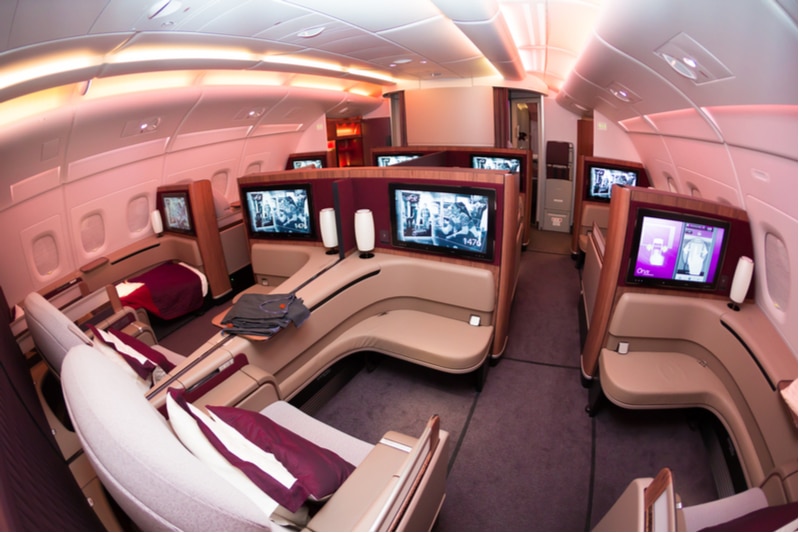 First-class passengers are treated to a plethora of amenities that ensure a memorable journey. All of these luxuries are backed up by the carrier's award-winning employees, who pamper you from the time you board. Enjoy delectable cuisine produced by some of the world's top chefs, some of whom are well-known for their work at Michelin-starred hotels. The on-demand à la carte menu offers a variety of foods to suit all tastes.
3. Emirates First Class
Emirates is recognized for providing luxurious travel, and their first-class accommodations do not disappoint. The experience essentially transforms into a luxurious hotel suite in the sky. In Dubai's wonderful airport lounge, you have a lot of options for things to do. Spend your time at the boutique splurging on premium items, catching up on business, or adding to your wine collection.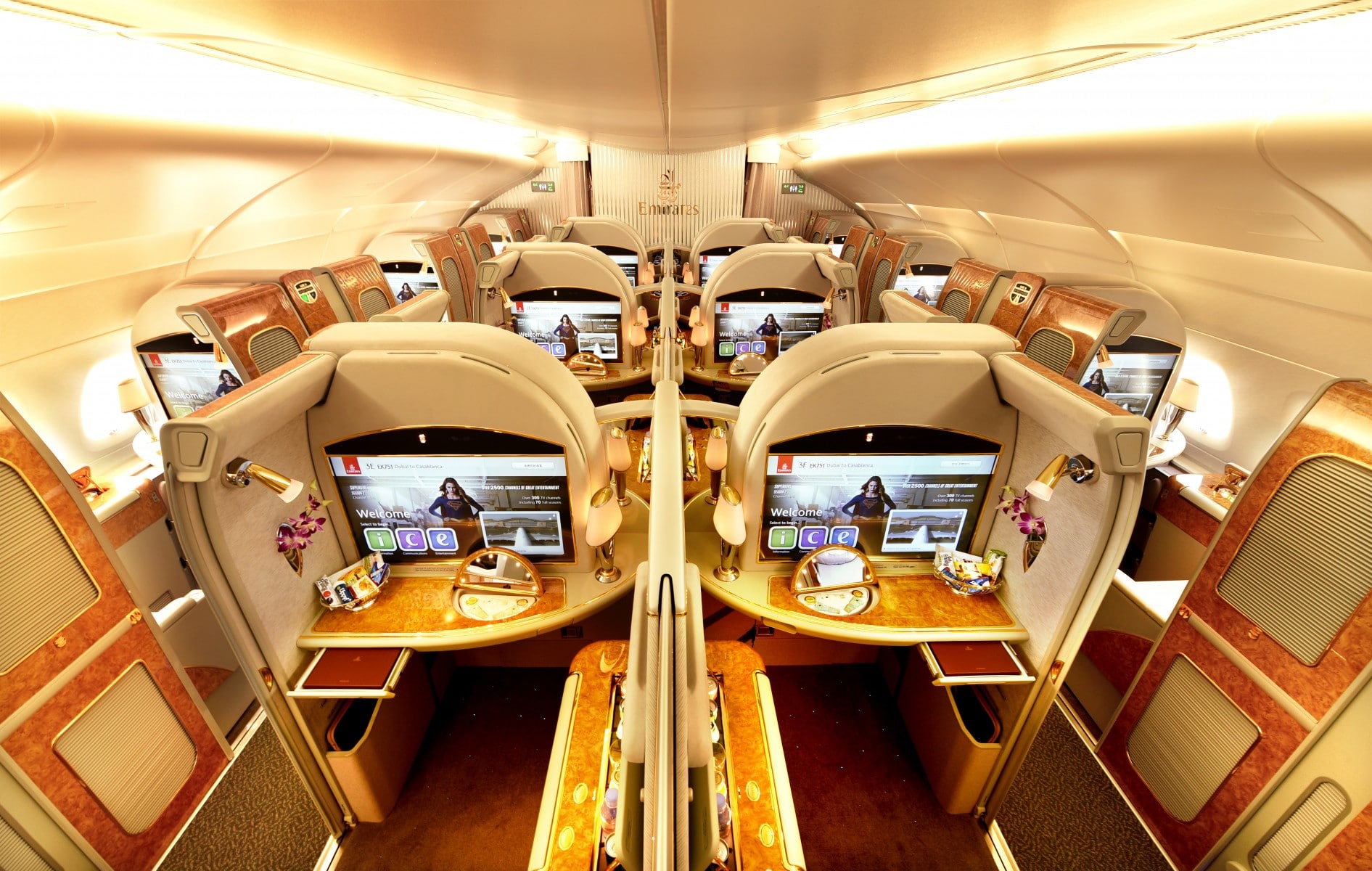 Onboard, you'll be greeted with the kind of superb treatment that one of the top luxury airlines is known for. Devour some of the high-quality, unique dishes and drinks on offer to embark on a culinary trip. You can order whatever you want at any moment and enjoy it in the privacy of your own suite. After that, put on your noise-canceling headphones and get lost in the entertainment hidden behind the floor-to-ceiling sliding doors.
4. Singapore Airlines Suites Class
Singapore Airlines has one of the most opulent first-class cabins in the world. Passengers are seated in wide, spacious seats with full-grain leather and wood accents. Singapore Airlines' premium cabins, which are made up of private cabins with sliding doors and window shades, provide the level of privacy that its passengers deserve. It has 35-inch broad seats that convert to double beds when spread out.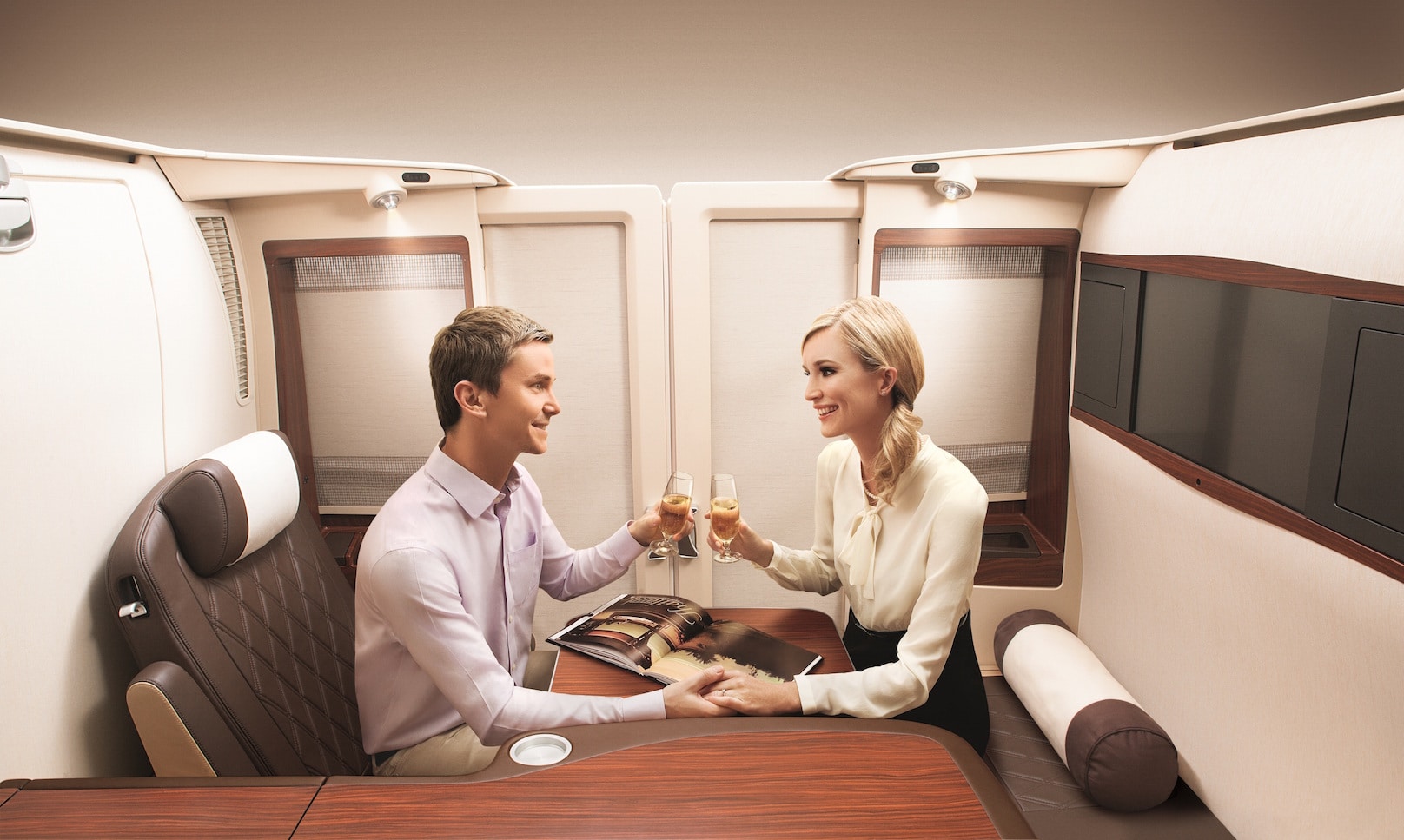 These cabins provide plenty of in-flight entertainment options as well as exquisite meals prepared by an International Culinary Panel of world-renowned chefs. Use the complimentary Wi-Fi to stay in touch with friends and family, or spend your time hooked to the screen with over 1,000 entertainment options. The onboard restaurant also serves a variety of delicacies that can be paired with a variety of wines for a full gourmet experience.
5. British Airways First Class
British Airways, which is known for its luxury, pampers passengers with exquisite first-class private rooms. On their way to the plane, passengers are rushed through security. British Airways First Class is a haven of comfort and style, where impeccable service and meticulousness are combined in a contemporary and modern British design. In between flights, stop by the first-class lounge for delectable goodies from the à la carte menu, which includes British classics.
If you'd rather work, take advantage of the free Wi-Fi and charging stations. Inside the cabins, there are numerous options for amusement. The food is likewise delicious, and the chairs are comfortable enough for a four-hour voyage. British Airways has created his and her amenity pack with luxurious skincare products in partnership with Temperley London.
Also, Checkout: 6 Travel Mistakes Never To Make

Source: TheHospitalityDaily