What comes to your mind when you think of police? I bet that shiver would be the first and humor would be the last thing you would think of! Let me lift some weight off your chest by telling you that that Mumbai Police would be the most fun police you would ever think of. They are what we say, different, but in a good way. There social media posts are always up to date no matter what the condition is!
Always ready with those humorous and witty comebacks, mumbai police has made there way through their "janta's heart". All of there social media handles, be it Instagram or Twitter is a smooth ride of comical journey!
Lets calm our minds and tigheten our seat belts to visit the hidden side of these saviours!
1) The message at New Year's Eve to stay at home!
Mumbai police made it pretty clear to stay inside on 31st December by sharing a humorous WhatsApp chat!
Single and ready to mingle but ONLINE.#SafetyFirstOn31st #StayHome #StaySafe #PartyResponsibly pic.twitter.com/llSHhma9ba

— Mumbai Police (@MumbaiPolice) December 31, 2020
And this does not end here, when a person asked:
"What if I reach her place by 11 PM and stay there overnight?"
Mumbai police without hesitation replied back:
We hope you have taken her consent else we have an alternate accommodation for the night in mind for you! #ConsentMatters #SafetyFirstOn31st https://t.co/nKbdA64rOF

— Mumbai Police (@MumbaiPolice) December 31, 2020
2) On their 5th Twitter Anniversary!
They celebrated there there 5th twitter birthday by commenting why to meet only in police station when they can meet everyday at Twitter!
We turn 5 today!
The TWEET's on us!

#ItsOurBirthday #HighFiveMumbai https://t.co/5TMe5tj7MS

— Mumbai Police (@MumbaiPolice) December 28, 2020
3) Spreading awareness about road safety and cyber security in their own style!
How can mumbai police be left behind in this era of memes! They gave pop culture reference, yes you read it right, reference of a movie character to wittily post an important message.
Congratulations!
You are eligible for the title of an 'Indian Ideal' citizen if you wear your seatbelt every time you drive a car.#RoadSafety #SafeRoads #SafeMumbai pic.twitter.com/SuX9QCMqzf

— Mumbai Police (@MumbaiPolice) December 17, 2020
When you lose a fortune after sharing your PIN with someone: pic.twitter.com/39YgkCRwbg

— Mumbai Police (@MumbaiPolice) December 11, 2020
4) Bollywood Reference to wear your masks!
They even shared a popular movie poster to spread awareness about wearing masks!
This recieved tons of laughter and was highly appreciated.
Main na bhoolunga, main na bhoolungi – mask pehenna#TheFourthEssential#MaskIsEssential pic.twitter.com/zBTrVMYbwe

— Mumbai Police (@MumbaiPolice) December 10, 2020
5) Using monolith appearance to warn about suspicious object!
Mumbai police did not leave anything! Who would have thought that they would use reference of monolith appearance as source to warn people about unknown objects.
Spotted anything suspicious? You must inform us! #Dial100 pic.twitter.com/IetFBIjJ2S

— Mumbai Police (@MumbaiPolice) December 4, 2020
6) Comparing fake news with soan papdi was just awesome!
All that is to be pointed out here is that they hit the right cord by comparing fake news with soan papdi. If this is not humorous then what is!
This Diwali, let us ensure nobody gets that unwanted box of whatsapp forwards. Do not pass it on.#ShareSweetsNotFakeNews#HappyDiwali pic.twitter.com/J3vpXHCAVw

— Mumbai Police (@MumbaiPolice) November 14, 2020
7) That ludo example to stay in during pandemic!
When all of our hands were busy clicking on that dice and our mind thinking of a strategy to win, Mumbai police came up with their own strategy to keep people in there respective home!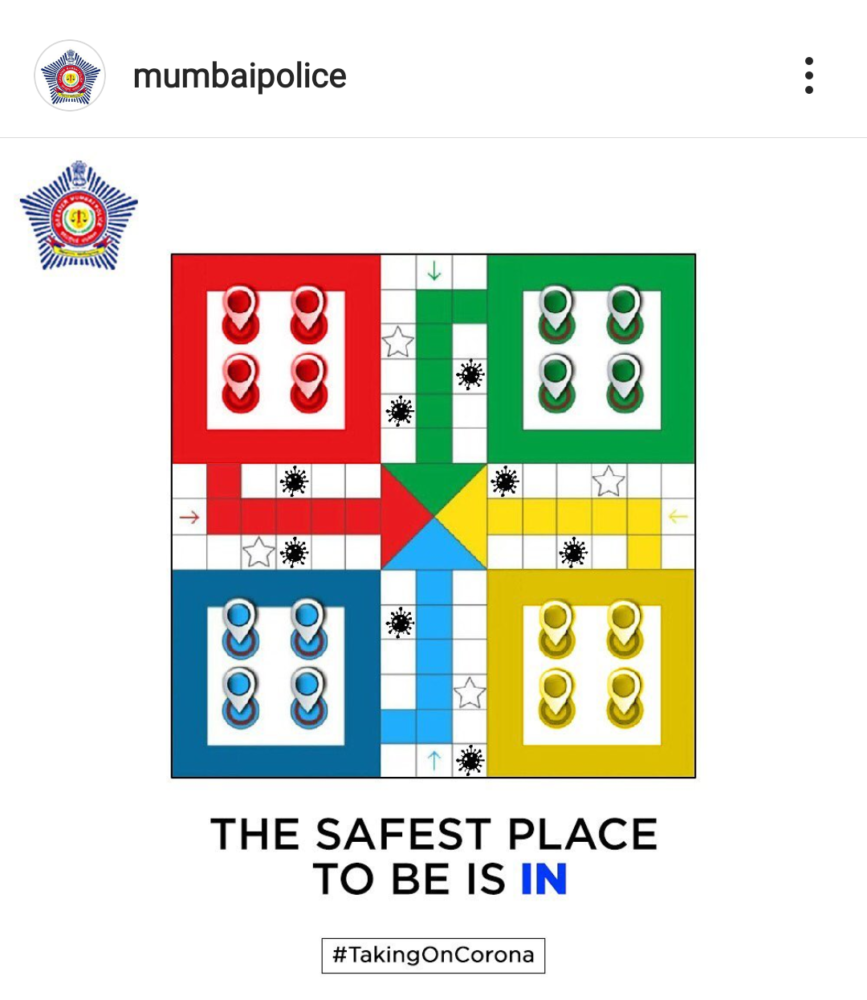 Also Read: Delhi Police Woman Constable promoted for tracing 76 missing children in last 3 months