New Skoda Rapid has been launched with the 1.0 TSI petrol Engine borrowed from all-new VW Polo and Vento. An All-new 1.0 turbo petrol engine made the Rapid more acceptable in the Indian Market.
Under the Hood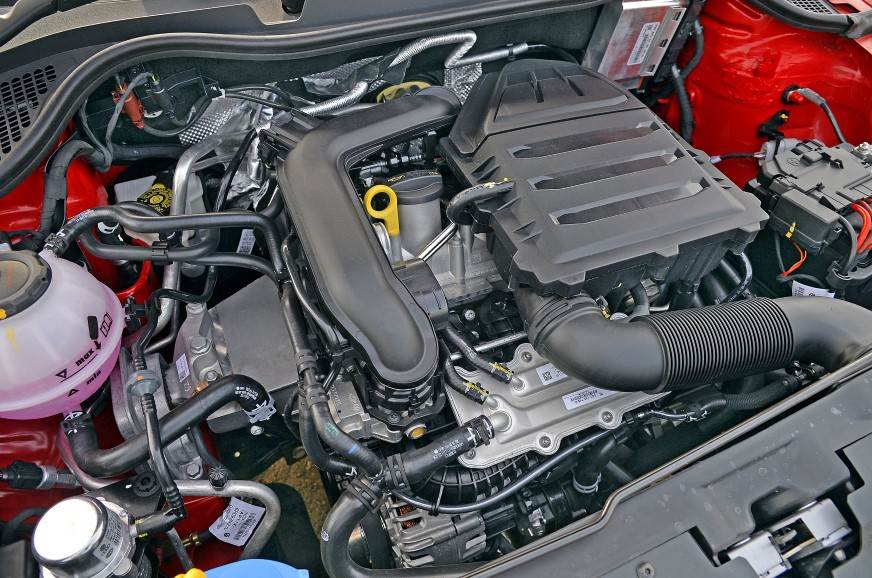 New Skoda Rapid comes with 1.0 litre (TSI) petrol engine in exchange for old 1.6-litre naturally aspirated petrol, while this 999 cc three-cylinder motor is compact and light, direct injection turbo petrol belongs to EA211 engine from VW Group. It produces massive 110 horses and 175 Nm of torque which 5 horses more from the previous one.
The new TSI is mated with a new 6-speed gearbox better than an old 5-speed manual but the bad part of the story is for those who need auto have to wait September this year but it will be 6-speed torque converter auto.
This time rapid is not only for an enthusiast but for the people who worry about their pocket with accordingly better fuel economy than the old unit. The official claimed mileage is 18.97 K/l.
Something for Enthusiast
This Rapid is rapid enough to reach 0-100 in just 10.09 sec which makes it one of the fastest cars in the segment but not faster than the old 1.6-litre engine unit. This makes it very clear that if you are a car nut then this sedan won't disappoint you a bit. Rapid can hit 195km/h easily although we never suggest doing so. In the peed test with 2019 Honda City, the rapid was almost 3 sec quicker than the city. And the secret is this engine can pull the rpm till 6700 without any lag. In fact, the more you rev it, the smoother it gets. The only weakness we realized was at low speed because below 2500 rpm the turbocharger is off-boost which gives you very basic response otherwise, this engine is one of the masterpiece till date.
Something about Comfort
The only major change is this new TSI engine, apart from that there are no changes even the suspension is the same as before but overall ride quality is quite absorbent and better. we took it to extremely uneven roads, the rapids hesitate a bit but, we should keep in mind that sedans are meant for smooth roads. Skoda always is known for its driveability and the power on offer, Rapid combined with a punchy engine and tall gearing. The steering isn't so much responsive but it is accurate.
Something about Interior
The cabin is as it is, but the simple and hassle-free designs not only of Skoda but of all germans will never make it outdated. In the top model that is Monte-Carlo edition, Skoda has tried to invigorate the cabin with some racy bits. The flat-bottom steering with a chunky, perforated grip with red stitching feels fantastic.
The seats are comfortable as always. Leg-room at the rear is only adequate, not spacious as in Ciaz and City but the high seating position and a good amount of under-thigh support are praisable. The 8.0-inch screen is not best in the segment but it is quick, sharp, and easy to operate.
Monte-Carlo(top trim) and Summary
Top Trim gets auto headlamps, rain-sensing wipers,1-inch alloys, tilt-telescopic steering, rear ac vents, Auto-dimming inside mirror which is most notable features.
The rapid lastly updated in 2016(cosmetic changes) but it is clean and sharp design makes it graceful. The Skoda Rapid doesn't have the latest features on offer like its rival but this is the car that combines fantastic build quality, excellent dynamics, and practicality. The lower variant that is Rider comes in 7.49 lakhs and the top one that is Monte-Carlo hits the price tag of 11.79 lakhs ex-showroom
[zombify_post]