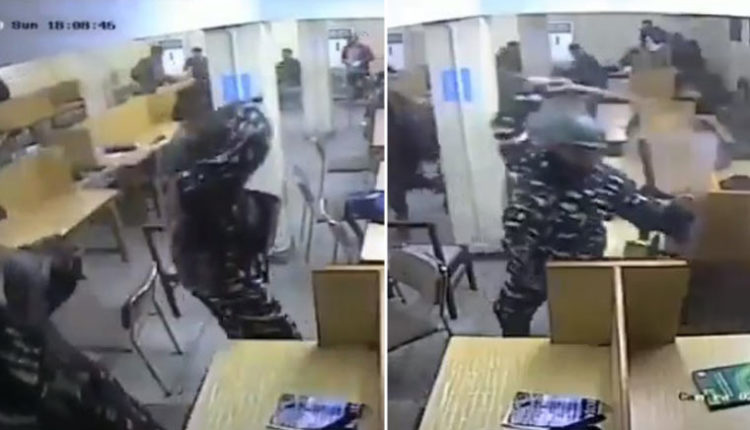 NHRC Blames Jamia Students for Police Brutality; Real Motive Behind The Anti CAA Protest Needs to be Uncovered
Rights to protests have "constitutional limitations attached to it": NHRC
After almost seven months, the National Human Rights Commission (NHRC) has finally released its report on a video that surfaced the internet and made headlines. A video in which Delhi police is seen going brutal on the Jamia Millia Islamia students and attacking them mercilessly in Dr. Zakir Hussain Library, Delhi.
The report that came is not in the favor of the students instead alleges and believes that the protest against the Citizenship Amendment Act by Jamia Millia Islamia students on December 15th last year was an 'unlawful assembly' and because of the students (protestors) who turned violent, the police had to interfere and control them. Moreover, it alleges that the indocile protestors even tried to demolish the Government property.
The report that led by SSP Manzil Saini directs at a wider conspiracy further stating that there is a hint to "uncover the real actors and motives behind the overall protests at JMI which seems to be smartly and purportedly organized under the disguise of students (sic)". It stated that the students of Jamia had come under the influence of the outsiders and the protest that was initially held on the peaceful grounds turned uncontrollable and made its indulgence in an unauthorized one.
"Government of India to direct Police Commissioner of Delhi to ensure that the SIT of Crime Branch, Delhi Police investigated all the related cases on merits and in a time-bound manner by identifying and arresting the real perpetrators (the insidious elements) behind this violent protest." It recommended.
Targeting the Delhi Police's action and taking up the matter in the response, the NHRC criticized and accused them of using disproportionate force against the weaker vessels, the students, which could have had anyways been avoided to a wider extend. "An irresponsible action of the police on students and could have been avoided." It read. But, at the same time defends them by calling their activity "Law-Bound" and that they had no option but to enter the University's campus and control the violent protestors (students) pelting stones.
The human rights panel also recommended the GNCTD to provide a suitable compensation to the students who suffered injuries on the humanitarian grounds. But the question is will the students get justice and the attacks on innocent students stop in the future?
JMI students who have read the reports and are familiar with its contents have started to protest online and have demanded amendments in the report. One of the JMI students who was injured and ended up fracturing both his hands in this police brutality, Mustafa, showed his utter disappointments with the NHRC body. "There were so many people who had been brutally beaten up by the police. I was assaulted while I was sitting in the library. We need an independent enquiry to know what compelled the police to enter the library and beat us up." he said in an interview with the Wire. Mustafa is doing Masters at Jamia Millia Islamia, Delhi.