Meet CA turned management student from Indore, who came to Mumbai to pursue his love for writing and poetry after one of his poetries spiraled into viral content and eventually led to film-based projects. The poet- turned-lyricist has worked for films such as Mukkabaz, Qarib Qarib Single, Gurgaon, and TVF's web series Tripling.
Currently, his focus is on his new assignments, and he is also very active on social media about political issues and our country's contemporary situation. In conversation with The Second Angle's Crew, he talked about his work-life, political views, and much more. Read on to know more about the poet.
When asked about his interest and his involvement in politics with the ongoing political scenario, he mentions that his plan was not to enter the political spectrum but came 2013, and he started forming his thoughts and opinions on topical issues concerning politics and news. He made a point to be an aware and concerned citizen of the country and started voicing his opinion through his social media accounts.
Since the past 4 years, he is currently working as a writer, Hussain defines himself as someone who understands poetry and knows the difference between what is right and what is not in life, poetry, and politics.
Speaking about Politics, Hussain believes, "Politics aapke zehen and aapke khyalon me kuch badlaav laati hai, when you think regarding this, it becomes a part of your work and life. I am not an activist. I am just a writer and a poet but keeping the current scenario in mind, ab naa bolna munasib nahi hai." He believes in speaking out as contemporary times' demand, being silent will turn you into a mute spectator for a lifetime, he believes.
Tell us about your social media engagements as we have seen that, it's not just your twitter but Your Facebook and Instagram account is very political.
To which he explains, how he used to keep his Instagram account separate from politics and controversies, exclusively for humour, arts, photos but then he had to deactivate his Twitter account and he started writing on Instagram because  I had to write and express not because there are 10 of thousands of people following me but even if 400-500 people look up to me and 50-100 think that they are learning something new from my post and some new idea reaches them If I am being able to shape the views of those 50 people then that's enough for me.
Why did you deactivate your Twitter account for a few days?  
Honestly, Because of the #BoycottTakht trend. Some of the tweets were taken completely out of context by the audience and platforms like OpIndia. The audience falsely portrayed me as Anti-Hindu, where I had clearly mentioned in the tweet that I am just asking to acknowledge and address the vocabulary, but they falsely accused me of categorizing the entire community as terrorists.
Then an entire campaign was run by pro CAA/NRC masses and celebrities like Payal Rohatgi, Vivek Agnihotri, Tarek Fateh, Rahul Roshan, and other such people. Entire machinery was devoted to the trend #BoycottTakht on twitter.
But you have used the word Hindu Terrorists and said that words are important. What does that mean?
What I have written was, it's primarily wrong to associate religion with terror unless it's religion-based violence. But, if it's religion-based violence and we are associating religion with terror then I have all the right to call those people Hindu terrorists, or Muslim terrorists, or any such word.
That was the argument that I was trying to make. But everyone jumped the gun and started saying that I meant that all Hindus are terrorists, which is blatantly false. I was just trying to bring back the vocabulary that now even I can point fingers and say, it has been used for only a certain community.
So, you were sad or depressed or just wanted to avoid the situation that you deactivated your accounts?
Two things. First, they were harassing the director and the filmmaker other than me, who had no role to play in the whole case. Then around mid-April, they attacked again when I wasn't on twitter and started a campaign against me by running a campaign to #UnInstallBookMyShow as I have collaborated with Book My Show for some project.
There were 55k tweets against Book My Show within 24 hours! Along with my Picture in a red t-shirt which unconsciously portrayed me as a communist Muslim (chuckles).The second thing is YES, I was scared. Because it was the situation where people were looking for scapegoats to put false accusations on and put them behind bars which we have seen happening to many activists and even known faces.
You said Darr lagta hai, can you share some incidents to highlight this feeling?
I mean, when this #BoycottTakht incident happened, I was in Chicago, USA, and had to go to San Francisco after a couple of days, for an event.  People gave bad ratings and reviews to the restaurant where the event was to be held, some people even threatened the owner of the place on Facebook and WhatsApp and accused him of hosting a terrorist!
He also got some random threatening phone calls and obviously, anyone will get scared in such situations which led to the cancellation of the event. The event was then held at some other place, and I just wanted to come back home safely which I managed to do, thankfully.
How to deal with such incidents and hatred?
See, you can do nothing about it. I don't have to fight or reply to each one of them, because you know this better, yourself, whether you have people to speak up for you, to take stand for you or not. And if not, then you just cannot do anything about it other than taking a step back. So, to do nothing is the only way to deal with it.
What is your reason to be on social media?
To be honest, it's very important for me to share my thoughts and beliefs. Though I'm not proud in a conceited manner about the fact that people follow me or listen to me because there might be 1 out of 100 who might know me or my body of work and are receptive to my thoughts and ideas.
But now social media has been weaponized, as propaganda, to curb dissent, free speech, opinion and so, you have to think a lot and take measures before writing.  Now, I try to be careful, because as the saying goes Doodh ka jala insaan chaach bhi phoonk phoonk kar peeta hai.  But I still write my thoughts and my stance because to express my views and to show my dissent is my right.
Now there's no alternative, no power, no balance to it, the power balance is the most imbalanced thing right now.  When the whole power is on one side, then there are a handful of people who have to speak up. And you have to speak in a measured manner soch samajh ke, because it's easier to curb your voice down.
Have you faced discrimination in your career because of your identity and your belief (opinion)?
Not really, because I consider myself privileged enough, not because I come from a wealthy family but because I went to a decent school. I didn't face discrimination because my basic education was good and I was a decent student. And in school and college, it's a natural behaviour that you bond with people like you and so I bonded with people who didn't have such a mind-set.  There used to be a lot of bullying during school time, Name-calling and attack on identity were often done by children but our teachers never discriminated, which was a big deal.
Teachers become your role model in life or someone you look up to, my teachers were good and I always carried good and positive thoughts about people around me which never led me to an extreme amount of bitterness. I ended up having a positive impact on teachers and people.
During the period of coming to Bombay, getting a job, looking for accommodation, and a place to live, I faced some hurdles due to my identity, sometimes on my dietary choices too, but till then, I have somewhat become ignorant towards these things. And, regarding my current career in the film industry, people have been nice and supportive so I haven't faced any discrimination as such.
The idea of the 'Credit Dedo Yaar' campaign, how did that happen? How did that idea spring up?
Varun (Grover) and Swanand (Kirkire) sir had this idea and they had planned to make a video on it, about the times the lyricist of a song doesn't get credits. Do funda hai isme. Firstly, the medium has changed, earlier we used to listen to songs on Cassettes and CDs, they carried the name of the director and the lyricist on their covers, but now in the internet times, we watch and listen to songs on YouTube and Gaana app, etc., where the acknowledgements about the lyricist aren't mentioned and while you are the main creative person behind the whole thing, iskey baawjood aap kahin peeche kho jaate hain (still you get somewhere lost in the background.)
The public doesn't know about it till it gets published and comes to the fore. I believe, there might be people who don't even know that the lyricist is a different person and has a job just to write a song. So, one of the reasons behind this campaign was to change the approach of people and also, to bring the Industry's attention to issues like these which often get neglected.
What is the difference between an Extreme and Hindustani Muslim, if any?
I don't think it's the right thing to compare them both.  My poem is not about an ideal Muslim and a progressive Muslim; rather it's about an Indian Muslim. It's about how the regional influences, nationality bring about changes within me, or to my identity and how my socio-political history affects me and bring changes within me. I think there is nothing called as extreme Muslim and that too, in India's population, it might be less than 0.1%, but it's just a tag of an extremist on most of the people. Aam chalta phirta insaan, musalman is a Hindustani musalman.
When a child is born in a country and a family, he acquires their religion and nationality and be that, forever.  How can one prove that he is one thing more than the other? They both go hand in hand and there isn't even a need to prove it.  It is more important for us, as citizens and as Muslims to tell that because we are human beings and because we are living in this ecosystem like any other religious person in any other society, we have multiple identities, so everyone has to accept it and to not question it.
Now, I am disillusioned and I don't feel like reciting that poem again as I think I have said enough already, but now I want people to come and tell me that yes, I belong here.
How can any industry play a vital role in fighting Islamophobia?
There are two ways of seeing it. One, to expect from others to change the image, and second, to get into it and change the image itself. Because it is not fair to expect something from someone, who doesn't know a thing you've been going through, to expect them to have that knowledge which you have, to bring out such experiences which they haven't been through in their whole life, as this objective comes out from your own livid experiences.
Until someone hasn't gone through such experience personally, how can they try to change it? and the third person's expectations also doesn't matter in that. So, people should come in front, get into the field, and express their concerns and issues through their art.
The people in the industry can also play their part and be the allies for the people who want to narrate their stories be it marginalized, Dalit, Muslims, women narratives, LGBTQIA, or anyone so they should enable them, ally with them, and facilitate their narrative and stories to the mainstream media so that it empowers the minority and the vulnerable, as well as educate and aware the majority about their struggle and stories
Do you try to be politically correct while writing?
Poetry me itna soch samajh kar nahi krna padta. And also, I don't compose such poetry. For me, poetry is all about imagining things, its jhoot (fiction) for me.  And you can write anything in fiction. In terms of political poetry, I make sure that I don't make a wrong stance.
I make sure to write against violence and about vulnerable issues and such. I don't want to write about things which I haven't experienced personally, there are certain things which I haven't lived through, so I tend to avoid them.  So, either I will write imagining things and circumstances, or from a third-person perspective and I don't know, how one can be politically correct in it.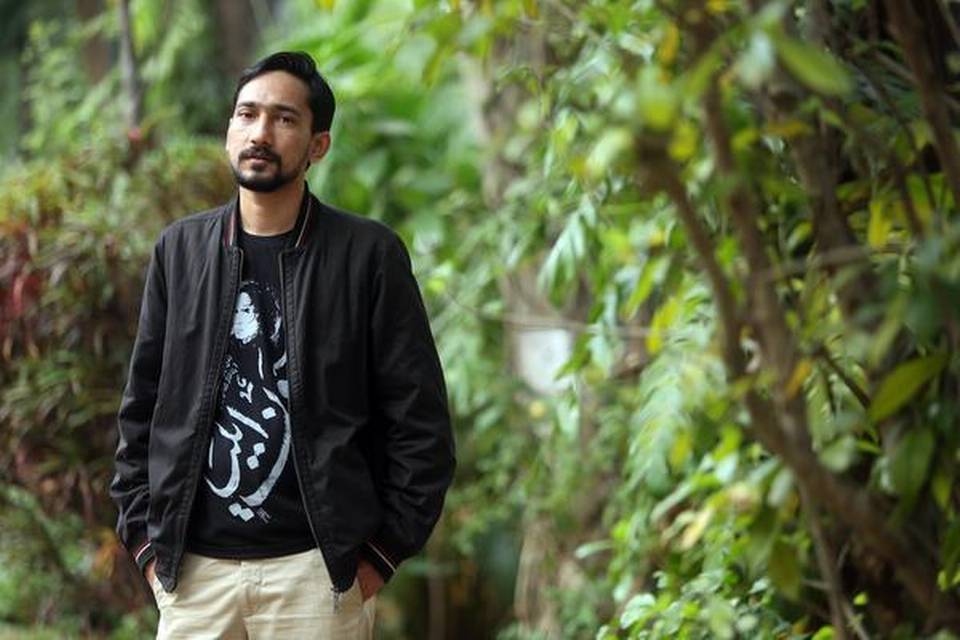 Were you interested in Urdu Bachpan se hi?
No, No (pauses). My mother tongue is Gujarati but my interest in Urdu developed during my college time. Maine shayari padhna shuru kara and my interest started developing from there. Then, there was a debate competition where authentic (original) Shayari was needed. I asked my teacher about it, he/she told me to read Dushyant Kumar's sher, and I did, which led to more interests in the language and aisehi padh padh ke sikh li. Otherwise, none of my family members speaks in Urdu at home.
What was your family's reaction when you told them about changing your profession?
I lied to them about going to Bombay and started working as a freelancer, which I did to sustain myself financially, but basically, I was trying my hand in writing and poetry. And till the time they came to know about it all, I was reasonably famous and successful, so it didn't matter that much.  But now when they come to know about all the controversies surrounding my work, they get worried and say, don't get into it, but I think this is the time to speak up and I do what I feel is need of the hour.
Because the anti-Muslim sentiments that were 0-10 at a time are now flared up to 0 to 15, as they are so in numbers and doing it in such a concerted way with so much reach, it's important to do something about it, and raising your voice, asking questions is my way of doing something about it.
Lastly, why should the artists come in front and be loud about their views?
Basically, I would say that this Communal politics which is going on right now, this isn't going to lead us anywhere. Ye surangon me jaane wali train hai jiska koi raasta nahi hai. This sampradayikta ki rajneeti (communal politics) will not benefit anyone at this time or even in the future.
So, we should maintain distance from these things, and we should also make sure to walk on the path of equality, fraternity, secularism which was laid by our forefathers because the system which was made keeping all this in mind by the constitution-makers and our late leaders wasn't made just like that. Vo ek khwab dekh kar or de kar gye hain (they have given us a dream to follow on). We have to bring about this change and this change comes from within.  From within, to culture to politics.
Culture comes from society so we should ask ourselves some questions, ask questions to people of the society, whenever it feels like questions need to be asked, we should stand up and ask them. Casteism and Communalism are the biggest social issue of our country as of today. We are already a political democracy in a way on paper; we all have to fight to become a social democracy.
When we will not learn to fight for social democracy, we cannot bring change to society as well as politics. This all will bring out our prejudices, privilege, and vulnerability. We have to push these things out.  We have to correct ourselves, question ourselves, question others then only the need for change will arise, then we will come to know and realize, people aren't happy with the way things are, and what do we need to do, to change them.
It's our duty and our right to ask questions.  So, ask questions, show your dissent in whatever form you can and want to, because you have your own role to play in this fight and you matter, so keep going on. Also, the youth of today needs to divert their interests towards arts and humanities so that they can read and learn about their history, in order to develop values and for being a responsible and sensible citizen.
And, you also have to see and measure the things which we are getting, at what cost and worth are we getting there? For example, if we are getting development, but if it's at the cost of demonizing a certain community, or if we are building a dam which will displace lakhs of people and need their relocation who does not want to leave their homes, so we have stop and ask, at what cost?  Because this is the only way to make our questions sensitive and to fulfill the dreams of our forefathers who fought for our rights and our freedom.
So, this was a story of a Hindustani Musalman who has time and again echoed the sentiments of every Indian Muslim. We at TSA wish him luck! 
–This is an Exclusive by The Second Angle Crew.  Interviewed By: Zainab Naaz, Edited By: Zehra Hasan
Follow us on Instagram
Also Checkout: Movies that got snubbed in Oscars 2022