PUBG Mobile and PUBG Mobile Lite were banned by the Ministry of Electronics and Information Technology on 6th September with 116 other Chinese apps under Section 69A of the IT Act "for engaging in activities that are prejudicial to the sovereignty and integrity of India, the defence of India, the security of the state, and public order." However, the ban only brought the removal of PUBG from the Google Play Store and Apple App Store. People who had the game already installed could continue playing the game as the servers were up and running. This is no longer true, and the servers for PUBG Mobile will be discontinued from 30th October. This was unlike other applications where apps couldn't be used immediately after the ban.
On Thursday, without any prior notice, PUBG Mobile announced this news through their official Facebook page. In their official statement, they said, "The rights to publish PUBG MOBILE in India will be returned to the owner of the PUBG intellectual property", this indicates the possibility that PUBG Mobile can make a return in India with a new publisher. However, PUBG Corporation (The parent company of PUBG Mobile) has not stated any plans for the same.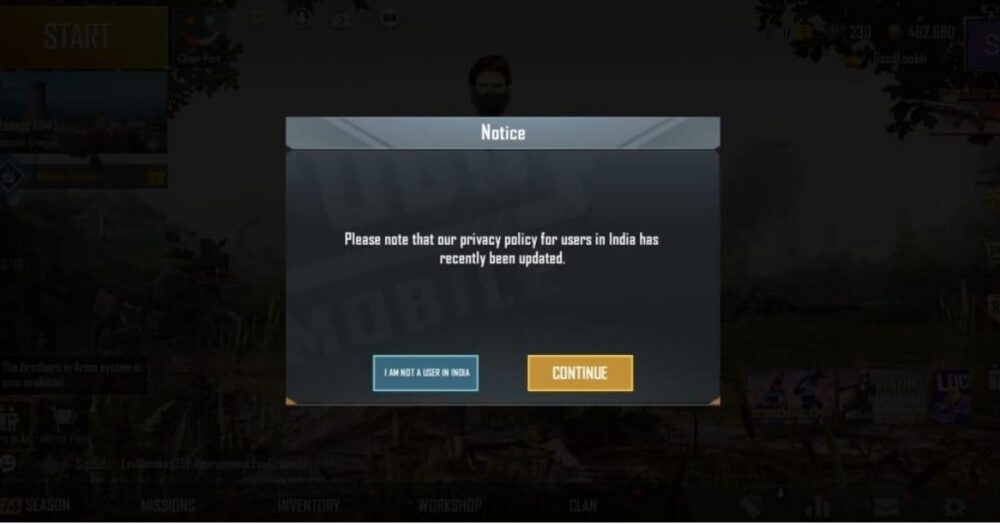 "Protecting user data has always been a top priority, and we have always complied with applicable data protection laws and regulations in India. All users' gameplay information is processed transparently, as disclosed in our privacy policy." PUBG Mobile wrote. PUBG Mobile had also updated their privacy policy before the ban to make its stand clear with the government that they were not sharing any user data with the Chinese government.
The gamers have taken to Twitter to bid farewell to the game that had been their 'Saviour in Lockdown'. Some also got to reunite with their old friends online.
https://twitter.com/JustNikhila/status/1321900757638000640?s=20
#PUBGMOBILE TO END SERVICES IN INDIA FROM OCT 30.

People who reached Conqueror with 8 KD and spend Lacks : It's Okay Man.

Meanwhile me, who reached diamond 4 with 2.43 KD and bought RP playing Bonus Challenge : pic.twitter.com/BCa8WuqURv

— 👑 अमर गौतम 👑 (@amargautam909) October 29, 2020
Despite the server and app ban from the mobile stores. Users may still find a workaround to play PUBG Mobile like using a VPN(Virtual Private Network) or using a non-Indian APK download to play the game.
PUBG Mobile and PUBG Mobile Lite was a famous game in India. A void has been created in the Indian e-sports and streaming community because of the ban. Another game of the same mettle is yet to be seen. Indian gamers have gotten their hopes high for FAU-G, which is going to release in November.
Also Read: FAU-G: The Indian Made Game Is Set To Release In November
For more such updates explore our Tech Section.