Known for her detective novels, Agatha Christie is one of the top-notch criminology authors from the early 1900s. Christie was born in 1890 and experienced childhood in an enormous house in Torquay, a shoreline resort in Devon.
From her first novel Mysterious Affairs at Styles to her last Postern of Fate, Christie has gifted the readers Hercule Poirot and Miss Marple- the world's (our world is imaginary) first-class and finest detective apart from our favourite Sherlock Holmes.
Christie has been called — by the Guinness Book of World Records, among others — the top-rated essayist of books ever. She was also a poet- and a playwright, more than 60 years later, her play "The Mousetrap" is still performed regularly.
Whether it is the deeply entangled Murder on the Orient Express ( oops half spoiler) or the perfectly articulated murder in And then there were none and Five Little Pigs- a whole book revolving around a poem, Christie has always given us something different and extraordinary.
There is a magic in her words which does not fail to whack our brains almost every time we read her books.
Today is our Christie's Birthday and being proud readers, we are bringing to you 5 mysterious facts about the mystery author- and trust us she has got some real mystery in her life as well!
1. Before the age of 5, against the will of her mother, she taught herself to read.
Christie's mother did not want her to read, preferably until she was eight-year-old. Before becoming our favourite writer, Agatha had a real chance of dying illiterate! But the boring hours at home and with her father at her side, the early book lover taught herself to read.
2. Agatha Christie's first novel was written because of a dare.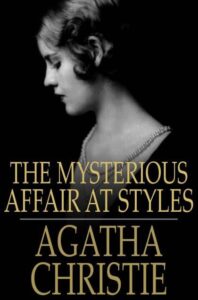 After a teen-hood spent in reading and writing stories, Christie's first book The Mysterious Affairs at Styles about a soldier finding himself embroiled in poisoning at a companion's mansion.
It was a dare given to her by her sister Madge to write a novel-length project and well, Agatha wrote a top-class book and one of the fans favourite. Although a lesser-known fact is that it was rejected by six publishing house before printing in 1920- just like Harry Potter, the more the rejection, the better the book!
3. Hercule Poirot was based on a real-life character in her Life.
The short-height, moustachioed detective who took a charismatic approaching at solving crimes. If you are a Christie's fan- aren't you always on the lookout for the last chapters where Poirot with all the minute details spread the whole scenario from what was happened before, after and on that very moment.
Christie was said to be inspired by a Belgian man whom she saw deboarding a bus in the early 1910s. He was apparently queer, with a comical and quizzical expression- just like Poirot.
4. She once disappeared for almost a fortnight.
The mystery author who was already gathering a lot of fame and attention because of her books left London without a trace. Archie, her husband recently confessed about being in love with someone else.
A police force was put into action- although that was needless because our queen was simply resting in a spa, trying to keep her mind off the tumultuous happenings. However, this specific incident was not mentioned in her autobiography- some say it was a publicity stunt while some direction towards the amnesic event.
5. She preferred poison over violence in her books.
Most of her victims in the book die due to different types of poison intake- cyanide being the most common. Agatha Christie has spent a massive amount of time in a dispensary during world war so she had first-hand knowledge about pharmaceuticals. Rarely did her protagonist carried a gun- in fact, the two famous detectives Poirot and Miss Marple were both Pacifists.
So, here were the five facts about Agatha Christie. We hope you enjoyed reading them! For more such content, check out our literature section.