With the rapid spread of COVID-19 cases, we saw everything coming to a halt and at the same time, in the comfort of our homes. Be it work or education, the internet took over almost all possible load in the past six months. With E-learning easing the stress of educational institutions to complete the syllabus on time, we saw the Digital-Divide it had left behind for many unprivileged ones, too. Hence, Jharkhand edged a start in bringing the classroom to the students at their doorsteps for the ones who cannot afford to get internet facility or afford smartphones.
The famous businessman Harsh Goenka, appreciated the initiative on his social media congratulating Jharkhand schools for an amazing initiative towards incredible India.
In a village in Jharkhand, blackboards have been placed with social distancing where students write their lessons and the teacher uses a loudspeaker to teach them. 200 students are taught in this special class.
Amazing initiative in our incredible India! pic.twitter.com/OJH4JPRMkd

— Harsh Goenka (@hvgoenka) October 5, 2020
According to The India Express report, The government teachers will 'adopt' the children from marginalised communities and ensure to make online contents available to them by visiting them every week. 
Also, these teachers will guide students at the personal level so that they don't lag behind the more privileged ones who have access to all the facilities.
The SOP has been presented before the state government by the School Education and Literacy Department for the approval. While some villages like Dumka and Jamtara have already adopted this technique.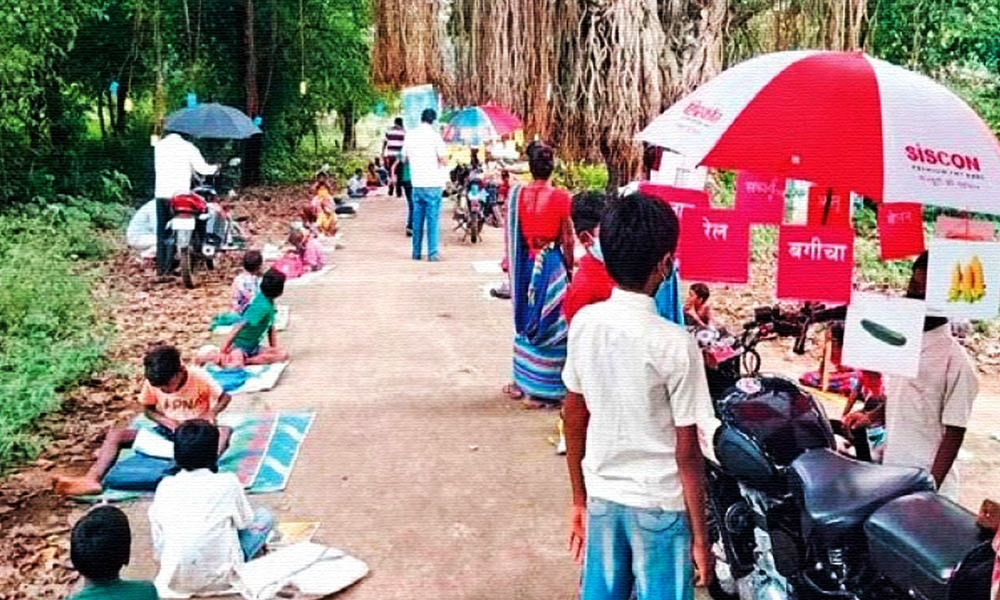 One of the major notable advantages of this initiative is that it allows teachers to easily track the progress of the students in person. Which is quite a difficult and taxing affair in E-learning were delivering a lecture is easy but monitoring each student's progress is next to impossible and time taking.
"Talks are on the concept of 'mohalla class' under which teachers weekly hold classes with small groups of students every week." An official associated under this initiative told The Indian Express in an interview.
"Education has been impacted due to COVID-19 and students here did not have smartphones. We started 'Shiksha Aapke Dwaar' (education at your doorstep) so that children don't miss out on education. More than 100 blackboards have been created on walls to teach students at their houses." An official said while talking to ANI News
Jharkhand: Government school teachers in Dumka have made arrangements for students who cannot afford online classes by bringing education to their doorstep.

A teacher says, "We started 'shiksha apke dwar' to provide education to children while maintaining social distancing." pic.twitter.com/N8klZlNDso

— ANI (@ANI) September 28, 2020
Jharkhand moved an extra mile in bringing  'School At Your Doorstep' which is an initiative to ensure 'education for every child'.
Among 42 lakh school students only 33 per cent in Jharkhand are connected with online classes hence, the government found an appreciative and innovative solution ensuring learning for all in this difficult time.
We hope that other states too come up with such initiatives ensuring the value of education and its importance in every child's life, for now, we see only E-classes take to win the race, let's not forget that education is for all.
Also Checkout: Inspiring Story Of Alan Turing