Tens of thousands of people gathered in the capital Colombo's sea-facing Galle Road leading up to the Presidential secretariat raising anti-government slogans and asking President Gotabaya Rajapaksa to step down. The rally is led by Sri Lanka's main opposition party Samagi Jana Balawegaya  (SJB or United People's Force). 
The anger is simmering on the streets of Sri Lanka demanding fulfilment of basic needs and riddance of a corrupt government. Sri Lankans are accusing the government responsible for their dire conditions which are leaving them unable to buy a loaf of bread for themselves. An image of an angry protestor holding a pole with two loaves of bread stuck to is getting circulated on social media.  Amidst the crisis, the Srilankan rupee has plunged to nearly 265 to a U.S dollar. Sri Lanka is struggling to pay for imports as its foreign reserves are at an all-time low.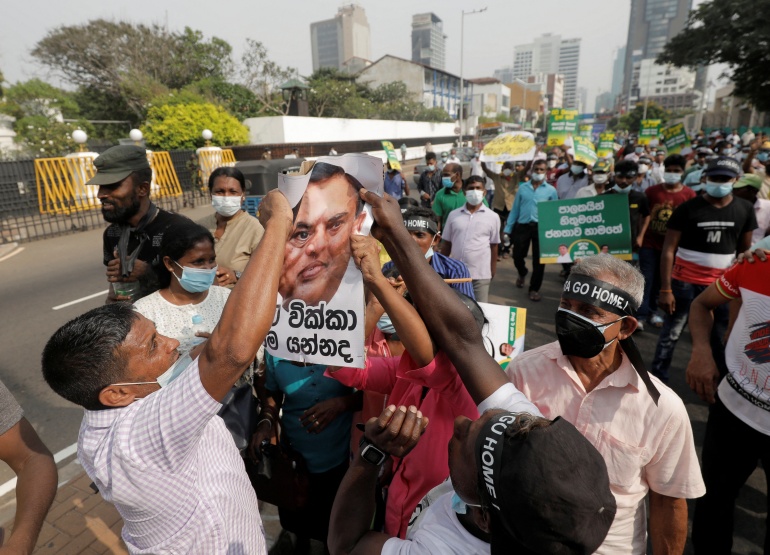 Meanwhile, fuel shortages have decapitated transportation within the country, including essential supplies, and have led to hours-long daily power cuts. Amidst the fiscal crisis, Sri Lanka's Central Bank floated the national currency last week, resulting in its devaluation by 36% and a further sharp rise in prices.
To reduce the outflow of the foreign currency, authorities have expanded a list of banned imports to include some fruits and milk products, alongside the existing ban on imports of cars, floor tiles and other products. Sri Lanka's fiscal crisis is also driven by the fact that it has an outstanding foreign debt of around $7 billion.
The Samagi Jana Balawegaya had organised a similar protest last year November. 
"If this Government, led by President Gotabaya Rajapaksa, Prime Minister Mahinda Rajapaksa, and Finance Minister Basil Rajapaksa cannot build the country, hand it over to us. We will build the country and show," Leader of Opposition Sajith Premadasa said in his address, challenging the government to hold immediate presidential polls that are otherwise due in 2024. "You have been suffering now for two years. Can you suffer anymore?" he asked the large crowd gathered at the spot.
However, this time it is not merely a movement led by the political opposition that is resisting in Sri Lanka. The outburst can be seen in different pockets of Sri Lanka where citizens are holding independent vigils and protests to register their anger and disappointments with the government over various pressing issues like prolonged power cuts, long queues at petro stations and LPG distribution centres and growing reports of an increase in poverty and state of hunger in the country. 
The country which was looking to revive its tourism industry post-pandemic regulations will suffer further because of the crisis Sri Lanka is going through at this moment.
Also Checkout: Explained: SC's judgement on OROP and the timeline of events