There have been several editorials, OpEds and talk shows calling for action against hate crimes and mob violence; even Prime minister Narendra Modi has twice spoken out against hate crime, but his words of pain have not yet been backed by action.
In 2018, the Supreme Court directed Central and State governments to make it widely known that lynching and mob violence would 'invite serious consequence under the law. The government formed panel (Tehseen S. Poonawalla v. Union of India & Ors) to suggest measures to tackle mob violence. The then Home Minister Rajnath Singh even promised to enact a law, if necessary. However, the panel's recommendations are not in the public domain, and acts of hate crime do not appear to have diminished in the year since Mr. Singh's promise
In a May 2019 report, Human Rights Watch India pointed out that only some States had complied with the Supreme Court's order to designate a senior police officer in every district to prevent incidents of mob violence and ensure that the police take prompt action, including safety for witnesses; set up fast-track courts in such cases, and take action against policemen or officials who failed to comply. Those State governments that did comply, the report commented, did so only partially. In several instances, the police actually obstructed investigations, even filing charges against the victims.
As per the report of Hate Crime Watch as of April 2019, there were 282 Hate Crimes which resulted in 100 deaths. Muslims were in a majority 57% incidents victims to such crimes followed by Christians in 15% cases and then Hindus, in 13% cases.
Even in the midst of a pandemic, bigotry and hatred continued to manifest itself unabated. During the coronavirus pandemic, most of the concerns about personal safety have tended to be about the provision of protective equipment. The saying "stay safe" at this time is generally being taken to be an entreaty to minimize the risk of contracting COVID-19, the disease caused by the virus. But what about more traditional security threats like hate-crime in the age of this unprecedented (then health and now an economic) crisis?
Such was the case with a 28-year-old man from the village Nanuta in UP's Saharanpur. The man, Akhlaq Samani who is a barber by profession, upon leaving his village for Panipat, Hariyana, in search of employment on August 23, was met with a traumatic incident that left him physically dilapidated for lifetime. Akhlaq Salmani is now recovering from the incident.
The traumatic incident which was initially said to be a hate crime occurred on the intervening night of August 23-24.
Later, one other aspect emerged in the case, accusing the victim himself of kidnapping and sexually assaulting an 8-year-old.
What happened to 28-year-old Akhlaq on the intervening night of August 23-24, according to Akhlaq's elder brother Iqram who was leaving for Chandigarh for surgery of his brother, while he spoke to TSA, was a targeted act of religious hatred. Ikram says his brother left for Panipat on 23 August, in search of work, as he was a barber in his town and his source of income has been severely affected on the account of pandemic.
His brother didn't know anyone there in Panipat. So, he decided to spend the night in a park in Panipat's Kishanpura area. By the time, he reached Panipat, it was late in the evening.
It was at this time when a group of attackers accosted him and upon learning his name thrashed him. "Hours after the first assault in the park, a thirsty Akhlaq knocked on the door of a house in the area asking for water. Unfortunately for Akhlaq, the house was owned by the same people who had earlier roughed him up. This time, he was pulled inside and was brutally assaulted. His right arm below the elbow, with 786 tattooed on the palm, was chopped off with a saw machine," Ikram Salmani, the elder brother of Akhlaq said.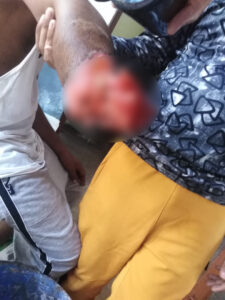 After getting brutally beaten, Akhlaq collapsed and had no idea of how he reached near the railway track. He (Akhlaq) was then thrown near the railway track and regained conscious only in the morning of August 24, following which his family and local police at GRP Panipat were alerted.
The next morning, when he regained consciousness, according to Akhlaq's brother Iqram, he (Akhlaq) contacted his brother in Saharanpur and told him what transpired the earlier night. I know someone in Panipat and they went and recognised him and took him to the hospital. The GRP cop, who went along said it was a 'rail ka mamla' (the matter linked to railways). My brother kept on insisting this incident has nothing to do with a train but he did not listen, told his brother Ikram while he spoke to the TSA.
However, a zero FIR was registered under Section 323 (voluntarily causing hurt), 326 (voluntarily causing grievous hurt by dangerous weapons or means), 34 (common intention) of the IPC, by Government Railway Police (GRP) Ambala Cantt, on behalf of Akhlaq Salmani on September 7, nearly two weeks after the incident, when Ikhlaq was declared fit to give a statement by doctors at Post Graduate Institute of Medical Sciences (PGIMS), Rohtak, where he was kept under observation.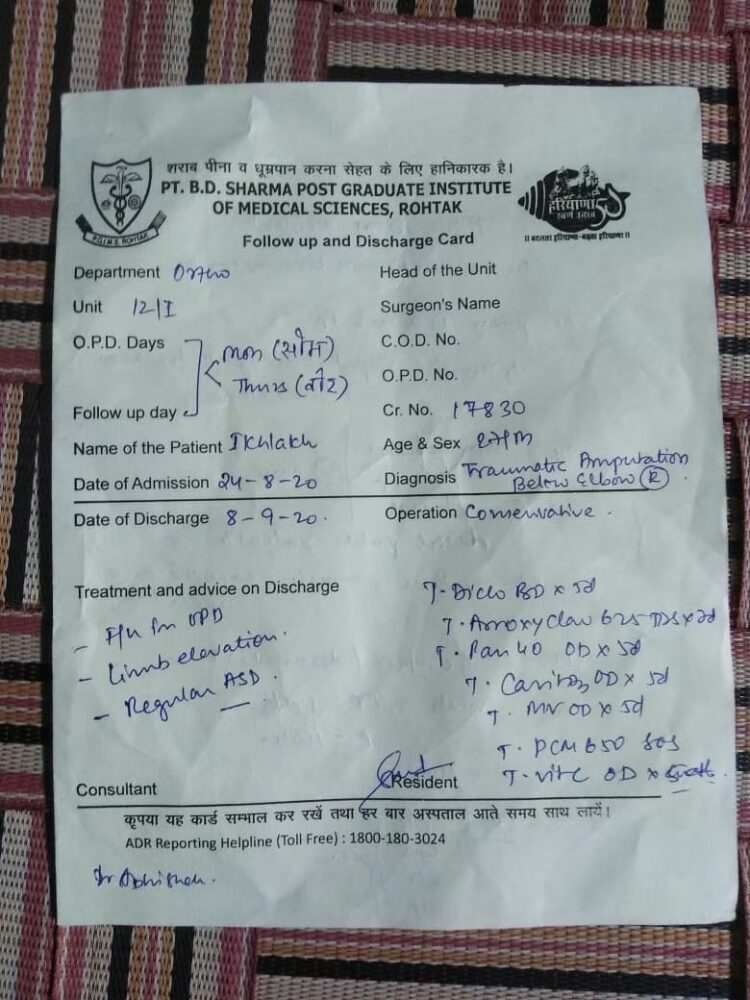 Sexual harassment of a minor, additionally one other side of the story
On the same day, another FIR was registered at Chandni Bagh police station, Panipat, alleging that Akhlaq sexually assaulted a 7-year-old boy in the area. Based on a complaint of the uncle of the minor victim and a medical-legal-report (MLR) dated August 27, an FIR under section 323 and under relevant sections of the POCSO Act was also registered.
"The boy family claimed that he was sodomised by Ikhlaq following which an FIR was registered on September 7. His statement was later recorded in court. The family of the minor victim has admitted roughing up Akhlaq but they didn't mention severing his arm," according to Ankit Nandal, SHO at Chandni Bagh police station.
Explaining the alleged sequence of the similar event, Chandni Bagh police station SHO Inspector Ankit Nandal told to The Quint that "on the intervening night of 23-24 August, Akhlaq tried to enter a home from the back entrance. The family was sleeping in the verandah. There was a child who was seven years old, who he picked and left. Their home was adjacent to the railway line. The moment they realised that he was not there, they began searching for him. While doing so they reached a park close by in Kishanpura, where they heard a child making sounds. This is when they saw Akhlaq and that child barely had any clothes on them. They then confronted Akhlaq, asked him questions and beat him up at the park itself."
Akhlaq then ran away to the railway track, and the family took their son and brought him back home.
When asked why the child's family had waited as many days, SHO Nandal told to The Quint that "The boy's family were reluctant to register an FIR as this is about an 8-year-old child. They did not want to get the child embroiled in the matter of courts and the police station at such a young age. There is also the issue of facing embarrassment in their community. They felt the need to file an FIR after the policemen at the GRP started inquiring with them."
As of now, a complaint by Akhlaq at GRP, Ambala Cantt has been transferred to Chandni Bagh police station, Panipat. Officials have registered FIRs for both versions of what happened and the investigation is underway.
Police say the man who accused Akhlaq of sodomizing his 8-year-old child has a sawing machine at his home but there is no evidence to or prove that the machine was used to cut his hand. Also, according to police, and the primary investigation in the case, there's a possibility of hand being chopped off by a train as the GRP spotted Akhlaq near the railway track, next morning.
However, notices have been issued to both the parties to join the investigation, according to DSP, Satish Kumar Vats who is heading the SIT. He also claimed of having found crucial evidence in the case. Akhlaq's hand and some blood samples which have been sent to Forensic Science laboratory (FSL) for examination and matching DNA.
We are in the process of taking medical opinions, not yet sure whether the arm was cut in rail accident or was chopped of a chainsaw. COVID-19 has slowed the process but we are trying to do it soon, according to SIT (Special Investigation Team) officials.
According to a Hindustan Times report, the SIT recovered Akhlaq's Salmani hand from the railway track near Kishanpur locality of Panipat city.
But, the Akhlaq's family, while speaking to TSA alleged that the Police is trying to close the case, treating this as a case of a rail accident. Initially, Police tried to mislead us, added Akhlaq's brother.
He said the police behaviour was unruly. "The policemen at Chandni Bagh misbehaved with me."
Akhlaq brother claimed that the whole incident happened between 7 PM to 10 PM, while the time mentioned in FIR is around 2 am.
Ikram told TSA, the police are asking the family to go for a compromise. "Sub-inspector of the Chandni Bagh police station asked me to not raise hue and cry," he said, "They (the accused) had come to the police station and they wanted to negotiate a compromise. It would be better for you to compromise."
Ikram asserted: "We do not want any compromise. We want justice, only justice."
Ikram has visited Kishanpura multiple times since then. "The locals who are strangers to me helped me and gave me information about the incident."
He says he has spent all his money on his trips to Panipat to find the attackers. While denying all the charges on his brother, he kept on iterating that it was a hate-crime and the attack was planned. The attackers were three men and two women. Our only fault is that we're poor.
However, Panipat ACP Satish Kumar Vats disapproves of the "absolutely absurd" "communal angle" being given to the incident.
Coming back to both versions of what happened the intervening night of August 23-24, there remains a scope of suspicion in both the versions.
Considering police statement, after the first assault, when Akhlaq was already badly beaten and bruised which made it hard for him to walk how would he then be able to go someone's home and kidnap a child and how was that even possible without coming in anyone's notice?
If the accused had really ill-intentions and assaulted the child sexually, why would someone do that in a place so close to the victim's residence? And, even if the mob thrashed Akhlaq for assaulting an eight-year-old sexually, why would they harm someone so severely and not even inform the police? Adding to this, the family, without even contacting the cops, got the MLR (Medical Legal Report) of the child from a local hospital on August 27.
Coming to charges mentioned in FIR, why there were only Section 323 (voluntarily causing hurt), 326 (voluntarily causing grievous hurt by dangerous weapons or means), and 34 (common intention) invoked? But not charges on attempt to murder, criminal conspiracy despite being demanded by victim's family?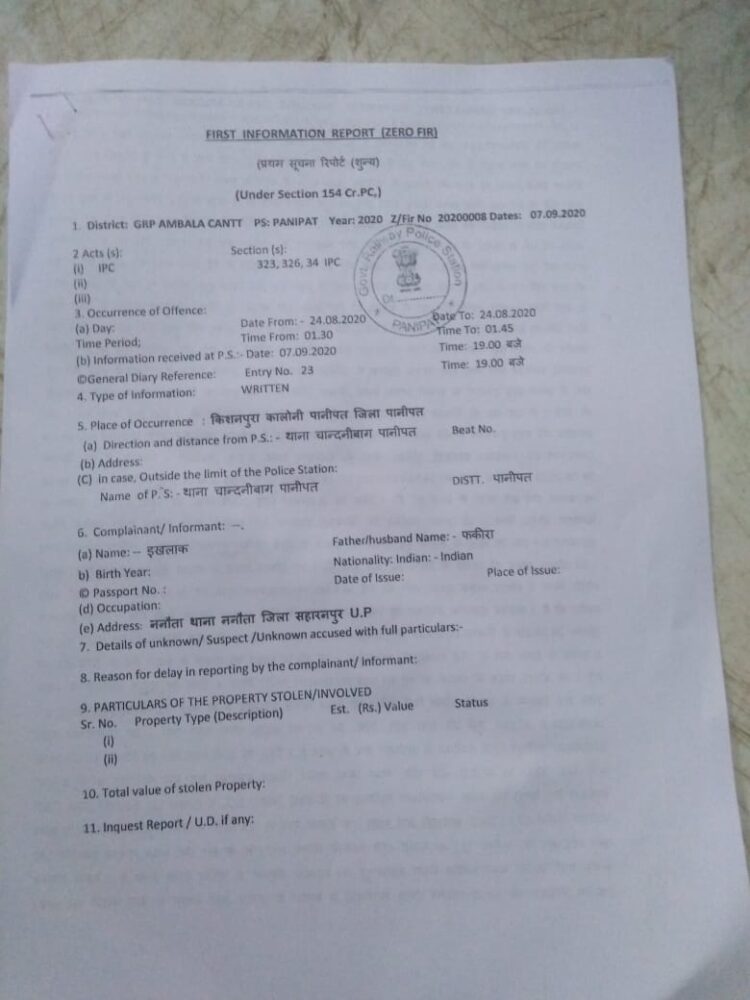 As of now, there are no laws against lynching and mob violence in India, however, provisions in various statutes handle matters related to lynching and mob violence, like under Section 223(a) of the Criminal Procedure Code, 1973 a person can be charged for an act of group attack on some other person.
Similarly, provisions under IPC such as Section 302, Section 304, Section 307, Section 323, Section 325 and the like deals with the cases of hate crimes indirectly.
Lynching and mob-violence mostly include attacks which result in murder or attempt to murder, harassment, assault, etc. this is why the aforementioned provisions of IPC could be used in cases of Lynching and Mob Violence.
It affects its victims drastically which chillingly effects a victim both mentally and physically, resulting in his/her mental and physical dilapidation.
We have many sections in the Indian Penal Code that can be used to punish or even prevent hate crime, but they are disparate and policemen are aware of them. Those that are, fear to use them in areas whose political leaders mobilise through hate speech.
The enactment of a comprehensive hate crimes law has been long overdue but its necessity is particularly dire in the current circumstances.
The increasing graph of hate crime against individuals in India indicates, an omnibus act against all hate crimes, including hate speech, is required across India and should be a priority of the 17th Lok Sabha.
Distinguishing hate crimes from ordinary crimes and designing comprehensive legal initiatives involving a multitude of relevant factors is crucial to add to the robustness and fairness of the criminal justice system.
However, in Akhlaq's unfortunate case, the nature of crime is yet to be decided. And, after the conflicting versions emerging out of the alleged incident, a fair investigation is needed to bring justice to the victim.
TSA also tried to contact the officials at Chandni Bagh Police Station over a phone call but showing reluctance to disclose information in the case, police official disconnected the call and asked to make a visit to the police station itself.
Disclaimer: Views expressed by the Akhlaq brother during the interview are exclusively personal. Though TSA tries inquires into the claims/allegations from all parties before publishing, the views expressed during the interview above are the Ikram Salmani own. The matter is still under investigation. TSA neither endorses nor is responsible for the same.
::: This review is jointly written by two TSA writers, Shahzeen Khan and Zakir Hassan