Every visitor to India can have a diverse range of experiences. There are so many places to visit on your first solo trip to India that you will be spoiled for choice. This article explores 10 solo travel destinations in India.
Solo travel is a quest for self-discovery, as well as spiritual renewal and adventure. If you want to get away from crowds or try new things, solo travel is good for your body, mind, and soul. For your first solo trip, India has a plethora of incredible destinations.
Solo travel also frees you from the whims and fancies of your fellow travelers, and your planning is largely unaffected by group dynamics. So, if you want to trek up that hill on your next Himalayan trip, or watch the sunrise by the beach on your next Gokarna trip, get ready to go!
Here are the top 10 solo travel destinations in India:
1. Hampi, Karnataka
This UNESCO World Heritage Site in Karnataka is a must-see, especially if you enjoy art and history.
There are over 500 monuments to see here, strewn across the gorgeous backdrop of hills, so make sure you give this trip enough time!
The Vijayanagara Empire's political and royal center, temples, and even the quarters of Muslim officers in the royal army are all here in a harmonious setting, just a few miles apart.
The river Tungabhadra, with coracle boats and stone hills, adds to the beauty of Hampi.
2. Goa – "The Beach Beauty"
Goa is ideal for a solo traveler; in fact, it is one of the best destinations in India for your first solo trip. The land of sun, sea, and shores provides an idyllic setting for soul searching. Take in the breathtaking sunrises and sunsets. Stay in beach camps populated by hippies at heart.
There are over 50 beaches to choose from. Swim and participate in activities such as jet skiing, snorkeling, scuba diving, boat rides, and so on.
Trek to the Dudhsagar waterfalls, take a backwater cruise, or go wildlife spotting. Nightlife, festivals, dining, and sightseeing all contribute to an unforgettable vacation.
3. Kasol, Himachal Pradesh
Kasol, also known as the "Goa of the Hills," is a must-see for any trekker. It's a small village in the valley on the banks of the Parvati River that caters to a lot of hippies.
The river, which is teeming with trout, is ideal for fishing, but you must obtain a permit from the forest department. It's also a fantastic spot for rafting and water sports.
Buses and trains run frequently in this area, making it easy to get there. From March to May is the best time to visit.
4. Kerala – "God's Own Country"
God's own country is the name given to Kerala. This tiny little paradise is nestled on the Malabar Coast in Southern India and is dotted with a large network of backwaters, shimmering lakes, glistening beaches, unexplored national parks, and rolling hills filled with the aroma of tea and coffee plantations.
 Kerala is nothing less than a traveler's paradise. This place's breathtaking beauty defies description.
You can pamper yourself and indulge in an Ayurvedic rejuvenating retreat. Kerala is home to some of the world's best resorts, offering luxury and Ayurvedic treatments.
5. Pondicherry
If you want to visit France but don't have the funds, visit Puducherry instead! This sleepy little place, with French influences in its architecture, is ideal for a peaceful beach getaway.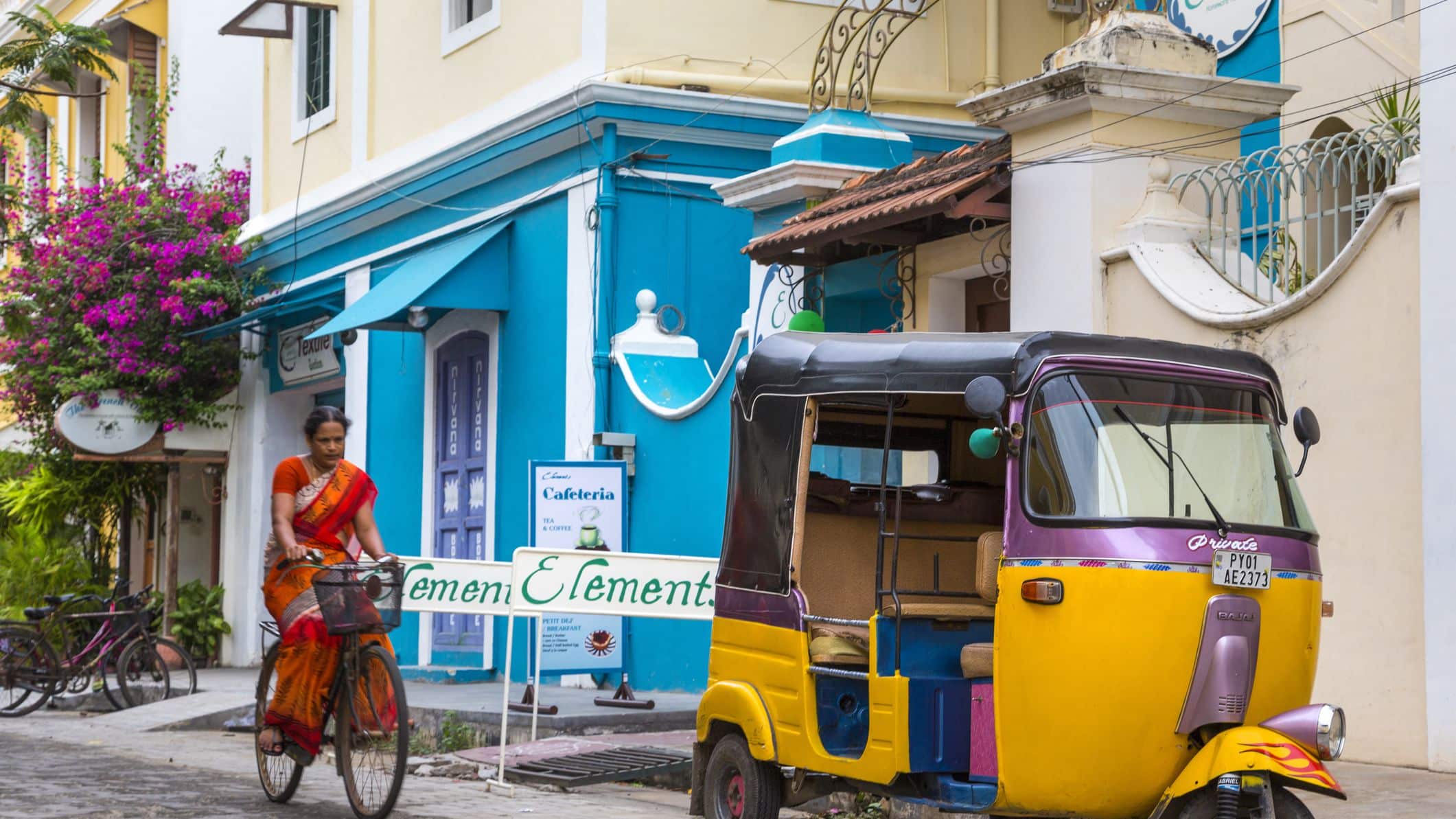 The food is also heavily influenced by French cuisine, and the beer is reasonably priced, making it an excellent choice for a true culinary experience. If you want to reconnect with your spiritual side, go to the Auroville temple.
6. Ladakh – "Adventure Of A Lifetime"
The most beautiful landscapes are found in the country's most remote regions. Ladakh is surrounded by the world's most majestic mountains, the Great Himalayas, and the Karakoram ranges. 
The journey to Ladakh is a bit difficult because it is located in the rugged mountains and will take you through some of the world's highest passes, but the journey is well worth it.
Ladakh's glacial lakes, barren mountains that change color with every ray of sunlight, and beautiful terrains provide breathtaking views.
7. Rishikesh, Uttarakhand
Rishikesh, located in the Himalayan foothills near the confluence of the Ganga and Chandrabhaga rivers, is known for its adventure activities, ancient temples, and popular cafes, and as the "Yoga Capital of the World."
With the whitewater rafting industry expanding and new camping and cafe spots opening up, Rishikesh has become a popular destination for people of all ages.
8. Darjeeling – "The Lush Tea Estates"
Darjeeling is a nature lover's paradise, nestled at 2,050 meters above sea level and displaying its mesmerizing beauty.
This place's experience of jaw-dropping locales and old-world charm is out of this world. The lush green slopes are dotted with colonial architectural mansions, churches, and numerous tea estates.
This location offers a breathtaking view of Mount Kanchenjunga, the world's third-highest peak. This picturesque hill station is one of India's greatest treasures.
Darjeeling Gangtok Tour is a popular tour package for solo travelers looking to explore North-East India.

9. Udaipur, Rajasthan
Udaipur, also known as the City of Lakes, is the state of Rajasthan's crown jewel. It is surrounded in all directions by the beautiful Aravalli Hills, which contribute to the city's beauty.
This 'Venice of the East has a wealth of natural beauty, mesmerizing temples, and breathtaking architecture, making it a must-see in India.
A boat ride through the tranquil waters of Lake Pichola will demonstrate why Udaipur is the pride of Rajasthan.
10. Lahaul – Spiti
Lahaul and Spiti are two excellent destinations for a solo trip. These locations, located in the most remote corner of Himachal Pradesh, are what we consider to be the best destinations for your first solo trip to India. These are some of the country's least explored areas.
Explore the rugged mountains, high-altitude mountain passes, ancient monasteries, glacial lakes, and breathtaking views.
Stay in the monasteries of Ki, Kibber, Tabo, and Dhankar, trek to Chandratal, or stay in the mountain's humble villages; whatever you do, it will be an unforgettable experience.
Conclusion
The quest to discover oneself, combined with spiritual rejuvenation and the flow of adventurous adrenaline, becomes an ideal reason to pack your travel bag and climb those serene mountains or stroll along silent beaches by yourself.
To help you with that, the above-mentioned were the top 10 solo travel destinations in India to explore the traveler within you during a solo trip.
Which of these places would you go for your next solo trip to India? Let us know in the comment section
Also Read: 15 High-Paying Jobs That Allow You To Travel The World