Tvasta, a startup founded by three mechanical engineering graduates from the IIT Madras claimed that they can build a house in less than three weeks. 
This startup builds houses by using advanced 3D printing technology at nearly half the cost which is used for traditional construction.
"This is the first 3D printed house we made. All we need is a 2D building plan which will be printed out as a house" said C Vidyashankar, Co-founder Tvasta Manufacturing solutions. For this startup, they got support from Habitat for Humanity, the USA.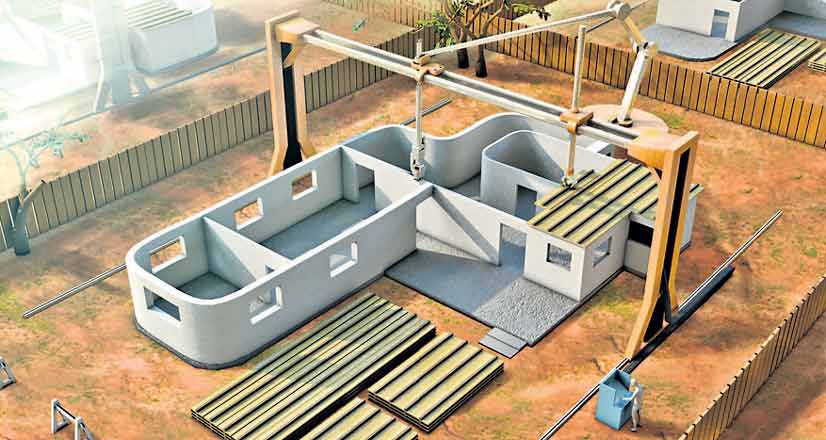 In their construction, Tvasta avoids using construction materials like bricks. It is built using the propriety concrete mix, developed by Tvasta, which the founder claim is stronger, lighter, and more sustainable because of less carbon footprint than the traditional material.
In traditional methods, the concrete setting time is almost 21 days and can increase up to 48 days whereas in 3D printing technology, it can be achieved within a few minutes and the overall structure can be prepared within 7-10 days.
The entire technology developed indigenously in India. The founder said that if it is adopted by the construction sector then it can transfer the housing industry and their target is to provide affordable housing. He also added that they can build taller multiple-storey structures too, but till now they have the approval of building G+2.
Vidyashankar said that "The technology of concrete 3D printing is a marriage of machine, material and software evolved from scratch by their in-house think-tank. It is an alternative, capable of pushing the frontiers of the modern-day construction practices".
He also added that their concrete 3D printer is backed by a variety of sub-technologies, for the raw material formulation, material handling, extrusion, and software control. These have been specifically so designed for modularity and quick adaptation to production requirements and these subsystem and associated technologies are in various stages of being patented.