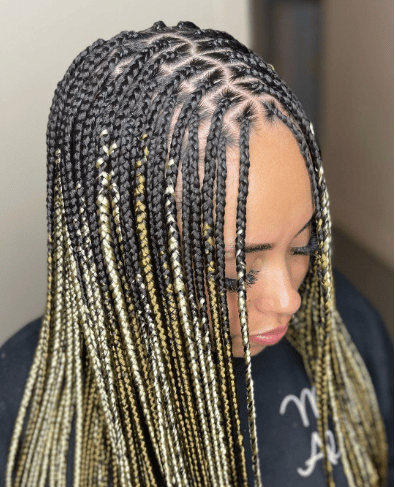 If you're at the crossroads of the best thing to do with your short-tapered afro when it's time to go swimming at the beach, consider getting box braids. They cut your hair styling time in half and offer numerous benefits for your hair, including retaining the length, stress-free keeping, and versatility. 
However, it's important to properly maintain your box-style braids, especially if you have type three or type four hair, which may tend to disentangle just a few days after being installed. Here are some sure-fire tips for keeping your box braids looking great for longer.
Before Braiding
Choose An Easy-To-Style Protective Style
If you have type 3 or type 4 hair, you may find that your hair requires more moisturization and hydration due to the curl pattern and the fact that scalp oils can take longer to go down the tress's shaft. To help with this, consider selecting a box braid look that allows for easy hydration and moisturization of your natural manes. 
Consider factors such as thickness, length, and even color when deciding on your braid style. 
It's important to choose a hairstyle that is light and thick, as this can result to tension on the strands or make it difficult to access the scalp for cleaning.
Choose A Professional Stylist
When looking for a hairstylist to do the box braids, it's important to choose someone who is accomplished and experienced in the style you want, as well as in working with your specific hair type and facial features. One way to get a sense of their skills and attention to detail is to look at their work on Instagram or other social media platforms. Do the images of the work they have done inspire confidence in you? 
Do they show that the stylist cares about the health and growth of your natural hair? It's also a good idea to consider whether the stylist is able to use photos of your desired hairstyle as a reference or if you need to be specific about the method and the look you want.
When Braiding
When it's time to install the box braids, it's important to be cautious and choose a technique that won't damage your strands. 
One option to consider is the knotless look, which lacks knots at the roots of the hair, reducing stiffness on the scalp and minimizing the risk of breakage or impaired growth of your natural tresses. Knotless braids are also quite customizable, effortless to refresh and allow for greater freestyle on the scalp, hence making them more comfortable to sleep in. 
When installing the braids, be sure to avoid a grip that is too tight, as this can lead to hair loss.
After Braiding
After the box braids have been put in place, your hairdresser may use either water or a lighter to "seal" the tips of the braids and scissors to remove any stray hairs. But, once you get home, it is a good idea to check your braids and attend to any extra flyaways that may have emerged. 
To prevent accidentally damaging your own hair, ensure that you can differentiate between the end of your natural tresses and the start of the extension hair. Use scissors or other suitable tools to cut flyaways or stray hairs carefully.
To keep the box braids looking soft and shiny, it's important to moisturize them regularly with your preferred hair oils and sprays. In addition to moisturizing the braids, it's also a good idea to oil your scalp and spray your strands with a leave-in conditioner, even once a week. This can help enhance growth and discourage breakage and will help to keep in moisture and give your natural hair some elasticity.
Wash Your Hair After Every Two Weeks
It's important to be mindful of how often you wash the box braids, as extreme washing may dry out both your natural and extension hair. Aim to wash your braids at most once every two weeks, as frequent washing can be challenging to distribute moisture evenly across the tresses, which can lead to varying hair growth and hence breakage.