Armed rebels with the Wagner Group Forces are moving north through Russian territory and appear to be heading for Moscow, according to multiple reports.
Wagner Group chief Yevgeny Prigozhin is leading what he calls a "march for justice" to oust Russia's military leadership. Overnight, the mercenary group's forces seized control of Russian military facilities in Rostov-on-Don, a city of more than a million people near the border with Ukraine. The seizure is significant — Rostov is home to the Russian military headquarters overseeing the military supply line fueling Putin's invasion of Ukraine.
Further, Wagner troops are reported to be moving through Vorenezh Oblast, a city about 300 miles north of Rostov-on-Don. An intelligence update from the U.K. Ministry of Defense indicated Wagner units are "almost certainly aiming to get to Moscow."
"With very limited evidence of fighting between Wagner and Russian security forces, some have likely remained passive, acquiescing to Wagner," the Ministry of Defense said.
PUTIN VOWS TO DEFEND RUSSIA AGAINST ARMED REBELLION LED BY MERCENARY CHIEF: 'THEY WILL ANSWER FOR IT'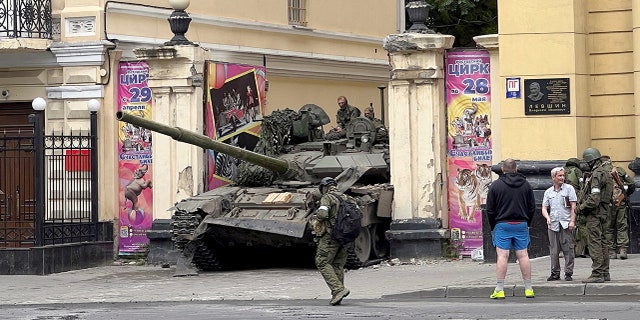 Reuters separately reported — citing a Russian security source — that Wagner fighters have seized military facilities in the city of Voronezh, and the governor there has said operations are underway to put down the mutiny. Reuters could not independently confirm the situation there.
A Wagner convoy with armed vehicles was also seen traveling north on the M4 motorway, which links Voronezh and Moscow in the Lipetsk region, the BBC reported. The regional governor, Igor Artamonov, said Wagner is moving "equipment" in the region and has asked residents to stay home and avoid traveling.
"Law enforcement agencies and authorities … are taking all necessary measures to ensure the safety of the population. The situation is under control," Igor Artamonov said per the BBC.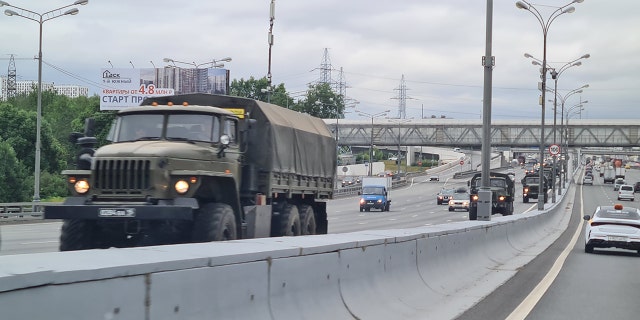 Russian President Vladimir Putin has vowed to put down the rebellion. In a televised address Saturday morning, Putin said the mutiny amounted to "a deadly threat to our statehood," vowing there will be "tough actions" in response.
"It is a blow to Russia, to our people," Putin said. "And our actions to defend the Fatherland against such a threat will be harsh."
Prigozhin, a longtime Putin ally, rejected the Russian president's accusations of treason and claimed his forces were fighting "corruption, deceit and bureaucracy" in the Russian military.
RUSSIAN WARLORD THREATENS KREMLIN MILITARY OFFICIALS FOR ALLEGED ATTACK ON HIS TROOPS: REPORT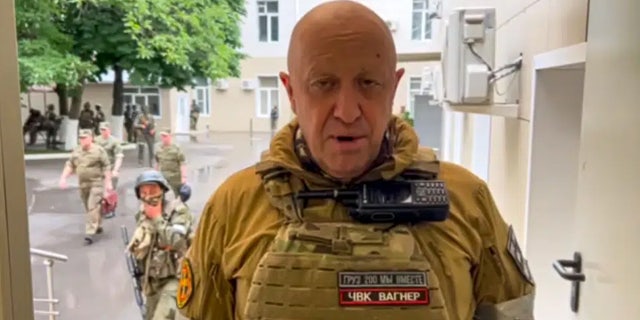 Wagner forces have served as a virtual private army for Putin and have provided critical support to Russian troops fighting in Ukraine. The paramilitary group includes thousands of former prisoners who were recruited from Russian jails. However, Prigozhin has feuded with the defense ministry, accusing Russian military officials of starving his troops of weapons and ammunition.
In a series of angry video and audio recordings on Friday, Prigozhin accused Russian Defense Minister Sergei Shoigu of ordering a rocket strike on the private military contractor's field camps where the group is fighting on behalf of Russia in Ukraine. The Russian Defense Ministry denied the accusation.
"This is not a military coup, but a march of justice," Prigozhin declared.  "The evil embodied by the country's military leadership must be stopped."
Russia's FSB security service opened a criminal case against Prigozhin for armed mutiny and said his statements were "calls for the start of an armed civil conflict on Russian territory."
RUSSIAN MISSILE ATTACK ON KYIV CAUSES FIRE AT APARTMENT BUILDING, KILLING 2, INJURING 8
Putin remains working at his desk in Moscow, according to Russian leader Dmitry Peskov's press secretary.
"The president works in the Kremlin," Peskov told the Russian news outlet RIA Novosti.
CLICK HERE TO GET THE FOX NEWS APP
Earlier, several Telegram channels claimed that Putin had left Moscow for one of his residences in another region, the outlet reported.
Fox News' Peter Aitken, Adam Sabes, Landon Mion, Sarah Rumpf-Whitten, the Associated Press and Reuters contributed to this report.
(this story has not been edited by TSA Mag staff and is published from a syndicated feed.)