Devbhoomi Uttarakhand is a state in India that is easy to fall in love with. Uttarakhand is a renowned tourist destination in the Indian Himalayas due to its bizarre terrain, which includes the tall Himalayas, glittering streams, eye-catching meadows, imposing glaciers, and strange lakes. In this article we will be discussing some of the mesmerizing workstations in Uttarakhand you should definitely try.
Uttarakhand has some amazing trekking, mountain climbing, and white-water rafting activities for people seeking adventure travel. Uttarakhand is one of India's top trekking destinations, with popular treks including Auden's Col, Kalindi Khal, Nag Tibba, Bedni Bugyal, Valley of Flowers, Chopta Chandrashila, and many more.
You are lucky if you work from home because you can do all your office work while being in the amazing environment of Uttarakhand. We have curated a list of 10 mesmerizing workstations in Uttarakhand below. Read on to find out more.
Check out our list of 10 mesmerizing workstations in Uttarakhand:
1. Celestial Rhapsody, Naukuchiatal
View the Himalayas from your own snug corner at Celestial Rhapsody, a calm villa with wide glass windows, spacious balconies, skylights, and an elevator that climbs up to the terrace.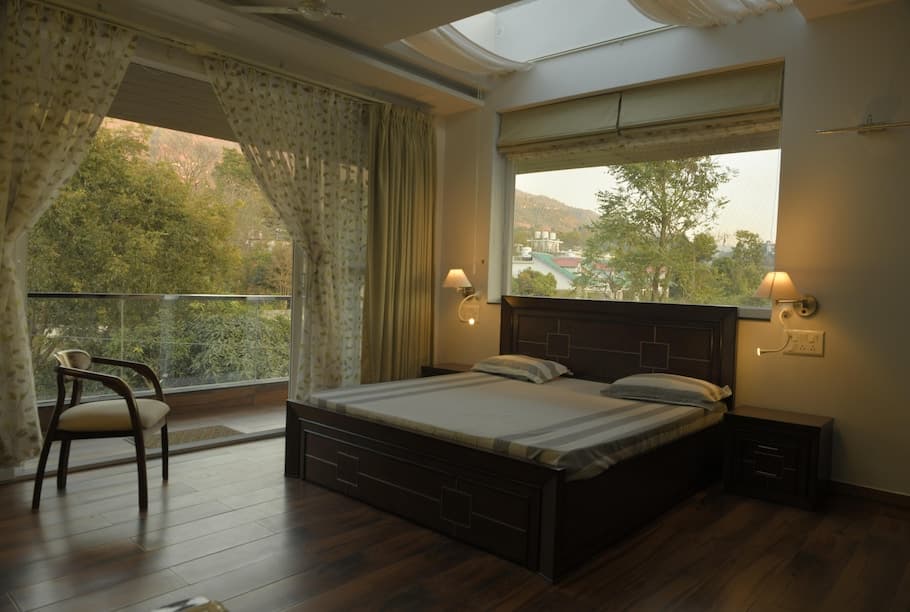 The polished home includes three stylish bedrooms, a fully equipped kitchen, and a canopied terrace seating seven people, whether you want to work from the mountains or cook with a view.
2. Chateau Oak N Pine, Entire Cottage II , Nainital
Oak and Pine is a charming pet-friendly cottage surrounded by lush pastures and Himalayan peaks, made completely of wood paneling and freshly hewn stones.
On the lawn of the cottage, you may enjoy thrilling bonfires with delicious BBQs. The property is a haven of nature and wellbeing, with a single well-equipped bedroom that opens to the terrace.
The living room has comfortable sofas, a library, and indoor games.
3. Sukoon 2 (Rob's Cottage), Nainital
This serene estate getaway, located at an elevation of 6,000 feet in the Kumaon Himalayas, consists of five traditional treehouses surrounded by trees favored by migratory birds.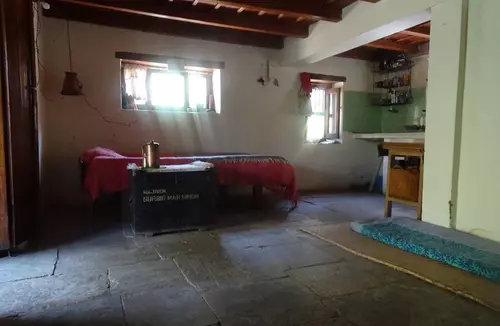 Each treehouse is made of stones and mud mortar and has two bedrooms with European fireplaces, tiled sloping roofs, quiet areas with sofas, a well-equipped kitchen, and a balcony overlooking a rolling valley. In the front garden, you can relax.
4. Rose Cottage, Foothill City, Dwarson, Almora
Rose Cottage is a boutique wooden cottage in the peaceful hamlet of Dwarson that boasts stunning views of the snow-covered Himalayas from a hilltop vantage point.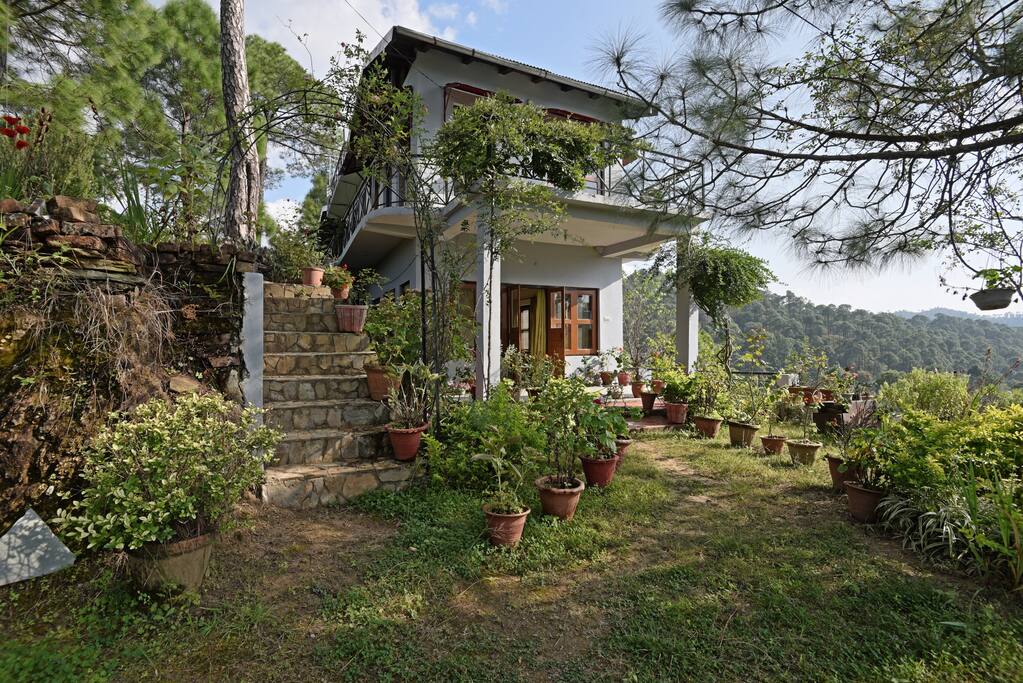 Furthermore, the property is sought due to its proximity to key trails, which may be visited on guided treks.
The cottage, which has a pyramidal roof, has a kitchen and a huge bedroom with bay windows, a king-sized bed, soft white sofas, and a furnished balcony.
5. Pennington Cottage, Mussoorie
Pennington Cottage is a sumptuous mountain cabin surrounded by old oak woodlands, built with natural, sustainable materials such as polished local stone exteriors and wood-paneled roofs.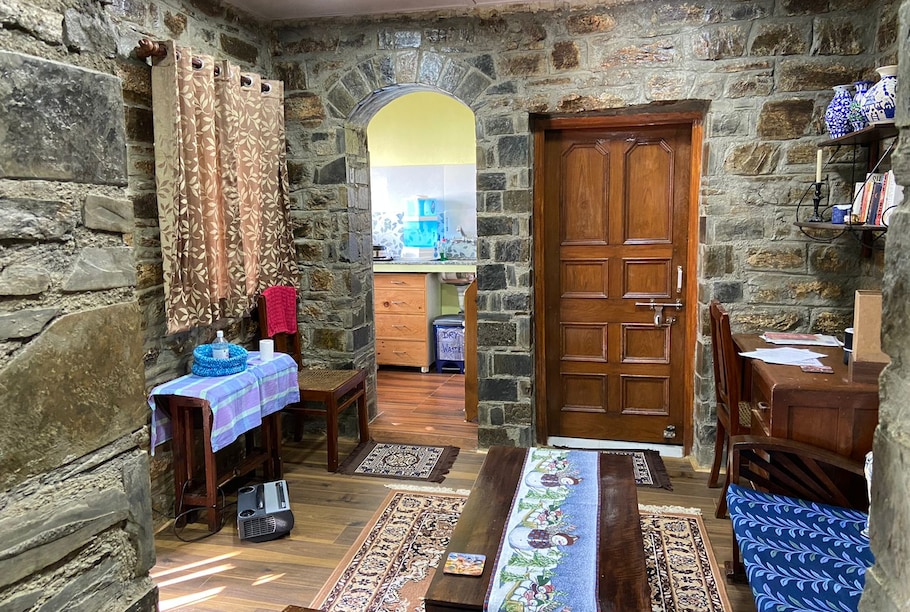 From the luxury of your bedroom, which extends to a balcony with comfy hammocks, you may wake up to stunning views of snow-laden Himalayan valleys.
A tastefully appointed living room with couches, lamps, and coffee tables, as well as a dining area with an attached kitchen, are available.
6. The Kumaon Exotica, Bhimtal
Take a break from the hustle and bustle of the city and retreat to this pet-friendly mountain villa hidden in a tranquil hamlet on the slopes of the Kumaon Himalayas.
Traditional architecture, huge balconies, a sprawling patio, and gardens bring you closer to nature. The four well-appointed bedrooms may accommodate up to 12 guests.
There is also a spacious sun-soaked lounge with sofas, a kitchen, and a dining space.
7. Oxygen Home Stay, Dehradun
Oxygen Homestay, nestled in the beautiful Himalayan foothills of Dehradun, boasts outstanding modern architecture and premium wood-lined interiors and is excellent for unforgettable family staycations amidst a plethora of adventurous trekking paths.
Bring up to 14 guests to the six well-appointed bedrooms, which have queen-sized beds and balconies with views of the garden. In the living room, you can unwind.
The caretaker prepares fresh and organic North Indian cuisine.
8. Raga-a blissful mountain retreat, Majkhali, Ranikhet
This boutique duplex mountain house, perched on a manicured slope with mountain vistas of Trisul, Nandadevi, and Panchachuli, offers two stone-carved patios overlooking the limitless trees of Someshwar Valley.
The apartment, which is decorated with traditional elements, has two bedrooms with carpeted floors, wooden furnishings, sofas, and balconies.
Relax in the casually designed living room. You can cook in the well-equipped kitchen or buy Indian specialties from the menu.
9. Corbett Malbagadh, Kyari
Birdwatchers and naturalists flock to Malbagadh Bungalow, which is built with exposed stones, wooden ceilings, and huge glass windows near Jim Corbett National Park.
Enjoy the raw visual grandeur of Uttarakhand's mountains from the luxury of outdoor gazebos or your three bedrooms, which are outfitted with queen-sized mattresses, modern decor, colorful upholstery, and furnished balconies.
A large lounge with sofas overlooks the yard and leads to a dining area and kitchen.
10. Red Brick Quarter, Bhowali, Nainital
This typical colonial house, as the name suggests, is built with elegant exposed bricks, vault ceilings, and handcrafted crafts.
The cottage, designed by Laurie Baker architects, includes two levels with queen beds, white fuzzy sheets, and workstations with strong connectivity.
On the ground floor, there is seating adjacent to the open kitchen.